Great Britain is a land of rolling hills, lush and dense forests, impeccably-manicured gardens and pristine lakes. It is revered for its fertile land that produces crops in an array of endless bounty, and the wildlife that feeds off of it. However, we cannot forget that Great Britain is, first and foremost, an island. Surrounded by the North Sea, Atlantic Ocean, Irish Sea and English Channel. If you are traveling to Britain, do make it a point to visit at least one of its beautiful beaches. Delightful for the entire family, they offer the perfect venue for fishing, swimming, surfing, picnics, walking and even Theatre!
Here are five of Britain's hidden-in-plain-sight gems:
Porthcurno in South Cornwall is a beautiful cove surrounded by natural cliffs of granite. Let the soft white sand caress your feet as you walk along looking out on to the clear waters! It is best known as the site of the first submarine transatlantic telecommunications cable, as well as Logan Rock and the castle of Treryn Dinas high on the cliffs. If you have a wander around the area, stop by its surrounding spots as you will discover places like the stunning beauty of the famous open air Minack Theatre.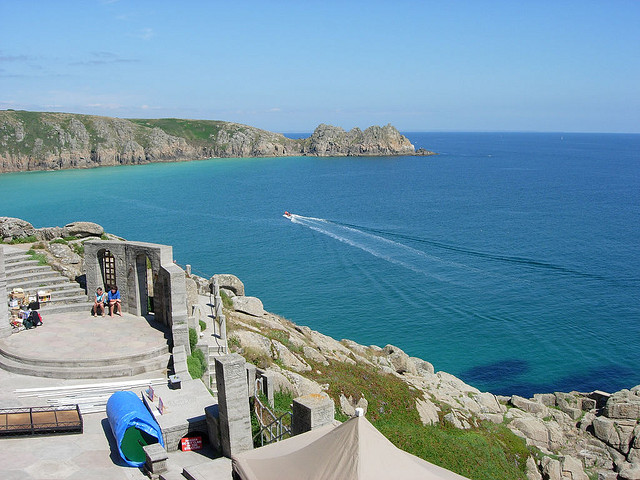 Studland Bay in Dorset is the quintessential all-natural children's playground and a relaxing and breath-taking adventure for adults. With gentle dunes and heaths, it is reminiscent of a Cape Cod beach, with much less traffic. Biodiversity is a very important mission for those who monitor Studland Bay and Beach, and there are always wildlife tours available as well as other wildlife activities. Plus, with all the picnic facilities as well as the availability of food nearby, it can be a day-long adventure without having to step foot off the beach. The coastline features a four-mile stretch of beach, as well as views of the Isle of Wight. Water sports are extremely popular here, so bring the Frisbee, football or racket.
West Wittering in Sussex has some of the bluest waters east of the Caribbean. With magnificent views of South Downs and Chichester Harbour, this beach has become a family tradition for multiple generations.  The beach has been given the Blue Flag designation for its unspoiled water, and next to the beach are acres of mown grass for family picnics and playing between hops into the sea. Also a treat for bird-watchers and other wildlife lovers as it has a wide variety of species calling West Wittering home.
Voted Best Beach in the U.K. in 2010, Rhossili Beach in Wales has also been the recipient of the Green Coast Award…and what a coast it is! The beach itself is a wide and long expanse of pure, clean sand, and a draw for a variety of water sports, especially surfing. At low tide, it is even possible to walk across the bay to Llangennith, or even to the Worms Head. Just make sure you cross back before high tide! Birders, bring your binoculars for a stunning show of species.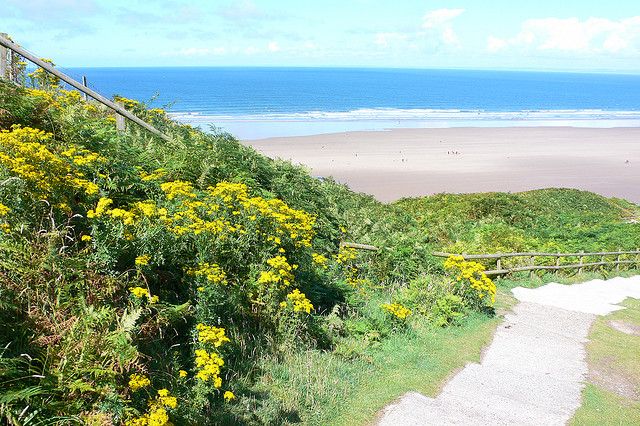 Saunton Sands in North Devon is adjacent to popular longboard surfing site, Braunton. At its southern side, there's "Crow Point," at the mouth of the estuary of River Taw. This area has been named an Area of Outstanding Beauty and has also been named part of the UNESCO Biosphere Reserve. Saunton Sands has had its 15 minutes (or more) of fame, being the backdrop for the David Niven film, "Stairway to Heaven," as well as the Pink Floyd film, "The Wall." There are plenty of activities at Saunton Sands, but there are some things off limits. A few times a year, the beach is taken over by the military for training and is actually turned into a landing strip. Also, because of its military use, no kite flying is allowed at all.
By Alison
Alison loves to travel, finding and writing about hidden gems around the world and in her spare time writes for Hostelbookers.com
Photo 1: steve_cx, Photo 2: c.art, Photo 3:Steve.Jackson, Photo 4:heatheronhertravels,  Photo 5: Markles55