We are in Font-Romeu-Via in France and more precisely in the region of Languedoc-Roussillon, at the foot of the Pyrenees. We are on the border with Catalonia and Barcelona is not so far away from here. And this strange building is a solar furnace, the most powerful in the world, built here, and not elsewhere, because there is plenty of sunshine and the air is purer than elsewhere.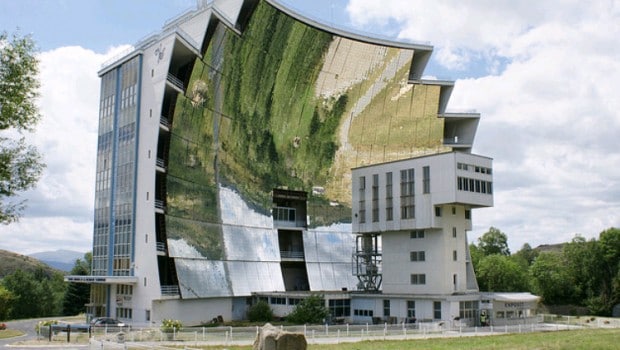 Obviously here you can study in collaboration with the University of Perpignan while studying methods for the conversion of solar energy, but also how they react to the materials at high temperatures. Even here, you can develop the future of space flight, as you can see you can pic your profession.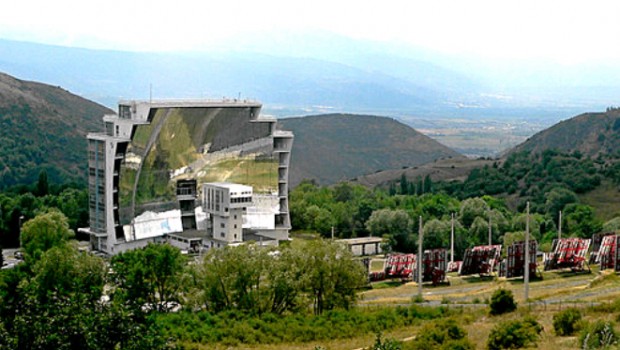 It is not only for scholars; however, since the Great Solar Oven it is open as well to visitors. Visits during which you will be able to see more solar energy, renewable energy sources, energy consumption in homes, the work of researchers NCSR, environment, equipment for space and specialty materials.
The tour includes a ride on the outside, conducted in French, the vision of a series of films (in English and Spanish), and a variety of models, designed for children. In July and August it will be open every day, from 9:30 to 19:00 for a ride that lasts an hour and it costs € 7 for adults, 3.5 € for children (between 7 and 18 years old).
By Nikos K
Photos:Wikimedia Commons, Dagget 2008.