Although it has only 240 inhabitants, El Castell de Guadalest (commonly known as 'Guadalest') is the most visited town in Spain come do tourism in Costa Blanca.
Obviously, there are several reasons for this record: its spectacular topography makes it unique.
It is a town of only 16.12 square kilometres, located in a valley at 595 meters, surrounded by the highest mountains in the area (Xortà Sierra, Sierra Serrella and Sierra Aitana).
History of Guadalest
El Castell de Guadalest existed before the Christian conquest, during the Moors'period.
They built their fortress in the eleventh century. It belonged to various royals and nobles of the area. Its last owners were the Orduña family, of Basque origin, who won power and influence in the region of La Marina and even took part in political decisions. But the last family member died in 1934 without offspring, and possessions were inherited by distant relatives.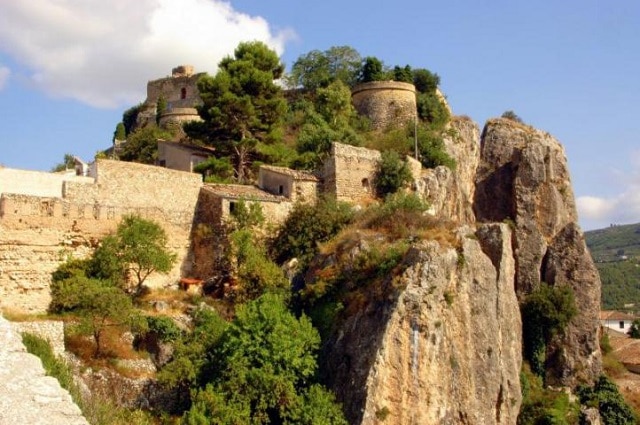 In 1609, the Muslims were forced to leave the valley. Guadalest suffered then earthquakes in 1644, 1748 and 1752, which partially destroyed the Casillo.
It was also the target of bombings in 1708 during the War of Spanish Succession, when the Orduña's house of  caught fire.
Since 1974, Guadalest holds the title of Artistic and Historic village, and since 1994, the Orduña's house became the Municipal Museum.
A further heritage includes the restored fortress of Alcozaiba tower, the Church of Our Lady of the Assumption, a building of the XVIII century of the Baroque period which  is located near the Orduña House, a prison of XII century and the ancient cistern.
Museums in Guadalest
Guadalest is also known for other attractions, such as its numerous museums:
Municipal Museum Casa Orduña. Open every day. Adults: 3 €. Seniors and students: 2 €. Children: 1,5 €.
The Museum of Microminiatures. Open every day. Adults: 4 €. Children: 3 €.
Micro-Giant Museum. Open every day. Adults: 4 €. Children: 3 €.
Marco Antonio Museum of miniature houses and churches. Open every day. Adults: 4 €. Children from 3 to 11 years: 2 €. 12 to 16: 3 €.
Ethnological Museum. Real reproduction of an eighteenth century house. Closed Saturdays. Free entrance.
Historical Medieval Museum. Exhibits instruments of torture and execution. Adults: 4 €. Children: 2 €.
Museum Ribera Girona. Contemporary art. Currently it closed, but usually open daily. Adults: 4 €. Children: 3 €.
Museum-Collection of Historic Vehicles. Closed Saturdays. Adults: 3 €. Children: 1 €.
Guadalest might be interesting to visit in the first week of June when celebrating the Feast of San Gregorio, organized by the youth of the area, with sports and street parties taking place throughout the village.
In addition, between 14 and August 17 celebrations are held in honour of Our Lady of the Assumption.
Hiking and Water Activities in Guadalest
For hiking enthusiasts, there are 2 trails that begin in Guadalest: PR. V-18 and PR. V-19.
In Guadalest there is a large reservoir where it is allowed to swim or kayak, but with caution as water currents can be strong and the depth reaches 75 meters. There is also a Solar Boat that offers a one-hour ride through the swamp to 6 €.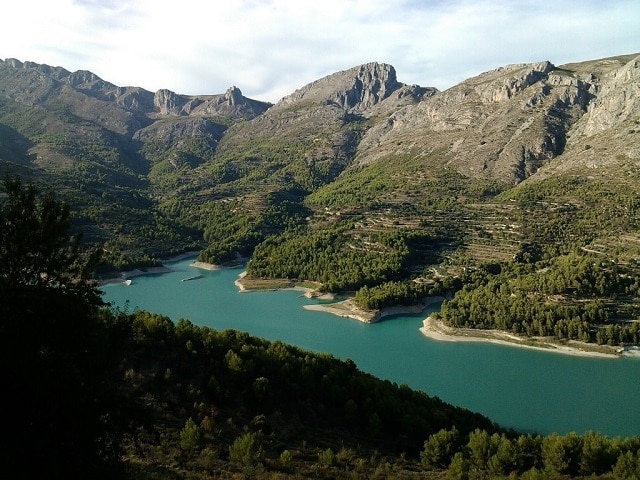 Getting to Guadalest from Benidorm
Monday to Friday (working) bus line 16 that comes from Finestrat is available and makes a stop at the Rincon de Loix approximately 9.500h.
To return, there is another bus from Guadalest at 13h. It is a journey of more than an hour.
There are three access routes by car which can be seen here. It is a journey of about 35-40 minutes.
Further information: Guadalest Tourist Office: Tel. (+34) 965 885 298