On a small fishing village found in the south of Oamaru New Zealand is where you can find a geological wonder. The Moeraki boulders are spherical stones which are situated on a sandy beach. However they are not like normal boulders since they are shaped by the pounding of rivers and seas. According to scientists, the boulders where formed by sea floor sediments that were found in the ancient years. They were made in a process just like oyster pearls which were layers of materials that cover its core. The center of the boulders is normally made from fossil shells, bones or wood.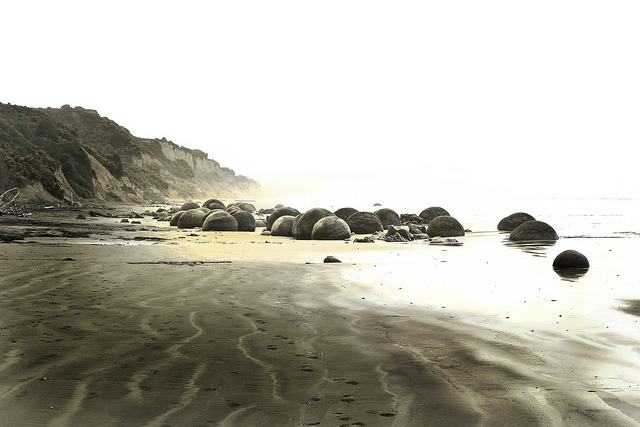 Lime minerals are accumulated over a period of time and they were formed into a spherical shape. The mud stone seabed is uprooted from the cliff. It has released boulders that are scattered on the beach. There is further erosion that happened so the boulders look like shells of turtles. There are other boulders in the nearby area like shag point and Katiki. In the North Island is where scientist also found similar structure and with preserved snails, turtles and reptiles.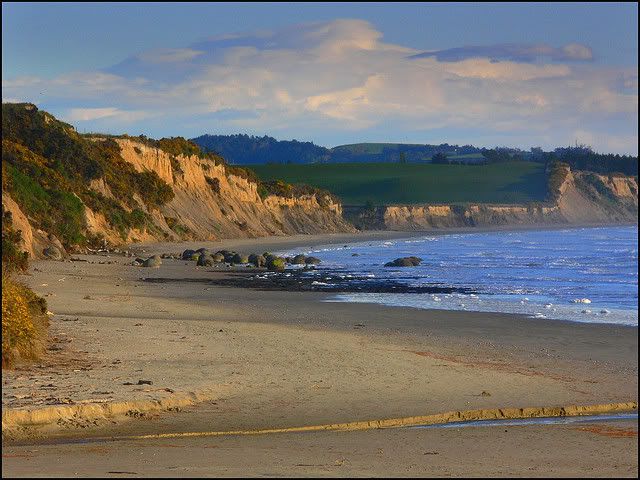 Moeraki is a town with a long history. It was occupied by the Maori tribe. The small town has a small seaport as well. Behind the town is a lighthouse where you can find penguins and seals. If you are interested in ecology, you can wonder around the coast going to the Trotter's Gorge. This is the native forest where you can hike. South of the town is where you can see Palmerson where you can find a scenic route. Definitely this place is great for any stop over. It has good coastal scenery and you can also learn about geological phenomenon. Tourists can also find few amenities in the small town. Finally, the local residents are friendly to the tourists; in fact they can serve as a guide around the area.
By Angela B
 Moeraki photo 1:WWalker81  Moeraki photo 2:katepedley