Magaluf is known as the party capital of Europe and it is not hard to see why. Revellers, holiday-makers and hard-core clubbers from all over the world make their way to Magaluf every year to immerse themselves in the latest tunes and dance crazes, party hard and drink harder, indulging their every hedonistic fantasy for the duration of their stay.
Magaluf is home to the biggest nightclub in Europe in BCM Planet Dance as well as many other clubs: party-goers keep coming back to Boomerang, go crazy in Bananas, work their 'thang' at The Office Club and get totally animated at Tokio Joes amongst many other clubs!
The Magaluf scene stays popular because the world's top DJs and performers keep it fresh and relevant, playing the latest releases and new music as it evolves. Stars such as Jessie J and Calvin Harris have enhanced the Magaluf experience for many, and the BBC holds its Take Over Weekend annually in the resort.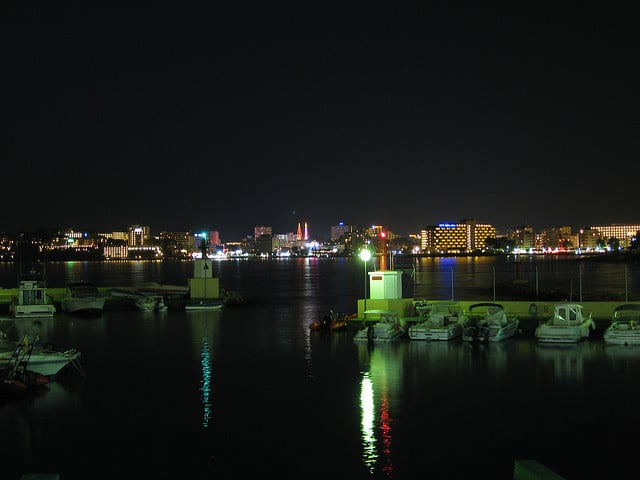 Guests must be over 18 to go into the clubs, and anyone who looks younger will be asked to provide ID such as a driving licence or copy of their passport – it would not be wise to take your real passport into a club! The emphasis in Magaluf is very much about drinking and 'hooking up', with the music taking something of a back seat, perfect for youngsters to sow their wild oats and make memories.
Another excellent offering in Magaluf is the opportunity to go on a booze cruise. Experienced international DJs and entertainers make sure that you have plenty to drink and keep the crowd hopping with games and contests galore. A stop in a secluded cove means that you can swim or even skinny-dip if you feel so inclined, before the return leg, also jam-packed with music, fun and laughter!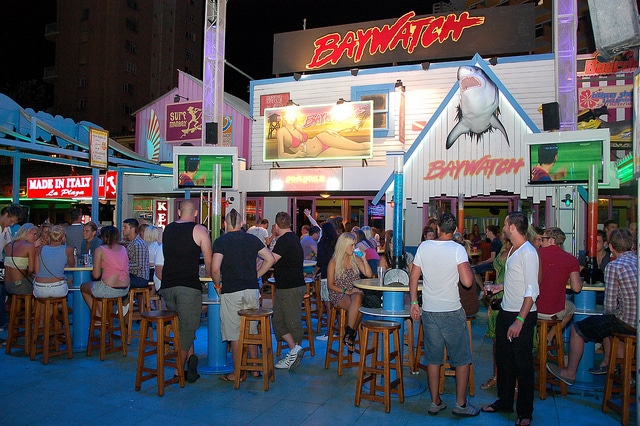 The Magaluf Bar Crawl is very popular and is organised, much like a tour of the resort, to take in all the best hotspots and places to be seen. It is perfect for newcomers who want to party hard, but do not know where to begin. It begins in Alex's Bar and moves from there through all the best bars, pubs and clubs, with a welcome drink at each venue and plenty of free shots on offer throughout the evening!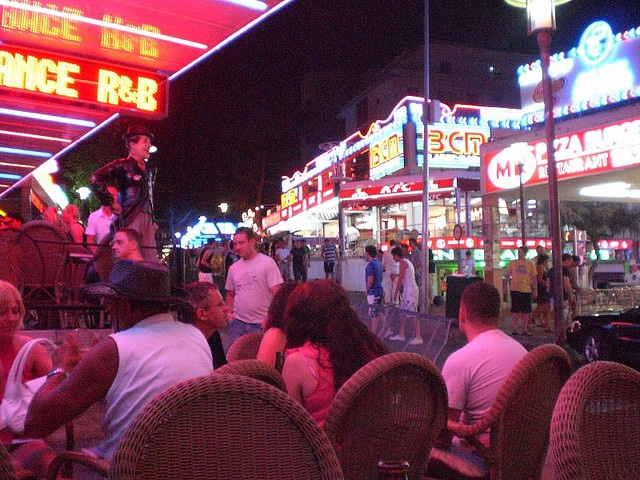 For those in search of sultry sexy thrills you can visit clubs like Heaven and Honeys and treat yourself, or a friend, to a lap dance, while you watch stunningly beautiful girls dance for your pleasure.
Whatever it is you are expecting from your clubbing holiday experience Magaluf's buzzing nightlife with Thomson to ensure that you get the best possible deal on holidays to this vibrant and lively resort.
Magaluf photos: feelsummer – magaluf, nigelbutler, Kutay Tuna.