Whether you are an experienced angler or fancy giving fishing a go for the first time, it's important to be prepared for your fishing trip in order to make it the best experience possible. There is no greater feeling than coming home from a fishing trip of a lifetime and having wonderful memories and photos that'll stick with you forever. Unfortunately, if the trip turns sour, then you'll also have the bad memories too.
This is why you need to be prepared!
Take a look at this infographic which takes you through 15 essential carp fishing items that'll be sure to make your trip a resounding success; no matter how long you are there for.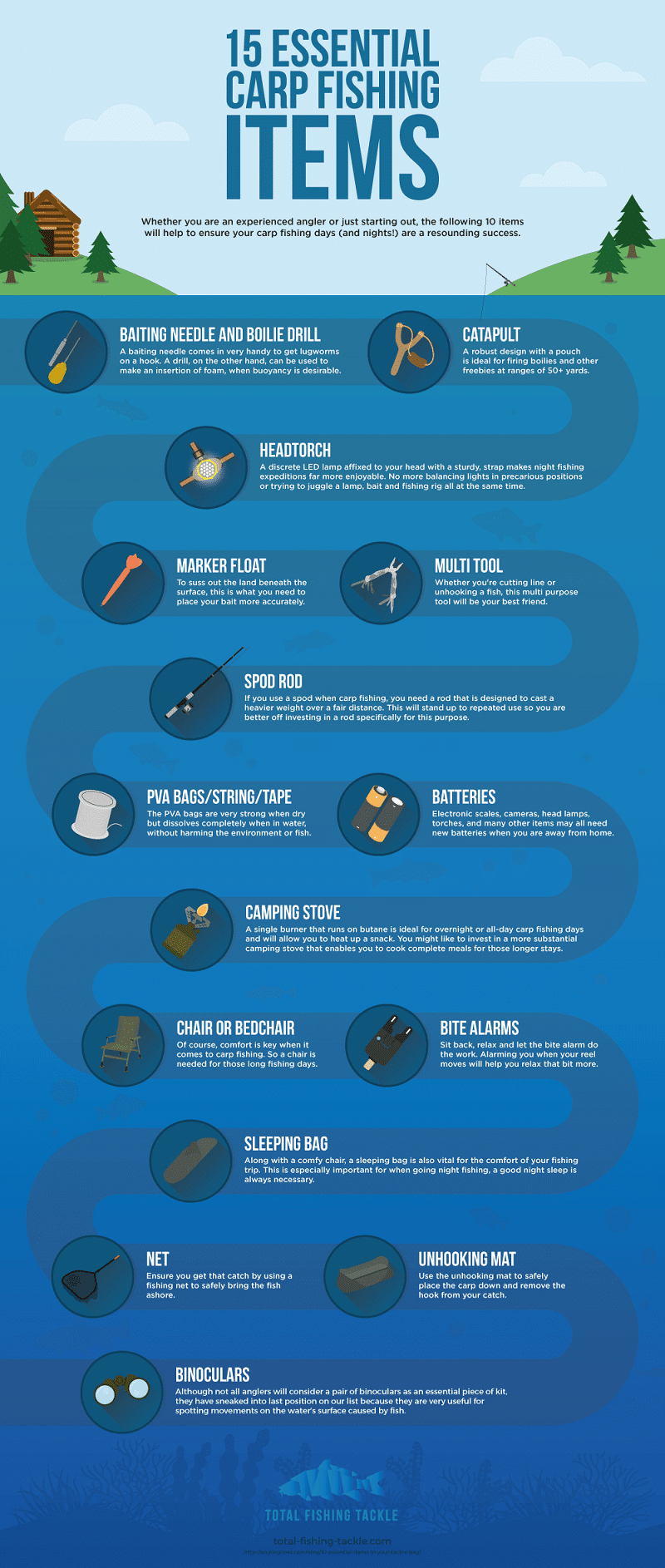 Bating Needle and Boilie Drill
A good place to start with your fishing essentials checklist is the baiting needle. A baiting needle comes in very handy when getting lugworms on a hook. Along with this, it is worth purchasing a boilie drill so that you can make an insertion of foam, when you are in need of buoyancy.
Catapults
Catapults are sure to add an element of fun to your fishing trip. If you are planning to get your boilies out to ranges of 50+ yards, then a robust catapult is going to help you achieve just that. If you are taking children on your fishing trip then a catapult is also a great tool that'll keep them engaged!
Head Torch
Heading off on a night fishing trip? A head torch will be your best friend. The last thing you want to do is drop your rod while getting a catch all because you had a torch in the other hand! A head torch will provide you with a hassle free bright LED light that will follow you wherever you go.
Marker Float
If you find yourself struggling to suss out the land beneath the surface, then a marker float will make this whole process extremely easy. A marker float will help you to place your bait more accurately and target the areas that you actually want to cover.
Multi Tool
This swanky gadget will help you with a variety of things – mainly the fiddly jobs like cutting line or unhooking a fish safely. A multi tool will save you a lot of time, stress and hassle with the little tricky things.
Spod Rod
If you tend to use a spod when you go carp fishing, then you'll be needing a rod that is designed to cast a heavy weight over a decent distance. Although quite the investment, a spod rod is durable enough for repeated use, so it is definitely worth purchasing a rod specifically for this purpose if you are a frequent spod user.
Don't forget to get all your essentials from trustworthy brands like CC Moore from Total Fishing Tackle for the best quality equipment out there. It really is worth checking out this infographic for even more fishing essentials; your next trip is going to be the best one yet, no matter where you are!