London is famous for countless things including its many pubs and bars. In fact, England's capital has the largest number of pubs out of all the cities analysed with, according to the findings, a staggering "5,800 pub. There's absolutely nothing wrong with enjoying an alcoholic beverage in moderation, and pubs are a great place to unwind and socialise.
The next time you grace London with your presence, we recommend paying a visit to West London's iconic Hammersmith district. Not only can you expect terrific theatre, fantastic food, and spectacular sights, but also picturesque pubs!
Here we've put together the ultimate pub walk around Hammersmith. We'll drink to that…
The Old Ship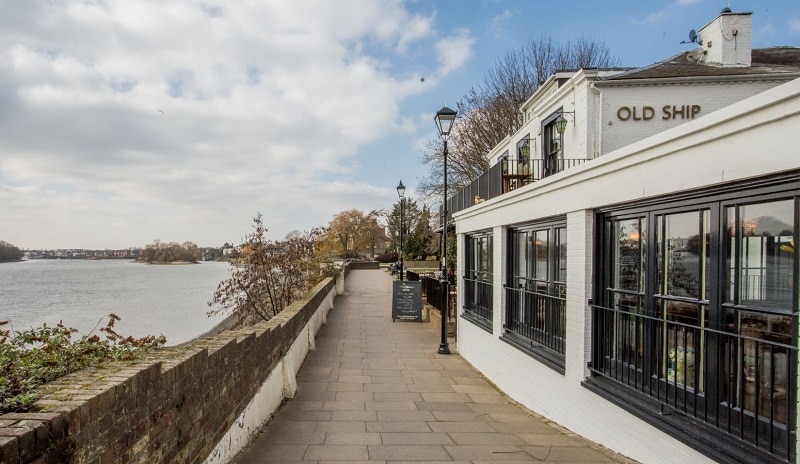 You haven't truly enjoyed a sociable drink if you haven't visited The Old Ship. This historic pub boasts front-row views of the Thames and is suitable for friends, couples, and families alike. We'd recommend planning your trip when the weather is warm to truly appreciate your delicious cocktail or cold pint.
The Bird in Hand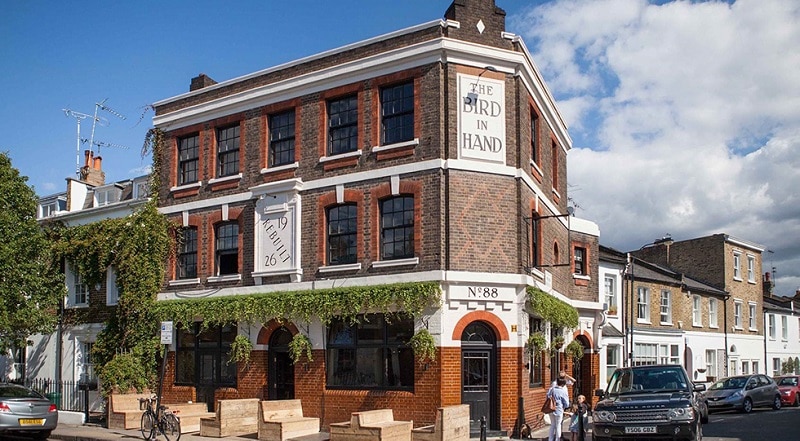 The low lights and neutral interiors create a warm and inviting atmosphere perfect for someone who prefers venues with a more 'homely' feel. This Hammersmith pub not only offers a vast selection of both alcoholic and soft drinks, but also handmade pizzas and delicious, high-quality snacks and small plates for those feeling a little peckish.
Queen's Head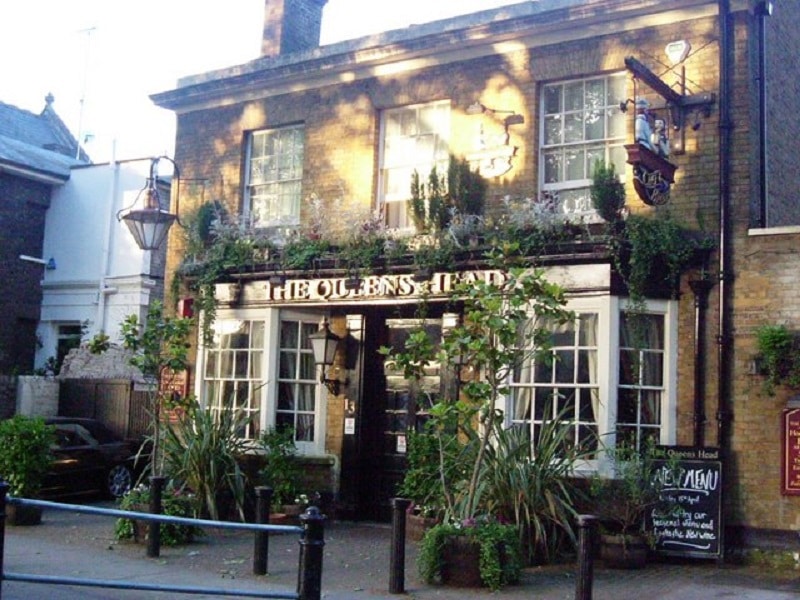 A little slice of village vibes… in the heart of London's Hammersmith! The Queen's Head is a pub that oozes rural charm, with its cricket green out front and beautiful stonework. If you're after a relaxed, casual atmosphere and traditional pub grub, get this venue on your bucket list! Better yet, why not look for hotels near Hammersmith in case you fancy turning your day trip into an overnight stay?
The Dove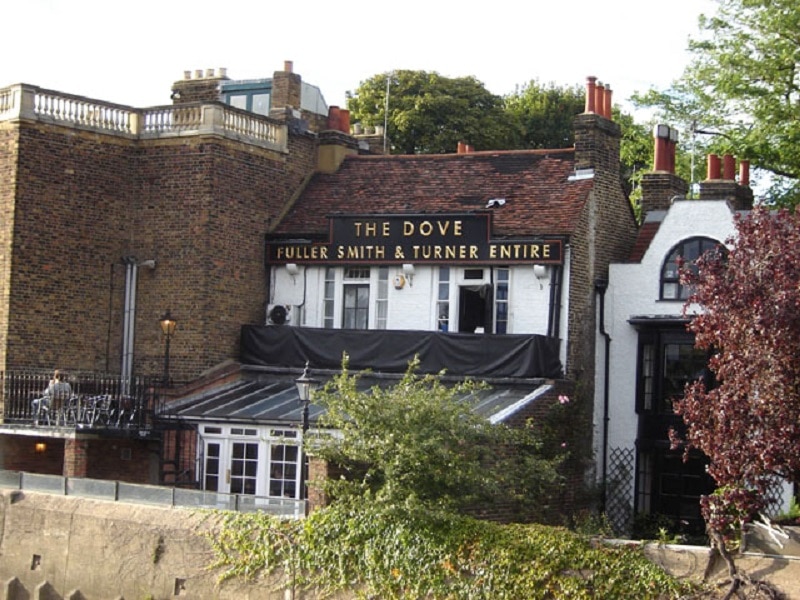 This traditional London pub is ideal for those who appreciate the beauty of history. Aptly hidden away and nestled on a backstreet by the river, history lovers can look forward to a nice cold brew in a building that has been standing since the 1600s! Charles II romanced and dined his mistress Nell Gwynne here, and it was awarded the smallest bar room in the world by the Guiness Book of World Records.
The Rutland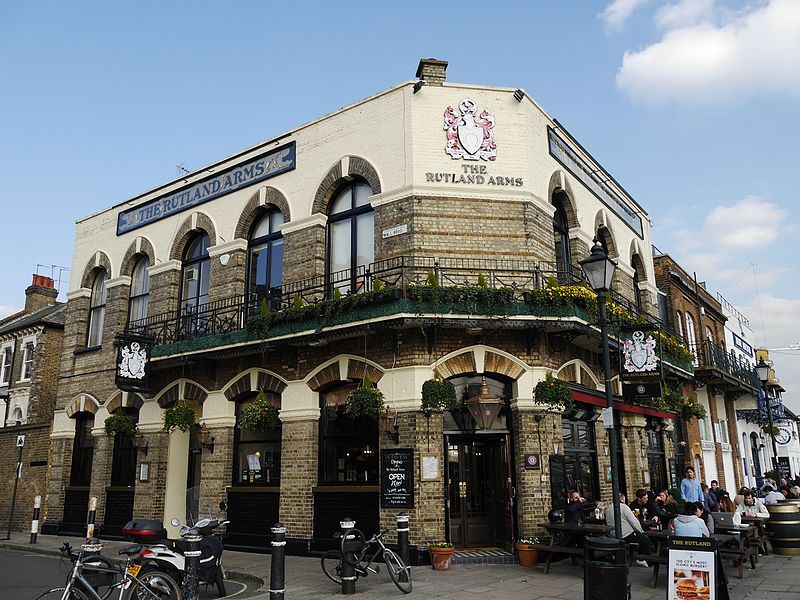 If you're planning to visit Hammersmith in the summertime, we strongly recommend visiting the idyllic pub that is The Rutland. Soak up the sun with fellow like minded individuals with a glass of pale ale and a tantalising plate of traditional fish and chips. Outdoor drinking doesn't get much better than this, we're sure of it!
The Cock Tavern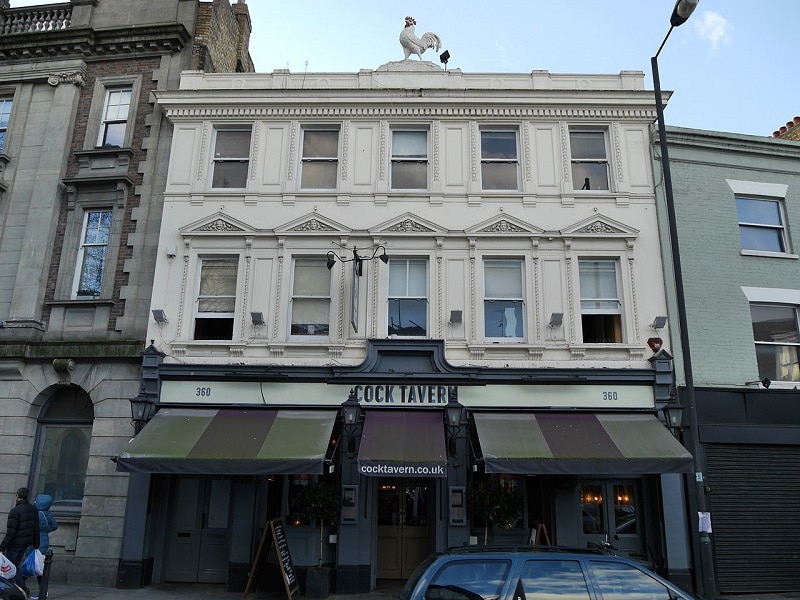 Bring your Hammersmith trip to life with a visit to The Cock Tavern, most notable for its eccentric atmosphere and quirky, unique interior. The fantastic drink options are the reason you'll go, but the remarkable food menu is the reason you'll stay! Traditional dishes are an option, but you can also enjoy distinctive plates on offer such as salt and pepper squid and jackfruit nachos. What's more, you won't break the bank here as prices are very reasonable!