Munnar is a verdant hill station nestled on the lap of the Western Ghats range in Kerala bordering Tamil Nadu. The pleasant chill weather of Munnar is a major attractive factor that beckons tourists during all seasons. With its sprawling carpet of tea plantations and evergreen tropical forests, Munnar is a nature lover's paradise.
Best Places to Visit in Munnar include TATA Tea Museum, Blossom Park, Pothamedu View Point , tea gardens, lakes , waterfalls and other tourist places, The tourists have to ideally plan their outing of Munnar Tourism based on their interests and allow themselves to immerse into natural beauty. South India's highest peak Anamudi standing at a height of 2695 meters is situated in Munnar. The purplish blue flower Neelakurinji blooms once in every 12 years on these mountain ranges. It is because of this phenomenon these hill ranges are named as 'Nilgiri' meaning 'blue mountain'.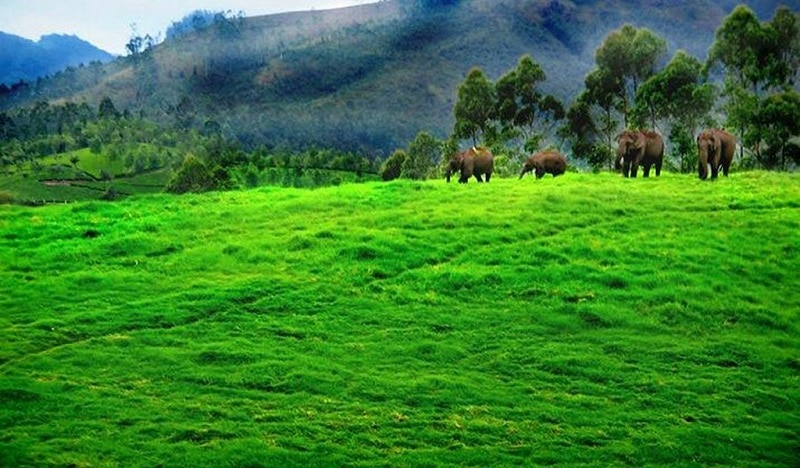 Munnar is also one of the most popular places for trekking. Munnar has various routes for trekking that it remains a dream destination for adventure seekers. The ideal season for trekking is from August till May. Trekking the mountains during winter season is a mesmerising experience where you will often be enveloped by a blanket of mist. Breathtaking views of rolling hills, vast expanse of grasslands and splashes of charming waterfalls will greet you during your trekking expeditions.
Various private adventure groups and tourism department centres provide necessary arrangements and assistance for trekking in Munnar. Here let us discuss a few fascinating trekking trails in Munnar. Put on your trekking shoes and pack your backpacks to conquer the lofty mountains of Western Ghats.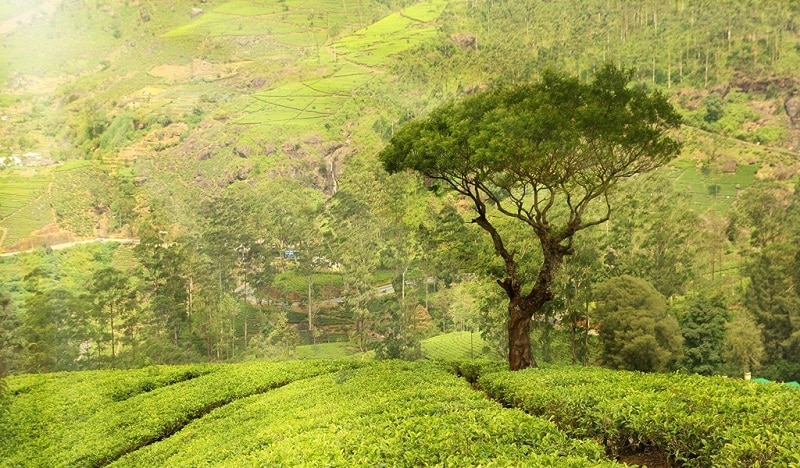 Meesapulimala Trekking
Meesapulimala is the second highest peak in South India, first being the Anamudi. It is the highest peak in South India (height: 2640 meters) which can be accessed by trekking (trekking in Anamudi is restricted).
The trekking trail passes through eight hills which go through the Kerala-Tamil Nadu state border.
Meesapulimala Peak got its name because it resembles the shape of a tiger's face. "Meesa," means moustache, "puli," means tiger and "mala," means hill.
Although you will not spot any tigers here, you are likely to catch a glimpse of other wild animals like elephants, Sambar deer, sloth bears and the endangered mountain goat Nilgiri Tahr.
Meesapulimala Trekking will fascinate any explorer with its unique high altitude grasslands and rainforests adorned with charming silvery waterfalls enroute.
At the top of this mountain, one can get breathtaking views of undulating plains of Tamil Nadu on the east and the Sahyadri ranges on the west. You can also get a bird's eye view of Munnar town from the top. Several spectacular waterfalls such as the Kurinji waterfall will greet you along the trekking trail
The base camp can be reached via Munnar-Mattuppetty-Aruvikkad estate route travelling about 24km from Munnar town. The journey to reach the base camp itself is an adventurous off-road ride.
The trekking trail starts from a jeep track which goes till the base of a hill. The trek begins from an altitude of 1500 meters reaching a height of around 2600 meters. This is followed by a 30 minutes climb up the first hill.
While you descend the first hill you will see a water stream to cross on your way. The famous Anayirangal Lake appears enroute the trail and soon you will start climbing the second hill.
The following hills are easier to climb until you reach the 7th hill which is a bit steep.
The descent starts from the other side of the hill and traverses through shola forests for about 40 minutes. After about half an hour's trek you get to see the world's highest tea estate, the Kolukkumalai situated at an altitude of 6675 feet. The trek through Rhodovalley is about 8km and need only a day to go and come back.
The route traverses through high altitude rain forests called as 'sholas'. The trekking trail has an abundance of rhododendron blooms that offers eye soothing views and streams to have mouthful of fresh water.
The idyllic hill station placed at an altitude of more than 8000 feet is a dream destination for any adventure lover.
Forget about the daily routines and get close to nature by staying in night tents and waking up to brilliant views of sunrise amidst thick white clouds and mountains so close by.
You may avail the trekking programs and base camp stay options organized by Kerala Forest Development Corporation (KFDC). You will be accompanied by a local guide provided by the KFDC.
Rhodo Valley, the last point accessible by any four wheelers is 4km from the base camp. Tents are available at Rhodo Valley for those who want to enjoy a stay back and enjoy the serenity of the hills and forests.
It is advised to start your trek early in the morning so that you will reach the top of the peak by noon.

Kolukkumalai Trekking
Kolukkumalai is the highest organic tea estate in the world situated in Bodinayakanur Taluk in Tamil Nadu. This location shares the border between Theni district of Tamil Nadi and Idukki district of Kerala.
Kolukkumalai is home to the highest tea plantations in the world with the tea grown here possess a special flavour and freshness because of the high altitude.
The Kolukkumalai tea factory was built in 1930 by the British and is still operating today where tea processing is carried out in traditional methods.
Apart from having the best refreshing cup of tea, Kolukkumalai is one of the much sought after trekking destinations in Munnar.
The trek starts from the Kurangani village at a height of 3,800 feet and takes you to an expanse of grasslands where you may have a short break before you enter the forest.
Soak in the warmth of sunlight that tries to pierce in through the veils of thick white clouds that floats around the surroundings
As you enjoy the soft caressing of the mountain breeze, mesmerising views of the Kurangini hills will welcome you enroute
You get to walk through thick rainforests passing around 40-50 hair pin curves that leads you uphill
Along the final stretch of the trail, you enter an area covered with towering pine trees
Sometimes you move forward with blinding mist around getting occasional glimpses of the sprawling tea estates that forms the soul of Kolukkumalai estate
As you move higher stunning landscapes of tall mountains flaunted by silvery white clouds can be seen
Situated at about 6800 feet above sea level, this estate is spread across 500 acres of land out of which only 200 acres is used for tea plantations the remaining portion remains as forest and grass lands
The hill ranges are famous for the exotic species of flora and fauna observed
You can reach Kolukkumalai by taking an off-road jeep ride from Suryanelli ( takes about an hour) or Munnar town
Camping/tent facilities are available in Kolukkumalai where you can spend a night and wakeup to spectacular views of morning sun rising amidst the Palani hill ranges
Accommodation is also available in the Mountain Hut guest house (3 bed rooms) renovated and maintained by the tea factory workers. Food is prepared here upon request
If you are opting to trek and come back to town, it is advisable to carry packed food and drinks as no other dining options are available at the top

Chokramudi peak Trekking
Chokramudi often termed as the 'lonely giant' stands as a unique stand alone mountain at an altitude of around 7200 feet located near Bison valley, Munnar
Chokramudi peak trek offers one of the best panoramic views of the surrounding mountains of Western Ghats traversing along rocky mountain slopes on one side and evergreen Shola forests on the other side
Atop the peak, you will be offered spectacular views of the highest peak in South India, the 'Anamudi' and the famous arch dam/reservoir of Idukki
The journey to reach the base camp is an adventurous four wheel drive through a plantation road. The base camp is about 16km away from Munnar town towards the Madurai State Highway gap road. The trekking trail begins from the gap road.
Chokramudi trekking can be divided into four parts. The initial stretch is an average steep climb with rocky, muddy and grassy terrain. The trail is covered with thick foliage with a barely visible walking path
As you move further, the trail changes into a complete rocky terrain which is steeper and a bit dangerous too. After 15 minutes into the trek, you will walk into the base of the mist clad giant Chokramudi
Soon you will experience reduced oxygen levels which will make you stop and gasp for breath
The rocky terrain would take you to the cross erected on the second stage of the trekking. The cross marks the point where the tourists usually come and leave.
Walk further ahead to enter a dense yet short shola forest region where chances are you bump into animals like elephants, snakes, barking deer, gaur, etc
You get to see rhododendron blooms and various other exotic flora in the region. Many a times, mist will cover the trails and you may have to stop in between till the path gets cleared
After the Shola region you will emerge into a grass land which will soon turn into a cruel hard core climbing experience which challenges your breathing ability and physical exertion limits
Soon you will feel like walking on the clouds as you step onto the majestic peak projecting itself into the sky
The soothing chill breeze and stupendous views of green grasslands and sholas below will surely sweep you off the floor. The white fluffy clouds floating below as you stand atop the peak will be a feast to your eyes
There are camping facilities and a Bamboo house stay in Pothamedu where you may opt to stay back and enjoy a camp fire and morning sunrise views
The trek can be completed in 2.5 to 3 hours with an average speed. You can opt to take the descend through the other side of the peak
Aluva to Munnar town – 108 km
Theni (in Tamil Nadu) to Munnar town – 77 km
Nearest airports:
Cochin International Airport to Munnar town – 107 km
Madurai airport (in Tamil Nadu) to Munnar town – 165 km