We don't picnic enough in the UK. Perhaps it's because our cities are lacking the picturesque spots that make a picnic so romantic, or maybe it's because we're always so worried that the grass is going to leave our jeans damp.
It's a different story in Paris, the city of love, where each neighbourhood has its own, sophisticated charm. There are countless hidden parks and high-up vantage points that are perfect for lunching en plein air, and the iconic Tour Eiffel can be spotted from just about anywhere in the city, so you never forget where you are.
The Parisians know the secrets that make a picnic superior to any cafe bite, grab-and-go meal or restaurant dinner. Firstly, there are no waiters or other diners watching over you, so it's more intimate. You're not on a schedule to pay the bill and move on, so you can eat and talk for as long as you like. Plus, buying ingredients yourself is far cheaper than paying someone else to make a sandwich for you, and it's a wonderful excuse to enjoy some fresh air.
In case you need any more convincing, we talked to the team at The Bag Broker, a company that specialises in packaging to keep authentic treats from all around Europe as fresh as possible. Their picnic enthusiasts gave us some recommendations about how to take inspiration from the French and create a beautiful (and delicious) picnic date in the UK.
1. Scene-setting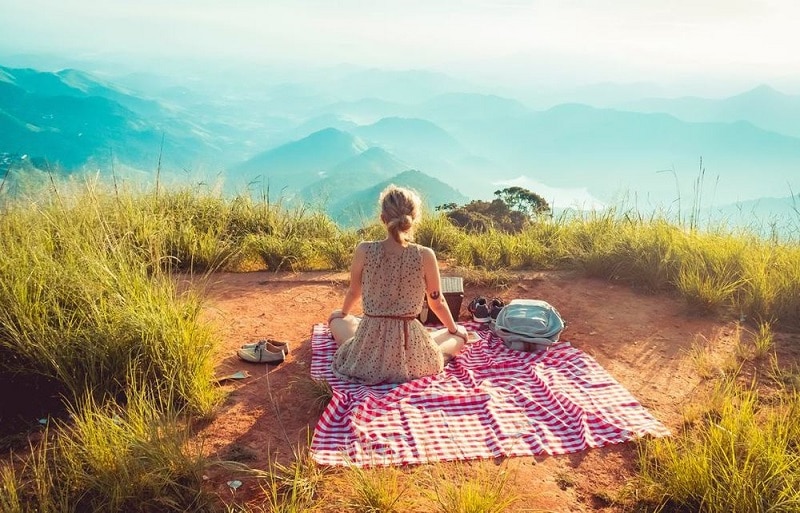 Even if you can't whisk your date off to Paris, there's no reason you can't recreate some of the same atmosphere. Plan to have your picnic somewhere clean and open that has a nice view of at least one of the following:
Open countryside
Trees, lawns and gardens
A beautiful skyline
Attractive landmarks
A waterway, river or lake
Avoid anywhere that's too close to foot traffic. It doesn't have to be completely deserted, but a sense of intimacy is nice. It's important that you're sat on a comfortable terrain; ideally grass, but sand will do. Here are some ideas about where to enjoy a picnic in London, for example.
2. Check you have the essentials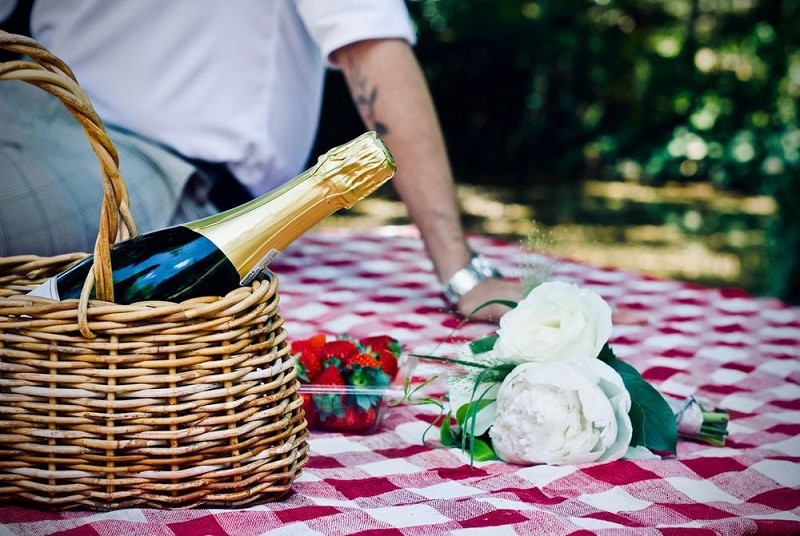 There's nothing worse than sitting down for a relaxing picnic, only to discover you've forgotten to bring something crucial. If you've chosen the right spot, the nearest shop should be at least a good 10 or 15-minute walk away.
A large blanket is your first essential (preferably one that's quite thick or has a waterproof coating). You will also need a basket or quality bag of some kind to carry your dining equipment in. A plastic carrier – even an environmentally-thoughtful 'bag for life' – will kill any sophistication you were hoping to achieve.
The equipment you bring inside the bag should include:
Plates
Cutlery (including knives and spoons for bread and condiments)
Plastic drinking vessels
Napkins
A bottle opener
A wine cooler (for white or sparkling)
If you find that you really enjoy your picnic, you can invest in a proper picnic hamper that comes with cutlery, plates, napkins and cups securely fastened inside.
3. Fresh, good quality food and drink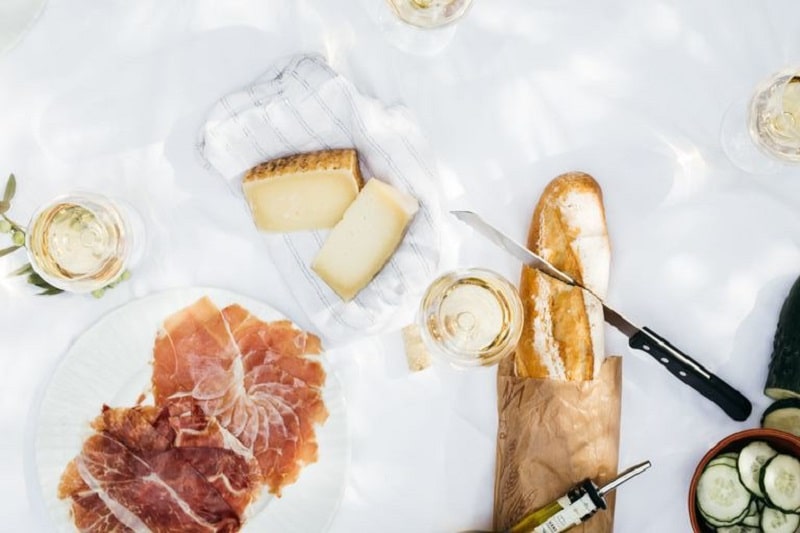 We're not here to argue against the merits of cucumber sandwiches, scones and Eton mess – they just don't feature in a proper Parisian picnic. Instead, ditch the bread triangles and pick up a freshly-baked baguette from a local baker. It should be softly crunchy if you squeeze it, and smell absolutely delicious.
Other key treats include:
Cheese (the more varieties the better)
Cured meats like smoked ham, saucisson and pâté
Chutneys, jams and spreads
A salad made using seasonal fruits and veg
Fresh fruit, like strawberries, blackberries and apples
Here are some more ideas about good picnic foods, in case you need inspiration.
Clearly, no meal inspired by the French would be complete without some wine. Champagne is perfect for an extra-special occasion, but a crisp white wine is a good choice for hot days or a Beaujolais if you prefer red. If you've driven to your romantic spot (or would just prefer something non-alcoholic), then still or sparkling water and fresh fruit juice would round-off your meal nicely.
And with that, you're all set to enjoy the perfect, Parisian-style picnic without even needing your passport. You never know, perhaps after spending a few relaxing afternoons watching the world go by with bread and cheese, you might find yourself enjoying la vie en rose.