The North African country of Morocco is a popular destination for international tourists, with the capital of Marrakesh being one of it's major hotspots. Drawn to its warm weather, beautiful architecture, lively atmosphere and excellent cuisine, thousands of these holidaymakers are here specifically to enjoy a magical getaway with their significant other.
Maybe you're looking to spend a long weekend with a girlfriend or boyfriend, escape on an exciting adventure for your honeymoon or celebrate a special anniversary. Whatever the occasion, here are our top five essentials for soaking up the Marrakesh culture and spending some quality time together.
1. Sample some street food at Jemaa el-Fnaa
The main square in Marrakesh is famous for being a hive of activity and an excellent place to people-watch. The best time to visit it at dusk when the stalls light up and you can watch locals and tourists haggle with merchants over for clothing, souvenirs and local goods. If you're not in the mood for browsing, at least make sure to try some of the excellent street food options or, if you'd prefer to hang back, try some mint tea from one of the eateries on the square's edge.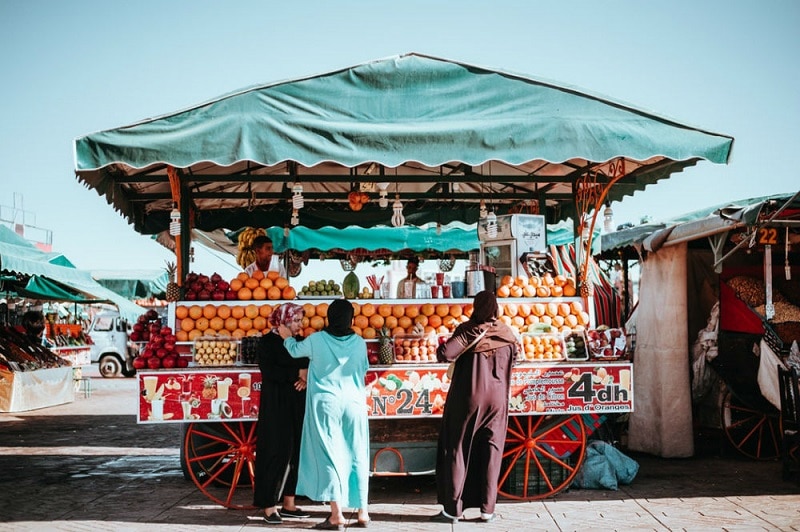 2. Experience a souk
Souks are the traditional markets of Morocco, and a must-see when you're visiting Marrakesh. Between the narrow passages and bustling stalls, you'll find snake charmers, magicians, folk singers and street artists, creating a noisy, vibrant atmosphere that's packed with life and energy.
There's nothing you can't buy here, from traditional Moroccan garments, jewellery, bags and perfumes, to local meats, vegetables, spices and drinks. There are musical instruments, ornate pieces of furniture, hand-crafted homewares and huge carpets. As long as you can handle the crowds and chaos as it weaves deep into the Medinas, a trip to the souk will be an exhilarating experience. Here are some tips for making the most of your visit.
3. Scope out dinner with a view
If you're feeling overwhelmed by the Medina markets, it's time to escape to a more secluded spot and book a table at one of Marrakesh's many rooftop cafes and restaurants. It's likely that your hotel or riad will have a flat roof and private restaurant, but you can find lots more dotted around the city. With stunning views of the surrounding rooftops and streets, these outdoor terraces are the perfect place to unwind with a glass of wine and a romantic dinner for two.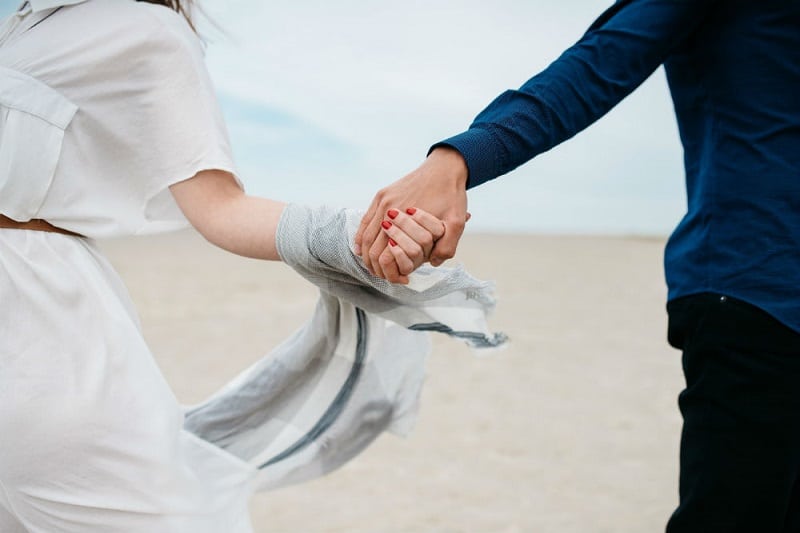 4. Visit a hammam
Another way to embrace a slower pace of life is to visit a local hammam, or public steam and bath house. These are a central part of life in Marrakesh, and it's a weekly ritual for many to go for a swim, indulge in a detoxifying wash in rhassoul clay soap and have a rigorous body scrub. Although some of the more upmarket hotels may have a private spa and hammam, the experience will be very different to a public one. Here's a quick guide to the differences to help you decide which one you'd prefer.
5. Escape the city and find a beach
With all its magical culture and stunning architecture, it's understandable if you choose to spend every moment of your holiday within the Marrakesh city limits. However, if you can muster up the desire to venture further afield, you'll be handsomely rewarded.
Some of the most beautiful beach resorts in the world can be found just a couple of hours away, such as the old port city of Essaouira – which is a popular destination in its own right. This is partly due to its arty, bohemian vibe, but also the incredible seafood, pretty beach and the fact it appeared as a location (Astapor) in Game of Thrones – check out some of the others here.
For a longer trip, try Al-Hoecima, one of Morocco's most highly-rated beaches. It's about 9 hours away from Marrakesh, but offers fantastic beaches and a thriving scene made up of tourists and locals. Rent a beach house for a few days and you'll be pleased you made the effort.