We have already been speaking about London on several occasions in this blog and we have also said how beautiful and lively the area of Camden Town is. The only issue is that if you are traveling from a European country to London then it's going to be tough to find accommodation since there are not many London Hotels in the area. What you can do is book outside the city and then take the underground. But are you going to stop for a drink if there is something in the neighborhood? In my recent trip to London I made a real pub crawl attending some beautiful reality of the world of real English ale. In Camden there are several places not to be missed, starting from Camden Brewery, but over all I would want to report bar BrewDog, the famous Scottish brewery all over the world who opened a bar in the whole of Britain.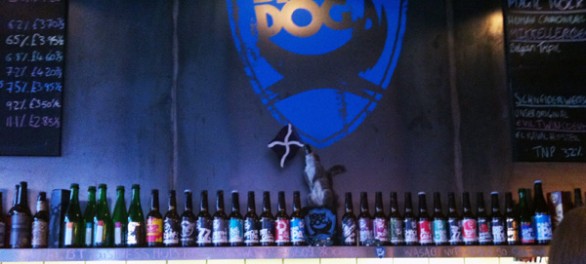 The atmosphere is informal, well groomed and cool in the style of BrewDog, there are several draft beers in the brewery plus the opportunity to buy the bottles (to eat in or take-home) and you can chose bottles of some guests' breweries. On the wall behind the counter stands the famous "stuffed squirrel" with a bottle of beer inside, and a nice set of labels of the brewery. The posts are divided between the entrance floor and one underground floor, but no problem getting a table or a stool empty, since a lot of people go for a beer on the go and then go away. The prices are normal, even if you are a fan of this brewery (like me) you will spend less in sampling all the beers at their bar or buying them in another European country or on their website. I drank several things, taking advantage of the variety of the offers, and I must say I'm really satisfied.
Reaching the pub is very simple since it is located about 100 meters from the underground, on the corner of Bayham Street and Greenland street.