When I stayed in my first vacation rental on Anna Maria Island, I have to admit my main aim was doing close to nothing. There's something about the easy going nature of this jewel of an island that seeps into you from the moment you set foot on it. Never being more than a short walk from the fine, white beaches and the sweeping blue of the ocean probably has something to do with it, as well as the friendly "Old Florida" attitude of the locals, but there's more to Anna Maria than lazy days on the beach.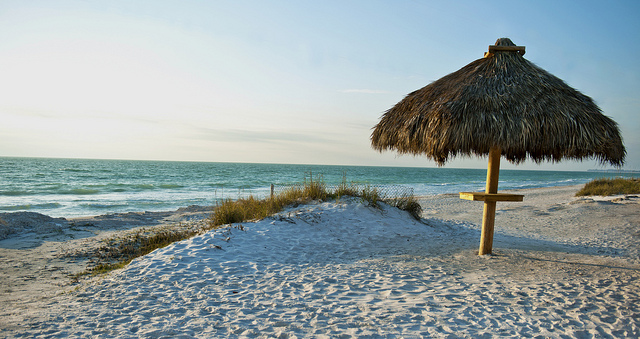 After a couple of days soaking up the atmosphere and letting yourself unwind you might want to reinvigorate yourself with some activity, and the island offers some great opportunities. These are some of my favourites.
Fishing. Situated as it is in the Gulf of Mexico, the Island of Anna Maria offers some of the best year round fishing you'll find anywhere. If you fancy some deep water sport fishing you'll find numerous charters on the island that can take you out into the Gulf to try your hand with sharks, barracuda and other game fish. The adrenaline rush I felt when I hooked my first barracuda is one of my most vivid memories of the island. Perhaps you're more of a landlubber? Then don't forget that with miles of beach to fish from and three fishing piers, Anna Maria also offers plenty for the less nautical.
Snorkelling and SCUBA. If you'd rather not pit yourself against the local aquatic population then why not join them in the balmy waters? You can fairly take your pick of choice locations for some snorkelling, but I'd definitely recommend checking out the Regina Shipwreck. An old molasses tanker that sank in 1940, the Regina is now an underwater preserve that is teeming with life. Just a short swim from shore the Regina is even more impressive explored up close with SCUBA gear.
Paddleboarding. If you fancy keeping your head above water then this new sport could be for you. Essentially a mix of kayaking and surfing, paddleboarding is relatively easy to pick up and offers a fun way to explore the island's waterways as well as see some of the indigenous wildlife up close in their natural habitat.
Golf. Back on dry land Anna Maria Island, despite its diminutive size does sport its own golf club, the exclusive Key Royale Club. Although this is a private club, it is possible to pay a guest fee to enjoy this delightful little course, which is sure to test even the keen golfers. There are also several other public courses just a short drive onto the mainland if you can't stretch to the one-off cost.
These are just a few of the sporting challenges that Anna Maria Island has to offer, without considering the numerous opportunities for cycling, sailing and that old beach standby: volleyball. So when you're booking your vacation rental, don't forget to earmark some time to enjoy the island's more energetic delights, alongside the gorgeous scenery and laid back atmosphere.
Anna Maria Island Rentals, FL
On your vacation to Anna Maria Island you are assured of fabulous rental accommodation. Although hotel chains are mostly absent, your best bet would be to utilise a luxury vacation rental property. There are an abundance of luxury vacation rental properties across the island. From 1 bed to 7 bed properties, including some spectacular beachfront rentals, all in close proximity of local shops and restaurants, allowing you and your family to feel special, with the relaxed 'at home' feel, creating the perfect ambience to sit back and enjoy the vacation splendours Anna Maria Island has to offer.
Anna Maria Vacations specialises in vacation rentals across Anna Maria Island. Please visit www.annamaria.com for more information and to make your online booking.
Photo 1: CINDYQUINN2011