Everything begins with an abandoned building that is about to be demolished. A youth group meets and offers the council to rent it for a token price to create a bar. The City Council grants it while completing the formalities before throwing it down and we have our kertek, which in Hungarian means gardens, but which are known in Europe by their nickname, ruin pubs.
The result is amazing; old buildings of the Soviet era, open courtyards and even industrial units are decorated in Budapest in the craziest and most creative way.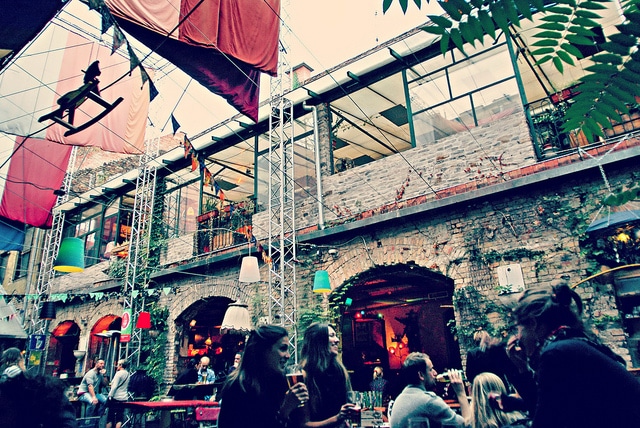 Don't be surprised if you see a bike embedded in the wall, televisions hanging from a cable as decoration, large film projectors and thousands of paintings, sculptures, and objects that have been given an artistic value. This whole environment is surrounded by bars bar at popular prices.
And not just bars, they also work as cultural and social centers as well as showrooms and anything they can think of, because although hard to believe, every ruin bar is different and its visit is a must if one wants to enjoy a real palinka (typical Hungarian fruit liquor) in the best environment:
– Szimpla Kert, Kazinczy utca 14: The most famous and veteran ruin bar and in our opinion, the most complete. In Szimpla, besides drinking their own production beers and be thrilled by the decoration, you can dine and attend film festivals, DJ sessions and concerts.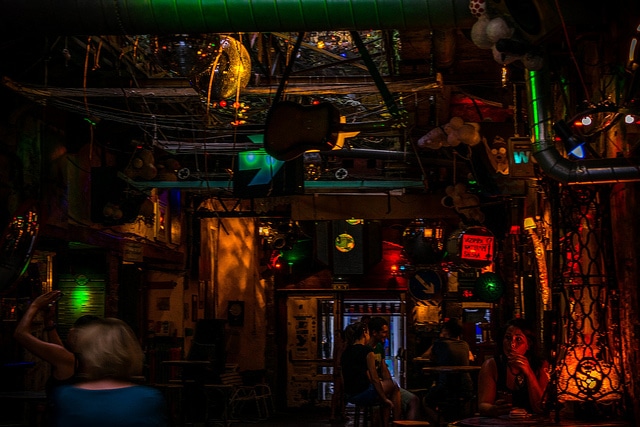 – Mika Tivadar Kert, Kazinczy utca 47: It also belongs to the Triangle in which ships and Hungarians tend to be all at sea. It is one of the most recent ruin bars of Budapest, but thanks to its concerts, parties and hot dogs it has managed to be also one of the busiest.
– Ellátó Kert, Kazinczy utca 48: They say this bar of Mexican air along belongs with two others to the Bermuda Triangle of Budapest: once you enter it is not easy to leave! The place is usually full of people of all ages that grab their Mexican tacos when hungry. It has a ballroom and a game room where you can play pool, table tennis and table football.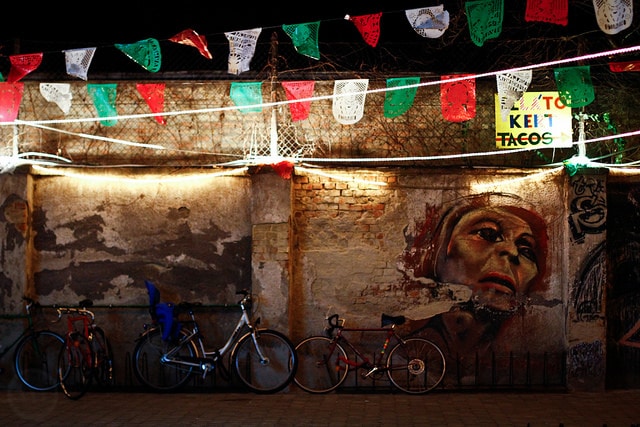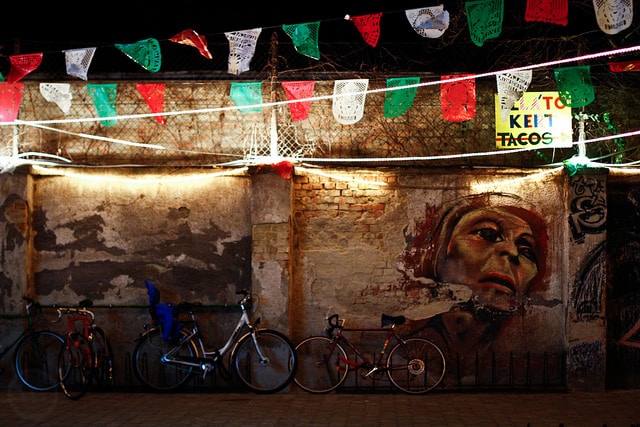 – Fogas Ház, Akácfa utca 51: This bar with an outdoor patio has everything already mentioned: delirious decor, concerts, parties… But Fogas Ház goes further and works during the day as a cultural center where to participate in various activities and attend free cinema and theater shows. Indeed, you could spend the day and night here without getting bored.
– Corvin tető, Blaha Lujza tér 1-2: Above a department store we have a 600m² terraced roof from which we have incredible views of the city rooftops, neon signs, cranes and the Buda Hills. It is also a reference to the music scene with live entertainment from many different styles.
– Koleves Kert, Kazinczy utca 41: In the afternoon is crowded with families with children, who can rock on the swings while their parents drink and chat. At night they are relieved by those who fancy a drink after work. It is also one of the favorite places for college students (the campus is nearby).
Gradió, Nagy Diofa utca 8. Besides being a huge bar it is also a hostel for travelers. The lush vegetation has grown so much that more than a courtyard garden it is a jungle where to take great drinks at a long bar.
Photos: Kádár Tamás, Gábor Nádal, ellnor04, Keret blog.