Step aside Mexico; take some time off, Brazil. Ecuador is easily the greatest tropical destination in Latin America. Located in the very northwest corner of South America, the country boasts a beautifully diverse landscape with stunning beaches, lush rainforest, and mountain views —as well as cosmopolitan cities and historical sites. The home of the Galapagos Islands, Ecuador is a noteworthy destination for outdoor adventures, but there is so much to do and see (not to mention eat) in this forgotten gem that anyone can find fun and excitement in Ecuador.
What to See
No matter where you go in Ecuador, there's something fascinating to see. Still, because most travelers are pressed for time, here are the top four sights that make an amazing Ecuador vacation: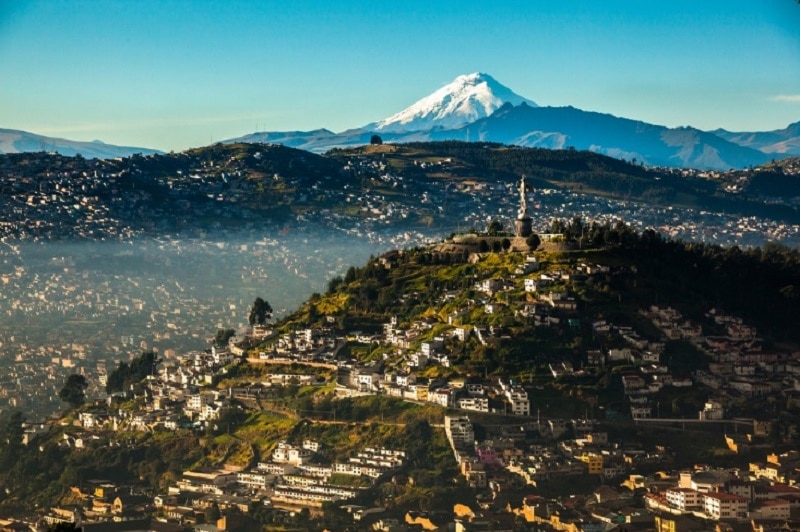 Galapagos Islands
The famous destination of Charles Darwin and countless other naturalists, the Galapagos are teeming with unique life and unparalleled beauty. You can watch the mating dance of the blue-footed booby, spend time with the Galapagos tortoises (some of the oldest animals on Earth), and catch some rays with colorful marine iguanas. More than 600 miles from the coast, the Galapagos are an all-day trek to reach, but the islands are home to all sorts of natural wonders you don't want to miss.
Montanita Beaches
Quito, Ecuador's capital city, is in its mountainous interior, so to see the Pacific Ocean you need to travel west to Montanita. Like a South American Santa Cruz, Montanita is a well-known locale for surfer culture — replete with reggae music, topless sunbathing, and more. Even if you don't want to revisit the hippie heyday, you can enjoy the beautiful sand beaches and strong waves, perfect for watersports.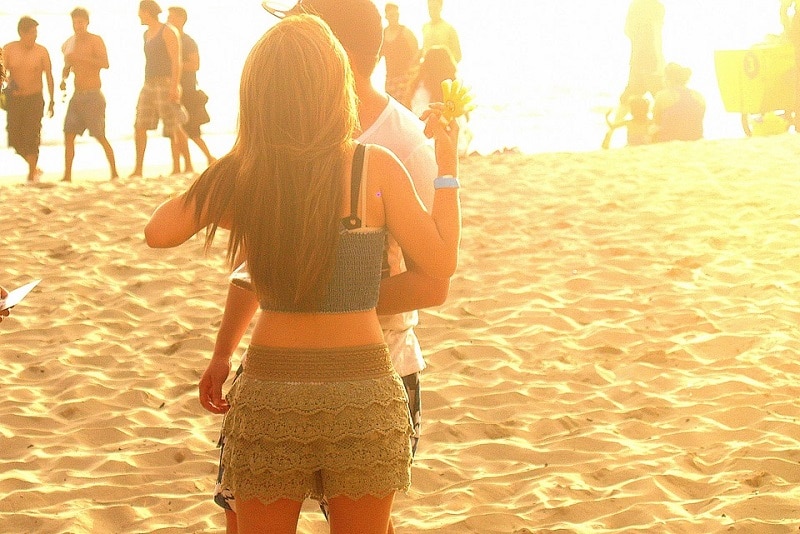 Cuicocha Lake
Closer to Quito, Cuicocha Lake is easily Ecuador's most picturesque body of water. A two-mile-wide crater in the caldera of (dormant) Cotacachi Volcano, the lake is a stunning blue hue that contrasts beautifully with the surrounding bright-green hills. The elevation is 10,000 feet, making hiking around the lake difficult but not impossible. You might also consider taking a boat tour around the lake to learn about the geology of the region.
Ingapirca
When you hear "Inca civilization" you undoubtedly think of Peru, but the Incan Empire spread far and wide across South America — even to Ecuador. Ingapirca is the largest Incan ruin in Ecuador, and it is located deep in Ecuador's southern mountains. Architecturally, Ingapirca is magnificent, integrating the movements of the sun and planets while building relatively modern features like underground water systems. From the nearest city, Cuenca, you can reach the ruins after a two-hour bus ride, or you can trek there like the Inca did using their original path.
What to Do
If seeing Ecuador isn't enough, never fret: There is plenty to engage your need for action. Here are a few activities you can only do in Ecuador:
Straddle the Equator
At Cuidad Mitad del Mundo (literally "city of half of the world"), you can plant one foot in the Northern Hemisphere and one half in the Southern Hemisphere, as calculated by explorers in 1736. Surrounding the equatorial line is a mall of museums and monuments, but the straddle is what most tourists come here for.
Swing at the End of the World
South of Quito, deep in the wilderness on Mount Tungurahua, there is a monitoring station in a tree equipped with a long rope swing. Held in by just a seat belt, you can rock back and forth over the steep slope of the mountain, looking into the valleys and over the horizon as you swing. It's at once exhilarating and meditative, and it only costs about $5 to reach.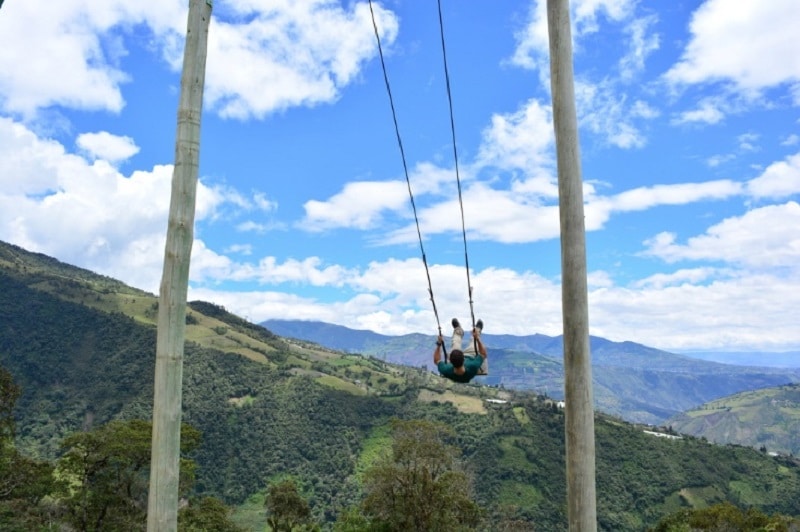 Ride the Devil's Nose
Perhaps Ecuador's worst-kept secret, the Devil's Nose is a train ride from the quaint town of Riobamba. Unlike other trains, this one zigs and zags up a nearby cliff face called the Nariz del Diablo, eventually reaching about 400 feet in the air. This is a harrowing all-day journey — so you should find a seat on the right, where you'll have the most heart-stopping views.
What to Eat
After all your adventures, you need to re-energize with some tasty local fare. Ecuadorian food is an odd mixture of the spices of Central America and the hardiness of South American cuisine. By far, Ecuador is best at soups and stews, including Manestra (a bean and lentil stew) and Locro (a potato and cheese soup). If you're an adventurous eater, you have to sample cuy, or guinea pig, which is most often deep-fried, as well as tree tomato juice, which is a sweet and sour fruit juice.