Brussels is a unique city, composed of nineteen districts and divided in two languages. The "Piazza Grande", and the "Grand Palace" is the heart of the city and they are accessible by tram or bus. This "place" was once the hearth of the food markets. The neighbouring streets bear the names of the products that could be found, such as the street "Herbal Market." In the same way are named the restaurants and the traditional cafes in the neighbourhoods. Markets on this square are no longer described by Victor Hugo as "the most beautiful square in Europe" but there are always thousands of reasons to go there. The city offers many interesting sites to visit, which are easily accessible by the public transport or on foot.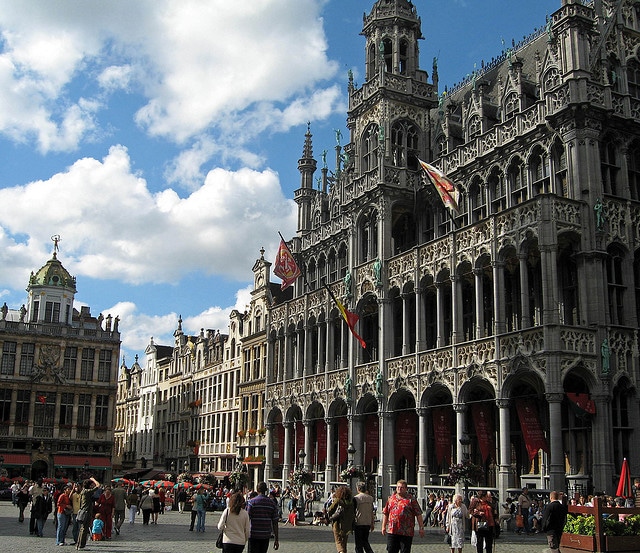 In the center of Brussels there are historical places like the "Cathedral of Saints Michael", "Gudula", the "Monts des Arts", the "Piazza Santa Caterina" … and most of the malls. The Piazza Santa Caterina was a fishing village and is known today as the district of the seafood. The centre of Brussels is essentially pentagonal and all the roads lead to the Grote Markt / Grand Place (the heart of the city). An aerial view can show how the city of Brussels is surrounded by water and vegetables. The south-east of Brussels is called the high city. The Royal Palace is the residence of the Belgian King and you can find the paintings and the architecture of the eighteenth century. The courthouse was built by King Leopold the II is an example of Gothic Revival architecture.
Between the "Place de Broukère" and "Roger" you will find a dozen sites to see like the Bourse (the fish market), the Red District and the Park of Brussels (was the first park of this part of town). It is here the place where you will find the Grote Markt or the Grand Place: where you will spend an exploring day in the shops; the stalls can be a nice distraction as well. Ixelles instead, is not a bunch of clothes, but an oasis of peace: here you get the magnificent "Wood of Cambre" with its forests, parks, lakes, and the abbey of La Cambre, which was founded in 1196 by the Cisterian Nuns. The abbey has been rebuilt in the seventeen and eighteenth century, after having suffered considerable damages during the religion wars. Therefore it remains only a part of the original construction of the fourteenth century.
If you liked this article, do not hesitate for your next vacation to make a trip to Brussels!
By Angela B