Palm Beach is a small island found in the east coast of Florida. The place is boasting luxurious estates where people live in cashmere and drive Rolls Royce. This is proven to be the golden island of the state. A lot of tourists are coming back to the area for reasons like privacy and luxurious resort hotels. The neighborhood is flaunting with monuments of prosperous economy. You can find several historical areas where you can see great structures.  Definitely Palm Beach is great town for several activities but not if you are planning to save money. Many of the luxury resort hotels in the area are known for their hospitality. The world class hotels are enticing for the visitors to go back. Most of them have great facilities, notable restaurants, beach front spots, member only for golf courses and posh health centers. You will be offered a wonderful experience in places like:
Boca Raton Resort and Club is one of the best resorts in Palm Beach. It is part of the Waldorf Astoria Collection. This is considered as a number one resort destination because of its accommodation and facilities. There are many people who celebrate weddings and other events there. The resort offers a wonderful experience as you can go barefoot or you can wear tux.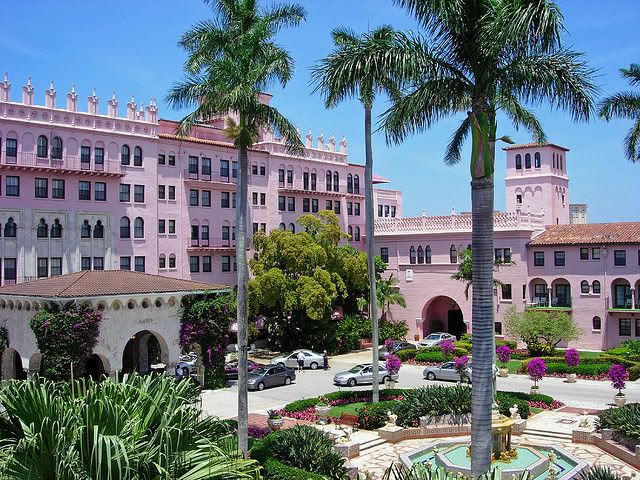 The Breakers Palm Beach is legendary because of its 540 room facility. The property is inspired by the Italian Renaissance era. The ocean front property is found in the heart of the town.
The PGA national Resort & Spa is found in the posh southern part of Palm Beach. Tourists will be offered a complete and luxurious experience. The property undergone a multi-million renovation making it a legendary resort.
PGA national Resort Spa SwimmingPool
PGA national Resort Spa Swimming Pool Connecting with the River
The list will not be complete without including the Ritz Carlton Hotel. The beach front hotel is considered as a five star accommodation. The place features about three hundred plus guestrooms with balconies. The facilities include spas, outdoor pools, water sports areas, and restaurants.
Ritz Carlton Hotel
Ritz Carlton Hotel Interior Design
Ritz Carlton Hotel Beach
The Four Seasons is an elegant five star hotel that is found near the beach. The guest rooms are redesigned to match the ambiance of the area.
Four Seasons Resorts
Four Seasons Resort Swimming Pool
Four Seasons Resort Rooms
Another great resort in Palm Beach is Omphoy that is boasting about 130 rooms. You will have the view of the Atlantic Ocean.
The Omphoy Ocean Resort
The Omphoy Ocean Resort Entrance
Omphoy-guestroom
The Colony Hotel is a traditional accommodation with suites, pent houses and villas. The area is about 4,000 sq ft which is a pretty big space for relaxation. This is a home to a lot of notable restaurants in the area like the Royal Room Cabaret and Café 155. The place is just a few steps from the beach and in a walking distance from Worth Avenue stores.
Colony Hotel
Colony Hotel Room
Loungeat Colony Hotel
Photo 1:fridayinla, Photo 2:bocaratonresort, Photo 3:palmbeachcounty, Photo 4: thepurplepassport, Photo 5+6:SLDdigital, Photo 7: worldpropertychannel, Photo 8+9:Evenstar12, Photo 10: Paul Lowry , Photo 11: Corinna WittPhoto 12:twoblueday, Photo 13+14:  IDEE_PER_VIAGGIARE, Photo 15: easy.tahiti, Photo 16+17+18: universal.traveler2, Photo 19:worth-avenue, Photo 20:floradesign  , Photo 21 israel21c_internal