Santorini is the spoiled girl of the Cyclades. Standing on a volcanic ground and shaped like a crescent moon, it is notable for being different from their counterparts and to any of the islands that populate the Aegean Sea. Its main distinguishing feature is its peculiar geological configuration, which is the result of the volcanic eruption that occurred in Santorini in the thirteenth century. In the inner part, where was once the big volcano, there is a group of smaller islands; In the western, the island becomes steep and rocky and the cliffs above the sea are very interesting; In the south, there is the beach with the dark sand and crystalline waters. Also, you can find there amazing villages, but above all, do not forget to admire the extraordinary sunset since it is spectacular.
Among the towns to visit are Fira, which is the capital, and Oia. Fira is hanging from the top cliff, over the slope down to the lagoon and from there you can see perfectly the volcano that is facing the island. You can also visit some old churches, monasteries and the Venetian castle ruins. In Oia are located the typical white houses with the roofs painted in blue that so many times you have seen on the postcards. This town is the reference point to the incredible sunsets, therefore, take the opportunity to enjoy the sunset at one of the tavernas overlooking the sea.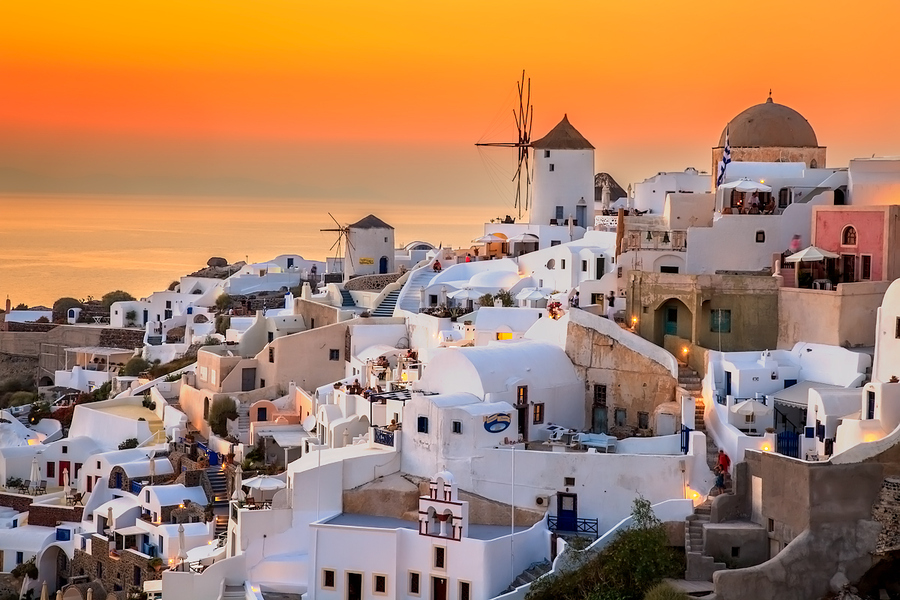 If you are looking for the sun and the beach, you can choose among the beach of Kamari, the Red Beach, the beaches of Perissa and Perivolos. These beaches are perfect for scuba diving because they have a very rich underwater world thanks to its caves, walls, reefs and an interesting marine life, in addition to the incredibly clear waters. If you prefer nature, a good option is hiking because there are several routes for walking around the island and most of these do not take longer than an hour. You can also find the archaeological remains of the area. If you like to party you are in the right place since Santorini has a bustling nightlife.
To get to the island of Santorini there is a great transportation system of boats, which makes moving easy from one island to another. In fact, it has daily connections from Piraeus port in Athens to go and return whenever you want.
By Paula.P.B.M
Photo 1: Renzo Re , Photo 2: Paul Garett  Photo 3:Basheer Sheick YousifPhoto 4: Raffi Rasmajian Photo 5: Mitchel Bertschy, Photo 6: luxuo, Photo 7: thehotel