Mont Saint Michel is one of the milestones of each trip to Normandy. This rocky island is a symbol of France and is located in the heart of an immense tidal bay, the strongest in Europe.
According to legend it was the Archangel Michael that told the bishop of Avranches the location where to build the monastery. The pre Romanesque church was consecrated in 708 and later the rock became the home of a community of Benedictine monks who guarded it until the French Revolution.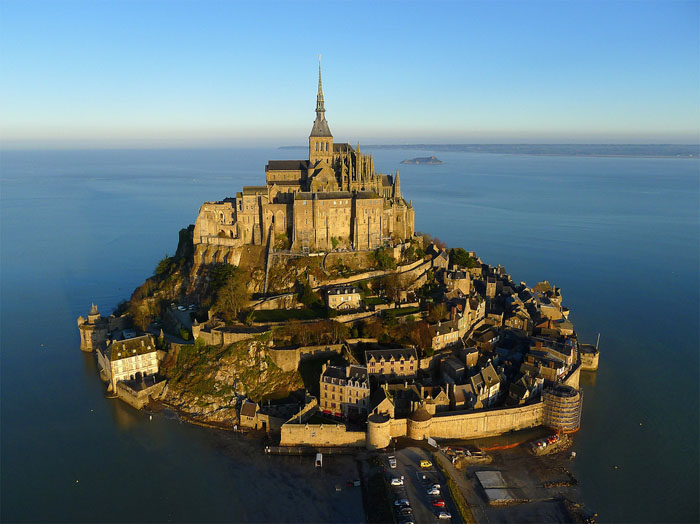 Over the centuries the island has turned into a fortress so that during the Hundred Years of War it was the only strip of northern France from falling into enemy hands even though the English put it under siege several times.
In 1966 the abbey was symbolically returned to the order of the Benedictines during the anniversary of the founding of the community of Mont Saint Michel.
The island is connected to the mainland by a causeway which makes it also accessible at high tide. After passing the drawbridge and the gates of the medieval city you enter the Grand Rue, the main road leading to the abbey where there are museums, shops and houses of the fifteenth and sixteenth centuries. At the beginning of the trail is the parish church, a small building of the fifteenth century dedicated to St. Peter patron saint of fishermen.
Along the Grand Rue it is worth stopping to admire the view of the bay because the climb can be challenging especially during the summer months. The main church was built on top of the island and is visited in its entirety.
The abbey of Mont Saint Michel has been continuously expanded and upgraded so as to represent a complete picture of the medieval architecture of the eleventh to the sixteenth century. A large golden statue depicting St. Michael slaying the dragon surmounts the roof of the abbey, one of the top three places of worship named after the archangel together with the European Sacra di San Michele in Val di Susa and the Sanctuary of St. Michael, the Archangel on Gargano.
Watching the progress of the tides around the island is very charming. The sea level also makes excursions of 14 feet and the water moves very quickly. It is dangerous to venture alone into the bay because of the presence of quicksand. Those wishing to experience the thrill of walking on foot or on horseback at low tide can participate in one of the excursions.
The entire island was declared "World Heritage" by UNESCO in 1979.
This mecca of tourism welcomes more than three million visitors a year, both French and foreign. It is best to arrive early in the morning or late in the afternoon hours as it is besieged by tourists.
Mont Saint Michel is also considered a classic destination for all tours of Britain, given its proximity to the region of western France.
By Elsi H
Travel photo 1: levalet, Travel photo 2: Shertila Tony, Travel photo 3: Baloulumix, Travel photo 4: Achab, Travel photo 5: t.tsik,