"Something's always happening here. If you're bored in New York, it's your own fault." – Myrna Loy
When it comes to staycationing in the Big Apple, the possibilities are truly endless! Whether your staycation ideas run towards taking a a leisurely stroll across the Brooklyn Bridge on a sunny day, enjoy an off-Broadway show, spend an aimless afternoon wandering through Central Park, admire world-famous artwork at The Met, explore bustling South Street Seaport, grab a slice of pizza at Scarr's on the Lower East Side or unwind with your favorite craft cocktail at a rooftop bar in Midtown East such as Tavern29, NYC is the greatest city in the world for locals who wish to play tourist for a long weekend or even an entire week of fun-filled activities.
In fact, New York City was recently ranked as one of the best stay-at-home vacation destinations by WalletHub. According to Harper's Bazaar, "For New Yorkers in particular, there is often no better form of therapy than a staycation … It's an opportunity to retreat, mentally regroup and rediscover the magic that makes locals and visitors alike fall in love with this vibrant metropolis."
In order to make the most of exploring your own backyard during your epic New York City staycation, you will want to book just the right hotel that offers you easy access to world-famous landmarks, along with proximity to great NYC eateries, trendy nightlife and abundant shopping opportunities. Here are the 10 best staycation hotels in NYC:
Westgate New York Grand Central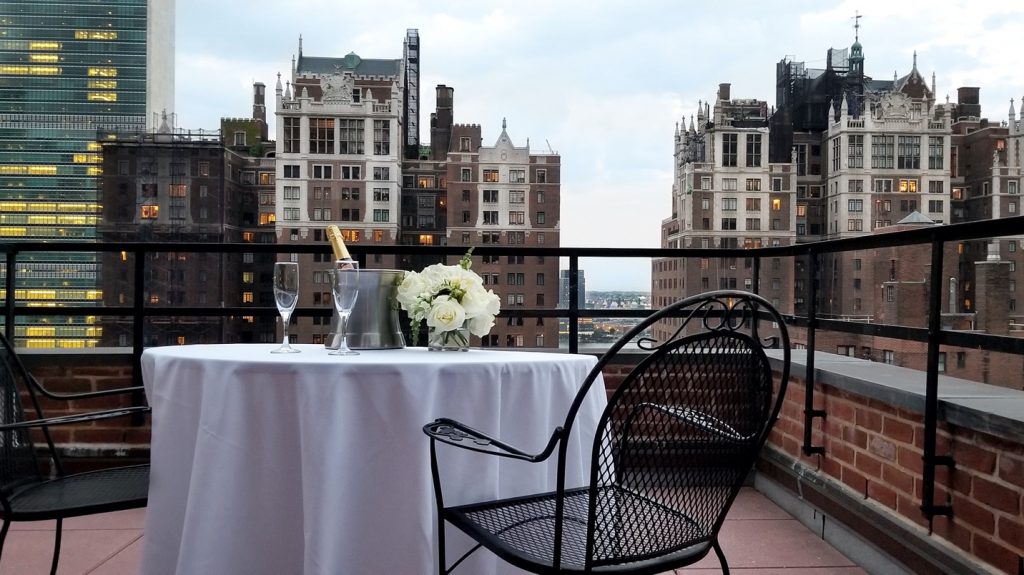 For the best staycation NYC has to offer, look no farther than Westgate's midtown NYC hotel. An iconic retreat that lies within the historic Tudor City neighborhood in the heart of Midtown East Manhattan, the 23-floor, 300-room Westgate New York Grand Central was built in 1931, features gothic-revival architecture and has been recognized by Historic Hotels of America. Seeking a myriad of things to do in NYC during your staycation? The extensively renovated Westgate New York is perfectly situated within just blocks of great NYC sights such as Grand Central Terminal, Empire State Building, Times Square, Bryant Park, Rockefeller Center, United Nations Plaza and more. Best of all, the new Luxe rooms at Westgate New York offer a variety of world-class in-room amenities such as Serenity Beds, herringbone wood flooring, full private bathrooms with quartz vanity and backlit LED mirrors, oversized wooden desks, flat-screen LCD TVs and triple pane windows. Some of the Luxe rooms even feature balconies overlooking "The City That Never Sleeps." Guests of Westgate New York enjoy the convenience of a casual eatery called Tudor City Marketplace & Tavern, state-of-the-art fitness center, business center and valet parking.     
WHERE: 304 E. 42nd Street, New York, NY 10017 | WHO: (212) 986-8800
Roger Smith Hotel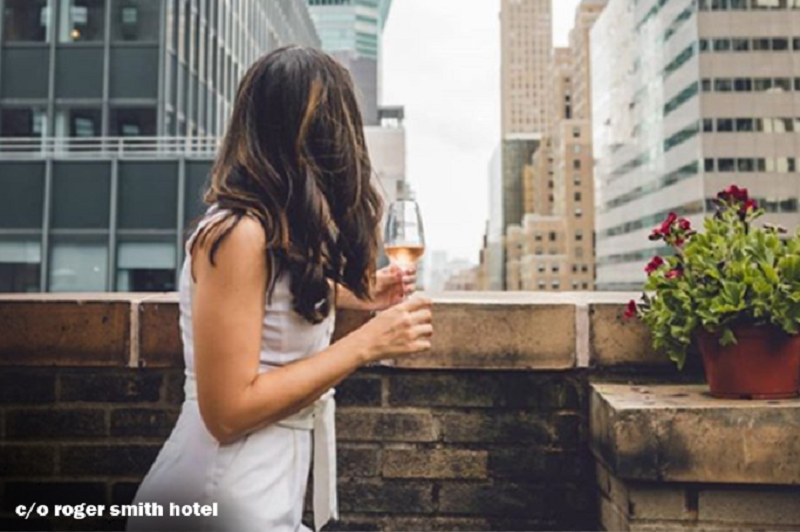 Another popular choice among New York staycationers, the family-owned Roger Smith Hotel was built in 1926 as the Winthrop Hotel. Highlights of the Roger Smith Hotel include spacious guestrooms, a daily evening reception and fitness passes to the nearby New York Sports Club, along with popular onsite hangouts such as Lily's Bar & Lounge and Henry's Rooftop Bar. By the way, both the lobby and Lily's Bar serve as rotating art gallery spaces that showcase the work of talented local artists. Who exactly was Roger Smith? Believe it or not, no one really seems to know!  
WHERE: 501 Lexington Avenue, New York, NY 10017 | WHO: (800) 445-0277
Bentley Hotel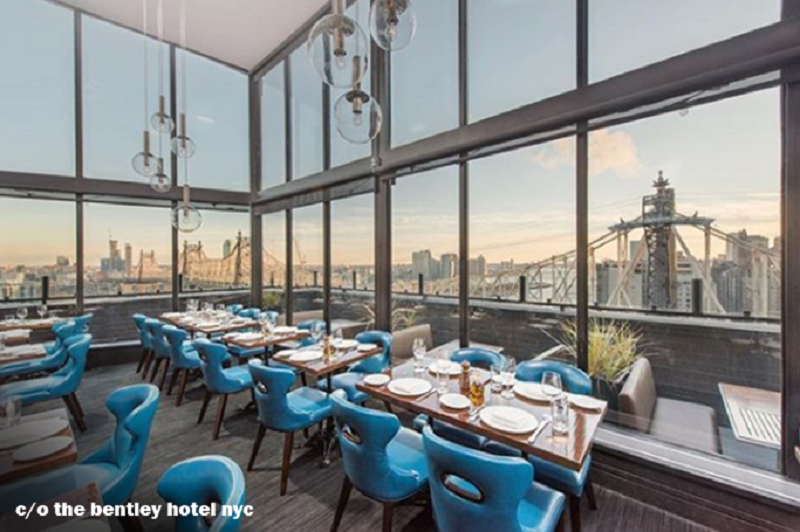 A popular boutique hotel on the Upper East Side, the 21-story, 197-room Bentley Hotel is just a short stroll away from The Rockefeller University, Central Park and the bustling Fifth Avenue shopping district. The Bentley was actually converted from a high-rise office building into a hotel in 1993. With scenic views of both the East River and the 59th Street Bridge (made famous by the 1966 Simon & Garfunkel song of the same name, AKA "Feelin' Groovy"), the Bentley Hotel also boasts of having "the best sunsets" on the Upper East Side. After a day of exploring Manhattan sights, staycationers can chill out and enjoy their favorite cocktail in the Lobby Bar.
WHERE: 500 E. 62nd Street, New York, NY 10065 | WHO: (212) 644-6000
Sanctuary Hotel New York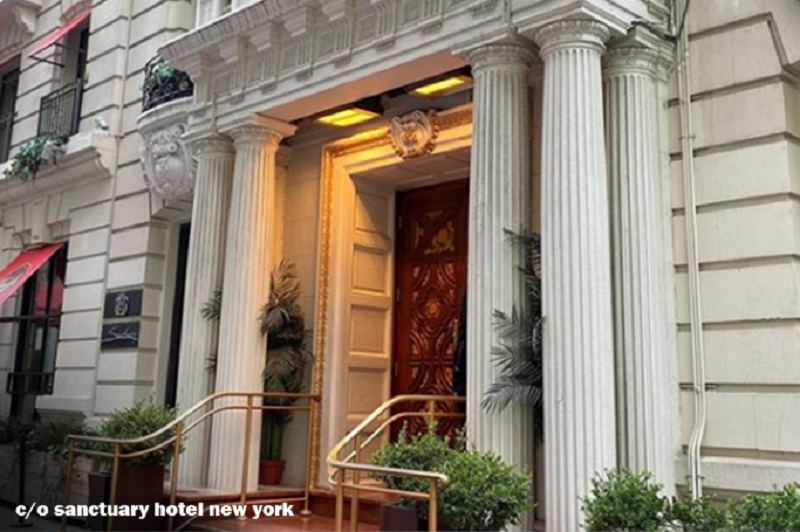 Just a three-minute stroll from world-famous Times Square, the Sanctuary is a luxury boutique hotel popular with staycationers that offers 115 guestrooms, a complimentary continental breakfast buffet, Tender Steak & Sushi Restaurant, Tender Sports Bar, Sushi Lab and Haven, a rooftop bar that features scenic views. Guests of the Sanctuary Hotel also enjoy access to NYSC Elite Health Club. 
WHERE: 132 W. 47th Street, New York, NY 10036 | WHO: (212) 234-7000
Kixby Hotel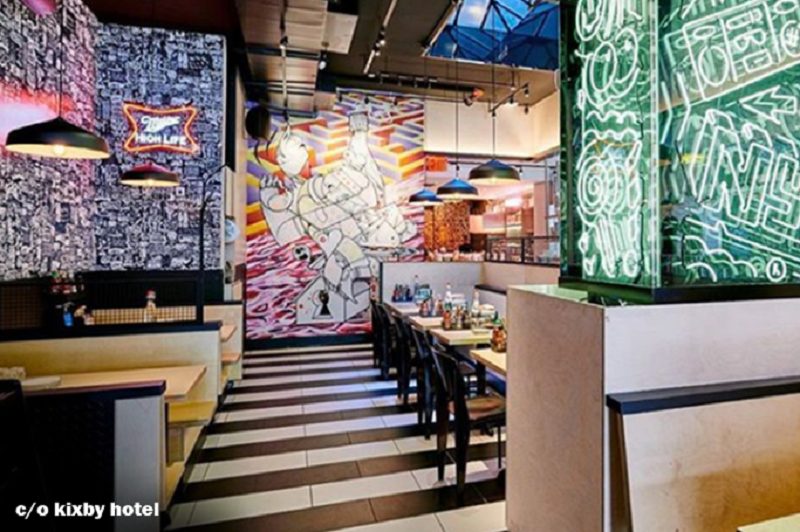 Formerly known as the Hotel Metro, the 195-room Kixby Hotel is a boutique hotel located in New York City's historic Herald Square that gives staycationers easy access to area attractions such as Bryant Park and the Theater District. It is also home to a popular rooftop bar known as The Lookup Rooftop, as well as Lot 15 Cocktail Bar & Lounge. The central Midtown location allows staycationers easy access to plenty of shopping opportunities along Fifth Avenue.   
WHERE: 45 W. 35th Street, New York, NY 10001 | WHO: (212) 947-2500
Parker New York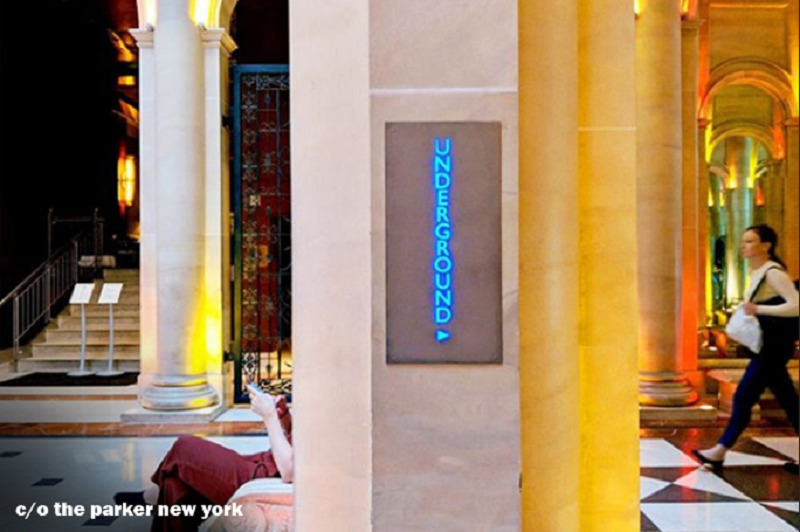 Formerly known as Le Parker Meridien, the 729-room Parker New York lies near Carnegie Hall and just a couple of blocks from Central Park. It is home to the famed Burger Joint (hidden away in the back of the lobby), as well as two other onsite eateries, Norma's and Knave, a heated indoor pool and a fitness center/spa called Gravity. Staycationers will enjoy the easy access to such famous NYC attractions as The Museum of Modern Art and Rockefeller Center.   
WHERE: 119 W. 56th Street, New York, NY 10019 | WHO: (212) 245-5000
Artezen Hotel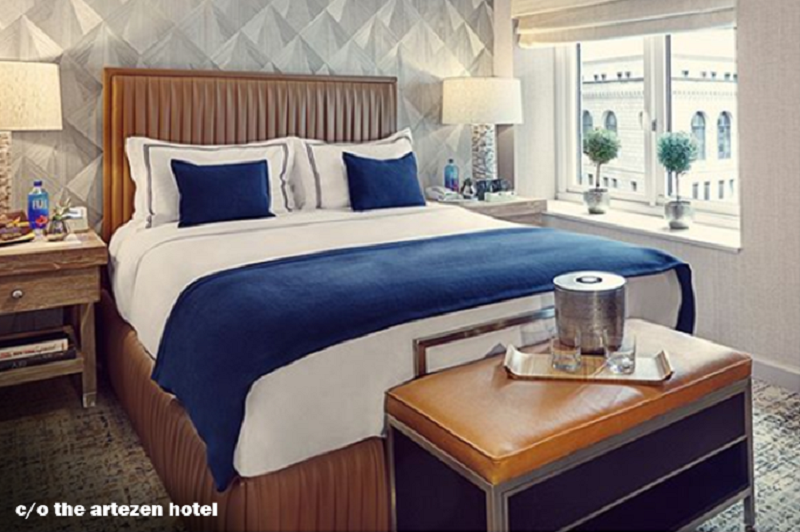 Situated in the Wall Street – Financial District within the heart of Lower Manhattan, the Artezen Hotel features 89 "high-tech suites," a state-of-the-art fitness center, business center and bicycle rentals. A nice place to staycation if you wish to enjoy easy access to Lower Manhattan attractions, the Artezen Hotel is located less than one mile from One World Trade Center, 9/11 Memorial & Museum and the Brooklyn Bridge.  
WHERE: 24 John Street, New York, NY 10038 | WHO: (212) 566-5511
Hotel Beacon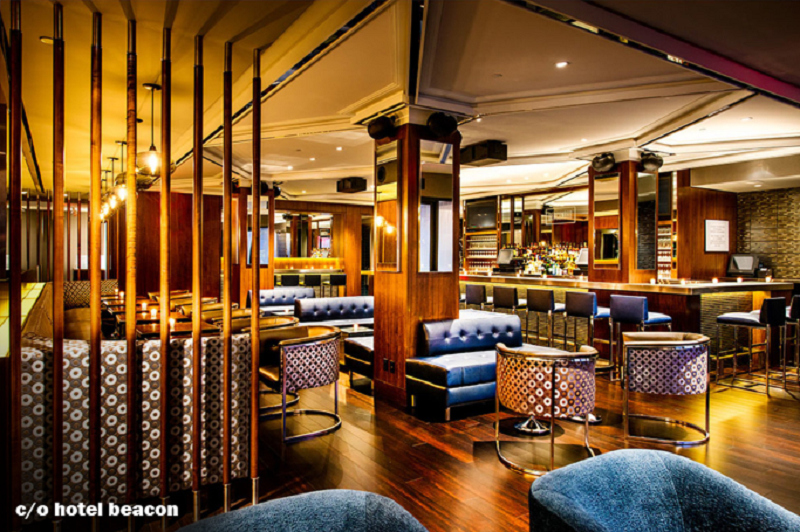 Known as "The Jewel of the Upper West Side," the historic Hotel Beacon is located on the Upper West Side, adjacent to the legendary Beacon Theatre, and just a couple of blocks from Central Park and the American Museum of Natural History. Built in 1928, the 24-story Hotel Beacon offers the popular onsite Beach Bar, which serves a nice selection of beers, wines and craft cocktails. Staycationers will appreciate the spacious two-bedroom suites and the convenient access to all of the cool sights on the Upper West Side.    
WHERE: 2130 Broadway, New York, NY 10023 | WHO: (212) 787-1100
Ink 48 Hotel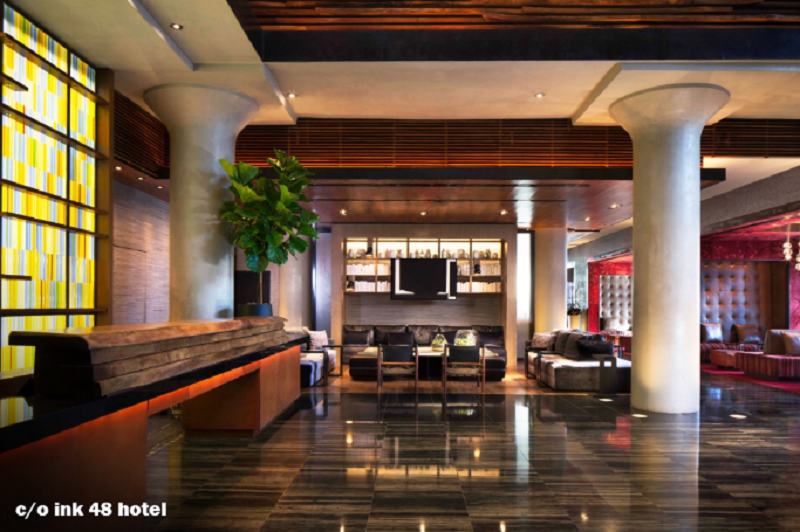 Billed as "A Modern Marvel in Manhattan," Ink 48 Hotel is housed in a former printing press building and lies in Hell's Kitchen just one block from the Hudson River. It features 222 "loft-like" guestrooms and suites, as well as an onsite eatery called PRINT that specializes in creative farm-to-table cuisine and a rooftop bar known as The Press Lounge, which offers great views. A popular hotel among NYC staycationers, Ink 48 Hotel provides easy access to the specialty shops and trendy restaurants of nearby Hudson Yards.  
WHERE: 653 11th Avenue, New York, NY 10036 | WHO: (212) 757-0088
Hotel 50 Bowery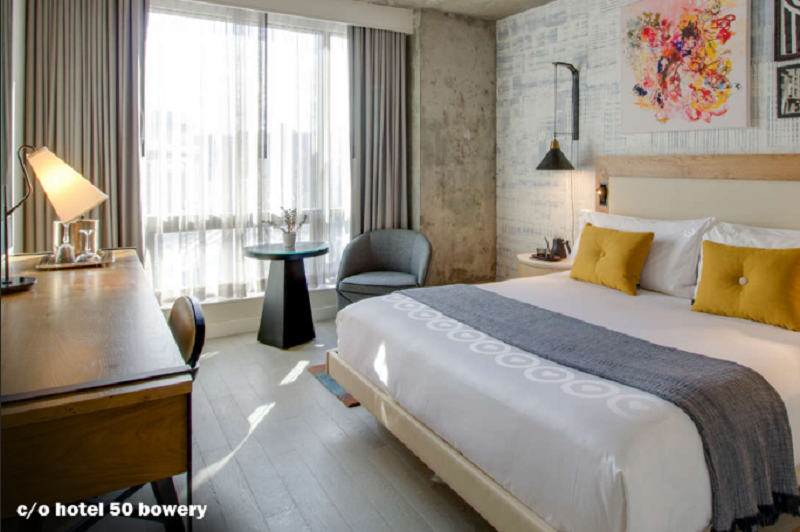 A 24-story boutique hotel nestled in the heart of NYC Chinatown, Hotel 50 Bowery welcomes New York City visitors and staycationing locals alike. Its convenient location provides a gateway to exploring legendary NYC neighborhoods like Little Italy, SoHo and the Lower East Side. Onsite amenities include a 24-hour fitness center and The Crown, a rooftop bar that serves handcrafted cocktails and provides sensational views. The 229-room Hotel 50 Bowery also offers an onsite gallery run by the nearby Museum of Chinese in America.   
WHERE: 50 Bowery, New York, NY 10013 | WHO: (212) 508-8000
A Sensational NYC Staycation Requires the Right Amount of Planning
According to The Washington Post, "Too often, staycationers just let the vacation happen. That makes it utterly forgettable, if not also a waste of valuable vacation time." Therefore, you will want to do plenty of planning in order to make your NYC staycation truly memorable. Fortunately, you will be able to enjoy incredible savings in the way of travel expenses right off the bat. However, you still want to draft a detailed budget that factors in expenses related to your hotel, dining and any attractions you plan on visiting. Also, as you plan your Big Apple staycation, make sure you build in some quality time to simply relax and unwind. Plan on sleeping in at least one day of your staycay, visit a rooftop bar in NYC or a wine bar near your hotel, rent bikes and tour the neighborhood, check out an obscure attraction you've never been to such as The Houdini Museum on 35th Street, or simply be adventurous and try some new cuisine. Last but not least, make sure to limit your use of technology as much as possible (that includes those pesky work emails). Relax! After all, you're on staycation!