Have you ever been to Taiwan? Or maybe considered it as your next travel destination? Nope? You are not alone. The island of Taiwan is regarded by previous visitors as "underrated gem," particularly when compared to Asia's more familiar travel hot-spots. This little slice of land might not be a huge tourist draw, but that being said, those who do venture here for something a little different will find themselves pleasantly surprised by what they find. So much so, that Taiwan is slowly but surely becoming a word-of-mouth destination in its own right.
Taiwan is officially the Republic of China. Its neighboring states include China to the west, Japan to the north-east, and the Philippines to the south. It's a small but extremely friendly and diverse island.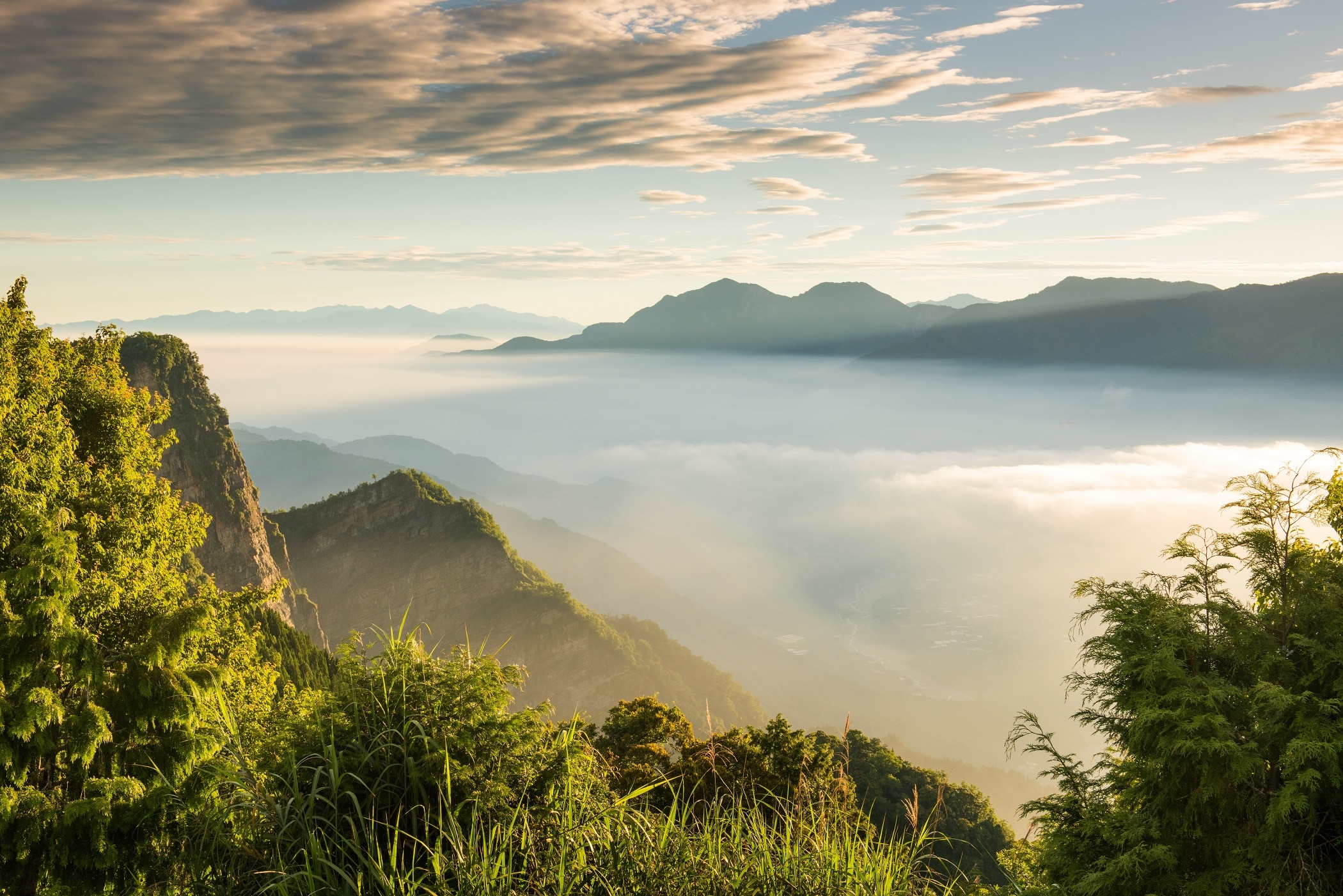 Description: There's more than meets the eye in Taiwan.
You may ask: Why would I want to make it to Taiwan? Well, there are multiple reasons why you should add Taiwan to your bucket list as your next destination. This magnificent island is packed with interesting things to do, exciting places to see and explore, unique festivals you can enjoy all year round and (most importantly) extremely friendly and hospitable locals to meet and interact with. If you are not convinced yet, let me introduce you to Agness and Cez – travel gurus of Etramping visited the island twice. Once when they lived and worked in China teaching English back in 2014 and the second time this year (2019). During both visits, they found it to be a delightful place full of interesting (if unfamiliar) sights and attractions. Here, they pick the five best things to see and do if you ever happen to be in the neighborhood.
The Taipei 101
Few would doubt this iconic tower as being number one on our list. Formerly the tallest building in the world until the Burj Khalifa in Dubai, United Arab Emirates decided to spoil the party, the Taipei 101 tower is still incredibly impressive in its own right. Its 101 floors can be seen from almost everywhere in the city as is dominates the Taipei skyline. Vantage points are not hard to find – definitely one of the best sights in Taiwan for photographers!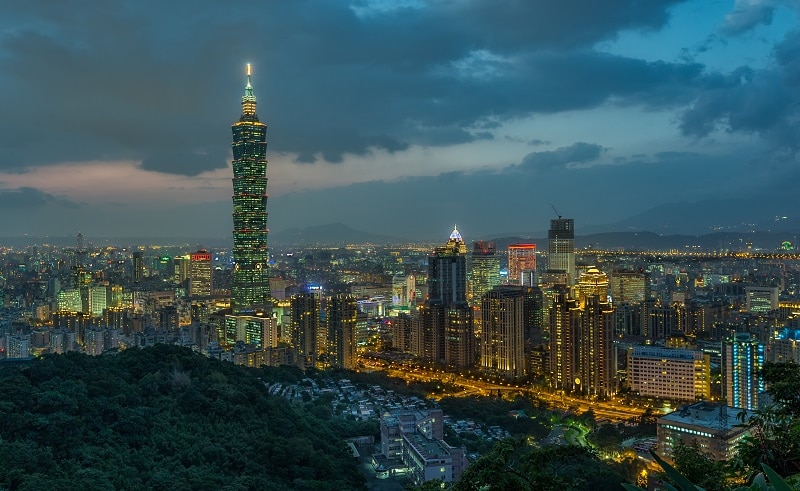 Description: The Taipei 101 at night. It's that big one in the middle…
The Taipei 101 was designed by C.Y. Lee & Partners and its postmodernist architectural style fully represents Asian traditions. It received a Platinum rating under the LEED certification system in 2011. The tower consists of both indoor and outdoor observatories and has a multi-level shopping mall that is one of the main attractions for shopping lovers.
The best place to view the tower from though is a park known as Elephant Mountain, a short ride out of the city center. A fairly relaxed climb will yield some of the best views of the city, so make sure you don't miss it. Seeing the city from the top is arguably the number one "must-see" in Taipei!
Maokong Mountain and Cable Car
While there's plenty to see and do in the city itself, it's nice to get out of it for a while. A day trip up Maokong Mountain is perfect if you're short on time, as access to it is via famous scenic cable care in the south of Taipei. The region used to be the largest tea growing region in the city, and you're not going to be short on choices for when you want to stop for a cuppa. The Maokong Gondola was built in 2007 and in 2010 it was provided with more viewing angles and opportunities so you can't miss it!
Pro Tip: Take the cable car from MRT Taipei Zoo station. It will get you to the top of the mountain for around NT$120 each way. Children get NT$70 off and if you are a senior, you don't pay anything. If you go there on weekdays, Easycards give you a huge discount of 20%. Cool, right?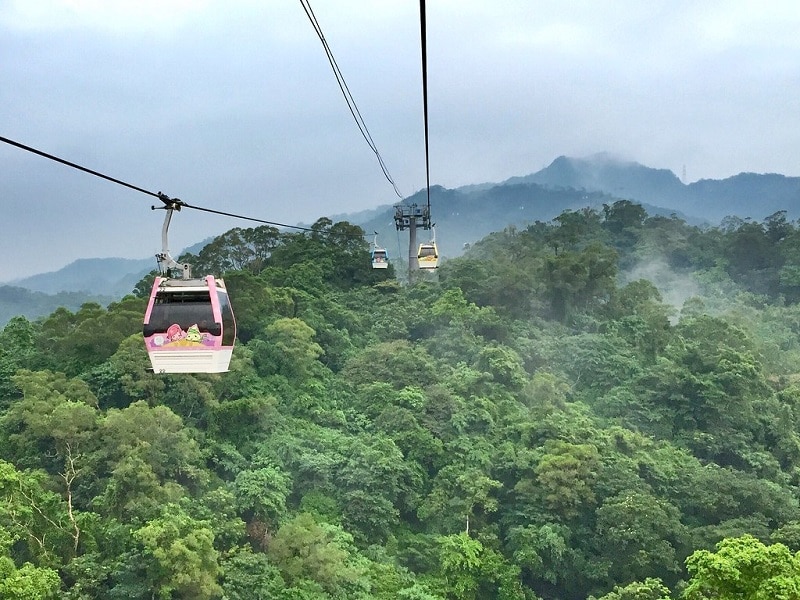 Description: Mountains of tea. Quite literally!
Teahouses are something of a specialty in these parts, so don't miss their quaint charms and delicious brews. The gondola ride is particularly enjoyable and is easily accessed from the city zoo, and you also get a fantastic view of Taipei – on a clear day the whole city is visible from the mountain.
The Maokong Gondola includes 4 stops which are so much fun to explore:
Taipei Zoo – outside the Taipei Zoo
Taipei Zoo South – inside the Taipei Zoo
Zhinan Temple
Maokong (Sanxuan Temple)
Once you pay NT$120, you will get to see all 4 places!
Taroko National Park
No visit to Taiwan would be complete without visiting one of its many beautiful national parks. Taroko is arguably the most famous, largely due to a stunning and dramatic gorge that cuts its way through the landscape, making it the perfect place for some solid hiking. The gorge is an extremely popular attraction – especially if you like the great outdoors – and is accessible by a two-hour train ride from the capital.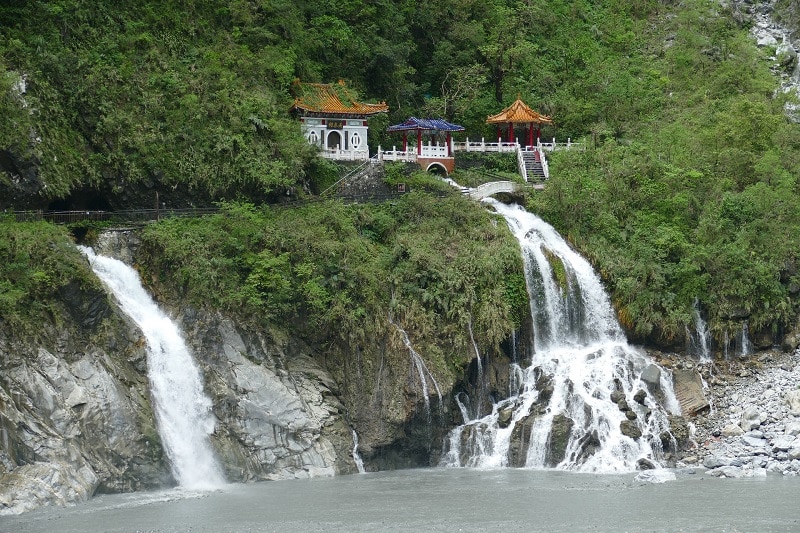 Description: The Eternal Spring Shrine – just one of the many sights on offer in and around the gorge
Taroko is one of the 9 national parks in Taiwan, definitely the most beautiful and famous one. It covers an area of 92K hectares! You can explore the many trails that snake through the park, some of which will lead you to magical waterfalls and shrines. The gorge itself, carved out by the Liwu River, will be the highlight of your visit here – just make sure you pack appropriate footwear to go off exploring.
How can you get there? Taroko National Park can be easily accessed from nearby Hualien City that offers plenty of different tours, buses and transport options. The closest train station is called Xincheng Station, however, there are limited options to reach the park from there.
Pro Tip: The easiest and more convenient way to reach and explore the park is by scooter. Head to Hualien City and rent a local scooter for a day. It costs little money and gives you a great opportunity to drive whenever you want to. The main sights include the Tunnel of Nine Turns, Eternal Spring Shrine, Yenzikou, Swallow Grotto Trail and Jinheng Park. It is highly recommended not to miss out on Cimu Bridge, Motherly Devotion Bridge and Buluowan.
The Sun Moon Lake
Located near the foothills of the Nantou mountains, this serene and picturesque lake is the largest body of water on the island. It has a surface area of 7.93 km2 and it is located in Nantou County. Can you actually imagine visiting Taiwan and not exploring its largest freshwater lake? Of course not!
As you might expect, it's very popular with tourists who come to enjoy cruises on its waters and the area caters heavily for visitors.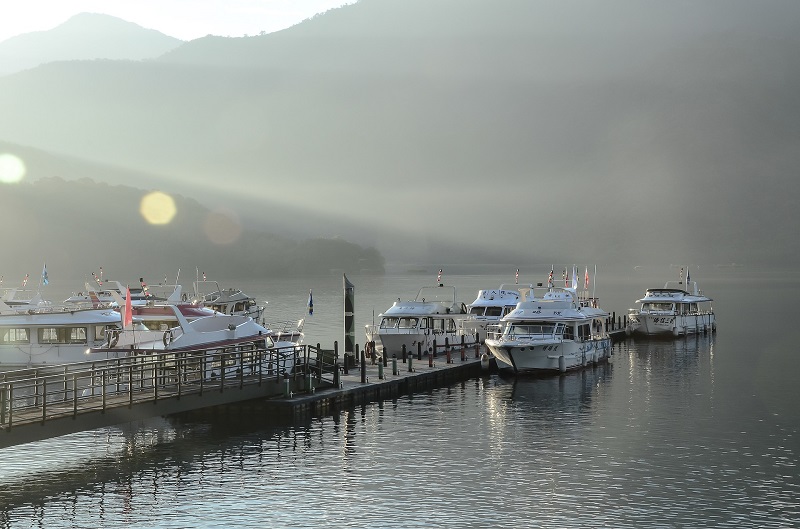 Description: Pleasure cruises ferry passengers across the Sun Moon Lake
Getting to the lake is fairly easy, especially when you are around Taichung which is Taiwan's 3rd largest city. It is well connected to many surrounding cities such as Taipei or Kaohsiung. Catch one of the most comfortable 6670 Nantou buses from either Taichung's TRA station or the HSR which costs around NT$296 and enjoy the ride!
Once you get there, rent a bike and cycle round one of the best bike paths in the world admiring the views and nature. Choose the 12km path with regular stops for best picture taking spots and if you pack your snacks or proper food, you can even stop for a picnic.
If you are not a big fan of cycling, go for a Sun Moon Lake shuttle boat runs from 9 am – 5 pm every single day. The boat tour will allow you to see such places as:
Lalu Island,
Ita Thao – the region is also known for a high indigenous population, home to the Thao tribe, an aboriginal people who have lived in the area for centuries. You can visit their village and share their experiences, but remember to be respectful at all times – asking permission to take photographs is a must!
Ci-en Pagoda where you can hike up really high! All 3 places will provide you with an abundance of street food, souvenir shops and various restaurants where you can try some local food.
Pro Tip: The lake area gets extremely busy over the weekends and during the national holiday seasons. Be aware of that when booking your accommodation which can get very expensive or limited. Plan your trip ahead of time and book your room at least a few weeks in advance.
Fo Guang Shan Buddha Museum
Found in the city of Kaohsiung, this museum has to be seen to be believed. Regardless of where you stand when it comes to religion or faith, trust us when we say you're going to want to see this amazing structure. The museum is associated with Taiwan's largest Buddhist organizations and although it's only been open a relatively short time, it has become one of the must-see destinations in the country.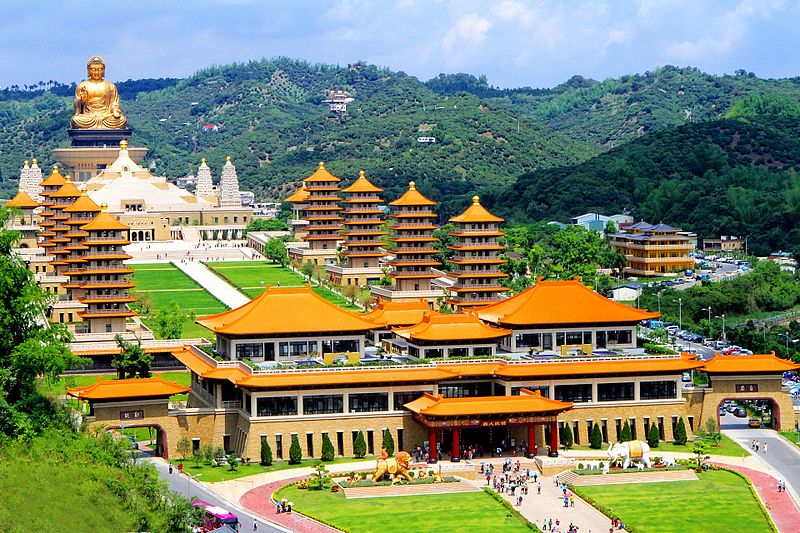 Description: Buddhism accounts for 35% of Taiwan's religious practices
The Fo Guang Shan movement has fully embraced modernism hence it's so popular amongst tourists and foreign visitors. What is more, it's considered to be the most welcoming religious facility!
The complex itself is enormous, spanning over 100 hectares, but the main attraction is undeniably the 8 pagoda towers that line an avenue leading up to a giant, golden Buddha statue. It's one of the most impressive sites you're likely to see here, but with so much to draw your attention at the museum and the sheer vastness of it – make sure you leave plenty of time for a visit!
The best way to get here is to travel by train from Taipei and we would highly recommend you to stay there for the entire day or not for two.
Pro Tip: Try to avoid Fo Guang Shan Buddha Museum during the Chinese New Year if you want to explore it in a quiet and peaceful scenery. It gets extremely loud and busy during this season of the year.
Take Us Back!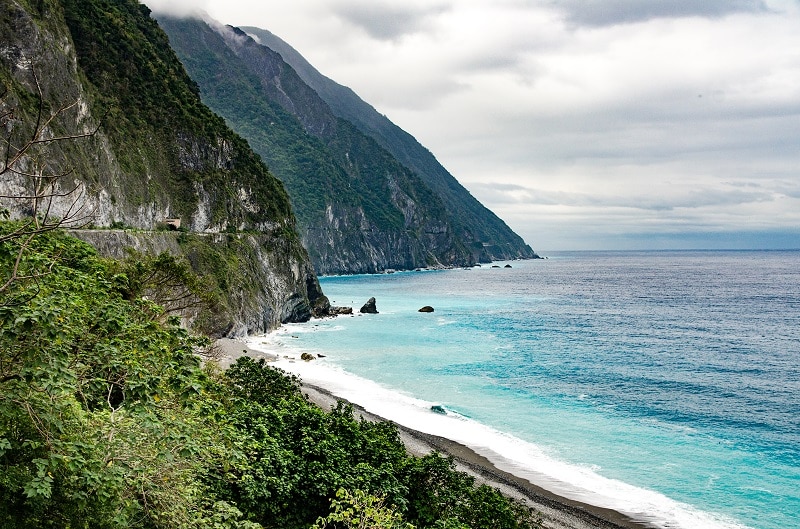 As you can see, Taiwan has so much to offer to local visitors. It has not only an immensely rich cultural and spiritual heritage, extremely delicious food and world-class hot springs everyone wants to visit but also stunning places with extraordinary scenery and best views. We hope this little taster of Taiwan has whetted your appetite for a potential visit to this small but wonderfully diverse country. We'd certainly love to visit again because aside from the eclectic sights and attractions, the Taiwanese vegan food options are amazing and the people very friendly and hospitable. So much so, it was really hard to pick a top five when it comes to things to see! Visit while you can though because we're sure Taiwan won't be an Asian best-kept secret for much longer!
If you've been to Taiwan – do you agree with our list? Let us know!
BIO: Originally hailing from Poland, globe-trotting duo Agness, and Cez now travel the world for fun. Best friends since university, the two decided to ditch their nine to five jobs in favor of exploring everything our planet has to offer. Together, they set up eTramping back in 2011, a blog dedicated to bringing you the best advice on how to make your trip a truly memorable experience. They particularly specialize in adventure travel, so follow them on Facebook, Instagram and Pinterest to discover their next crazy pursuit!