Why is Vietnam such a unique travel destination? Did you know that around 16 percent of the world's animals are found in Vietnam? It is one of the world's most biodiverse countries, with a vast 3444km length; the country offers endless natural beauty and world wonders.
A nation with a cuisine that's mixed between Thai and Chinese – it is considered one of the world's healthiest, with delicious meals like Bahn Mi, Pho, and Cha ca, visitors never go hungry in Vietnam. And do you also love coffee? If so, Vietnam is your dream destination; it is the second biggest producer of coffee globally.
The country has two major cities. Hanoi, the nation's capital, has a population of 8 million and includes attractions like Hanoi Old Quarter – a historic thousand-year-old part of the city. But the biggest city is Ho Chi Minh City, a true megacity, with a population of nearly 9 million.
And did you know there are 45 million motorbikes nationwide, including 7.4 million motorbikes in Ho Chi Minh City?
Vietnam is home to some of the best luxury resorts in the world. According to PrivateUpgrades, a members-only club that offers exclusive deals on luxury accommodation, these are the best luxury hotels in Vietnam. 
InterContinental Landmark 72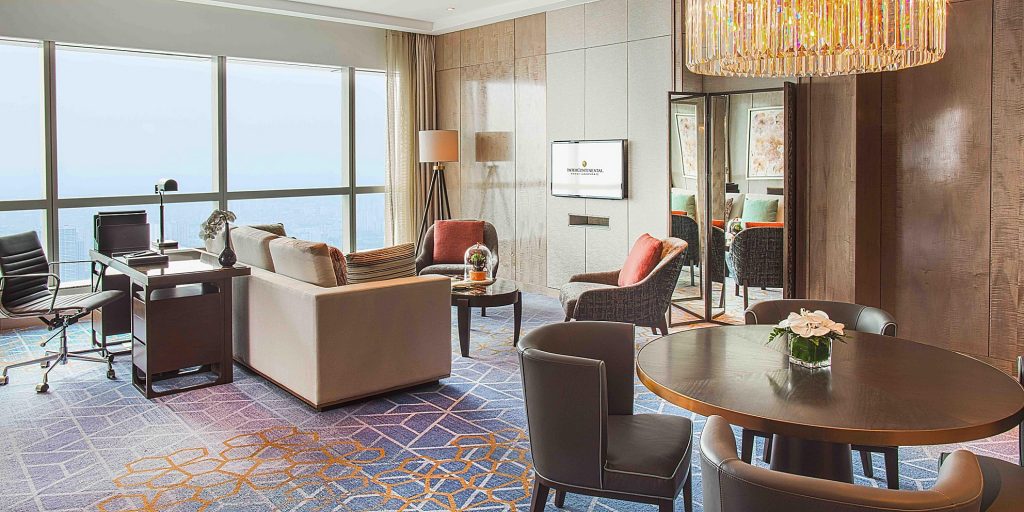 The InterContinental Landmark 72 is the ninth tallest hotel globally – offering spellbinding views of Vietnam's ancient capital Hanoi. This luxury hotel provides guests with fantastic amenities, such as gym facilities, a full spa, a swimming pool, and a sauna.
And if you're looking for delicious food, you'll love the five dining venues offering dynamic cuisines and beautiful 360-degree views of Hanoi. These dining venues include the Stella Steakhouse, which won the 2019 award for Asia's Best Luxury Steakhouse.
And these rooms include a bathtub, high-speed wifi, luxury pillow-top mattresses, and an incredible selection of international or local snacks. InterContinental Landmark 72 achieved the prestigious 2019 award for Asia's Best Business Hotel.
Unique Hotel Benefits
Panoramic views of Hanoi from every room

Award-winning dining options with various international cuisine from Vietnam, Japan, China, and Italy. 

Comprehensive health and fitness facilities

A convention center with 3,000 sqm of space for events

Staff speak over ten international languages spoken, including Korean, Chinese, English, Dutch, French, German, Portuguese, Russian, and Spanish. 
Address:
Urban Area, Keangnam Hanoi Landmark Tower Plot E6, Cầu Giấy, Hà Nội, Vietnam
Four Seasons Resort The Nam Hai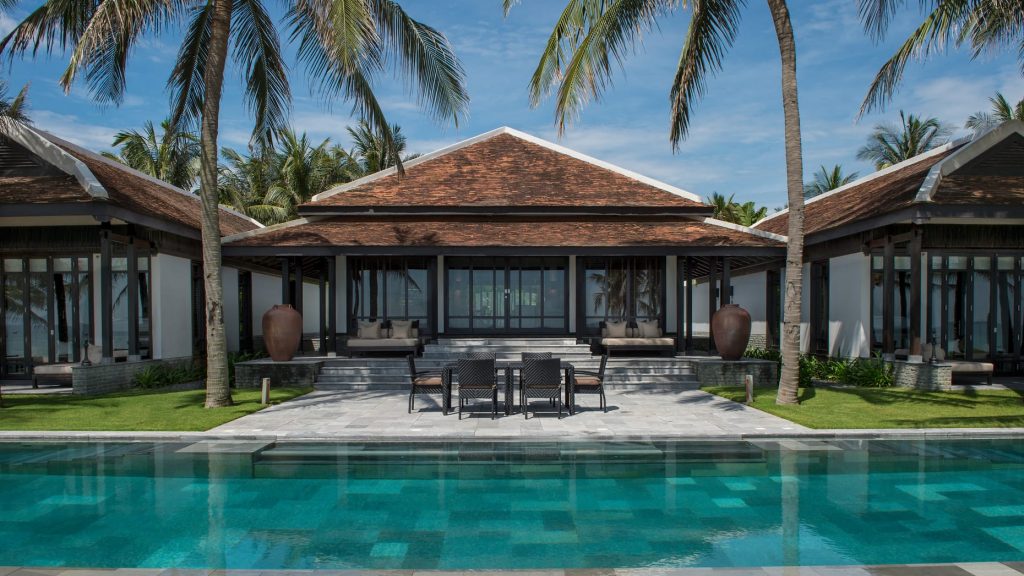 Very similar to the one in Singapore, the Four Seasons Resort The Nam Hai is an excellent luxury choice because of the incredible scenery, premium amenities, and world-class service. It remains an award-winning resort, spread over 35 hectares of supreme tropical gardens. 
There's no better place to relax because the resort is home to 40 pool villas offering superior indoor comfort with luxury furnishing, private bathtubs, bose sound system, private bar, and LCD flat-screen televisions. 
If you're looking for exquisite dining experiences, Lá Sen offers delicious Vietnamese flavored stone-baked pizzas and fresh local fish from the nearby ocean. And don't be afraid to bring the family along because the hotel even has family swimming pools, watersports, and a kids club.
Unique Hotel Benefits
A portal to three nearby UNESCO World Heritage Sites

The hotel offers excellent viewpoints of Nam Hai throughout the hotel, including the bars and restaurants. 

Oceanview villa options with private terraces, swimming pools, and indoor and outdoor luxury

Next to one of Vietnam's most celebrated beaches

In-villa dining, bringing whatever food, drink, or treats to your villa 24 hours per day.
Address:
Block Ha My, Dong B, Điện Bàn, Quảng Nam, Vietnam
The Reverie Saigon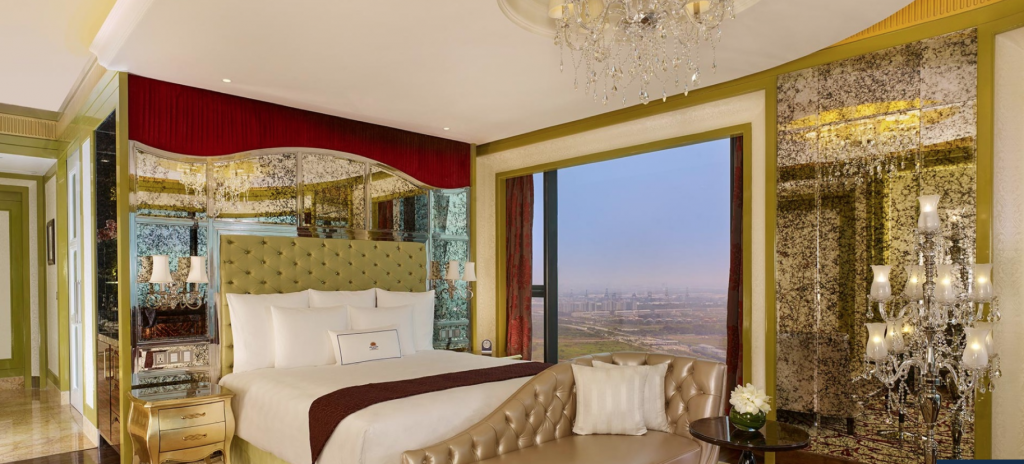 If you're staying in Ho Chi Minh City, you deserve a fantastic luxury hotel experience. And the Reverie Saigon offers that. This luxury hotel opened to guests in September 2015 after a meticulous 7-year construction. 
Visitors adore the eclectic mixture of facilities, including a gym, swimming pool, sauna, and a full spa. The hotel rooms provide luxurious styles, including an executive suite, designer suite, and the Saigon suite. 
The hotel includes the Café Cardinal, one of the premier all-day dining cafes in Southeast Asia. The Reverie Boutique offers homemade salads, cakes, sandwiches, and artisanal bread. And if you love Italian food, visit Romeo & Juliet, they offer delicious Italian cuisine.
Unique Hotel Benefits
Designed by some of Italy's best interior designers 

A 1200 square meter fitness-center and spa spanning over two floors

Twelve different spa treatment rooms

Four different dining options, including restaurants, a cafe, and a bar. 

The hotel offers panoramic Ho Chi Minh City skyline views from the rooms, restaurants, and bars.
Address:
22-36 Nguyễn Huệ, Bến Nghé, Quận 1, Thành phố Hồ Chí Minh, Vietnam
InterContinental Danang Sun Peninsula Resort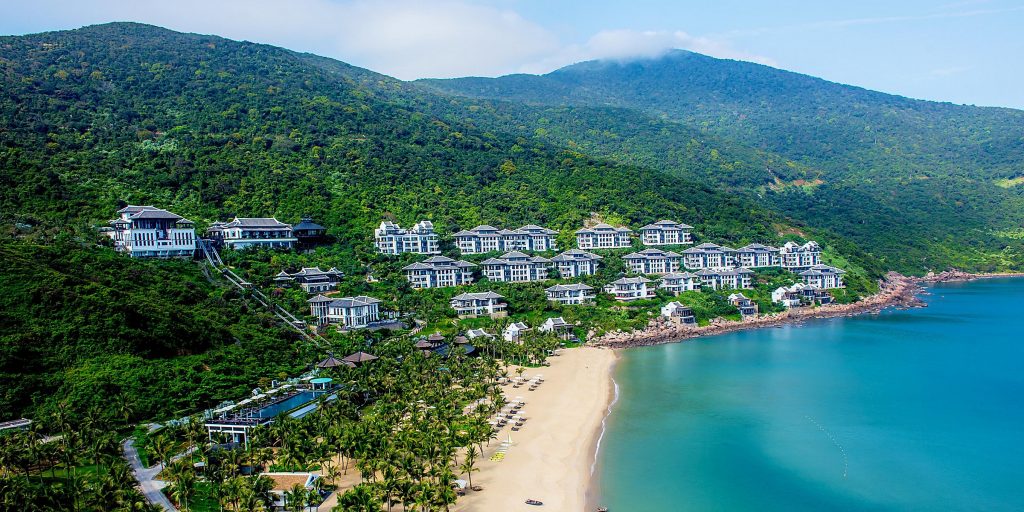 If you're visiting Danang and want to stay in award-winning luxury delight, you should see the InterContinental Danang Sun Peninsula Resort. The hotel offers fantastic views of the East Sea and the surrounding gorgeous tropical landscapes. And the resort is nestled away in the hills, surrounded by palm trees, pristine nature, and complete seclusion.
Visitors love the excellent health and wellness facilities, including the gymnasium, swimming pools, and full spa facilities. And the hotel offers 201 luxurious penthouses, villas, and rooms, all offering private indoor and outdoor luxury.
Furthermore, the restaurants offer some of the best food in Danang. Including delicious bowls of Pho at Citron to delightful gastronomic treats at La Maison 1888. You will never be disappointed by the brilliant culinary experiences.   
Unique Hotel Benefits
An award-winning spa that won the "2017 global spa of the year award."

The in-house La Maison 1888 restaurant won Architectural Digest's "top 10 most beautifully designed new restaurants."

Next to the UNESCO listed heritage town of Hoi An

Exclusive private beach only for hotel guests

Michelin star Chef Pierre Gagnaire is the head chef of La Maison 1888
Address:
Bai Khem Phu Quoc District An Thoi Town, tỉnh Kiên Giang, Vietnam
JW Marriott Phu Quoc Emerald Bay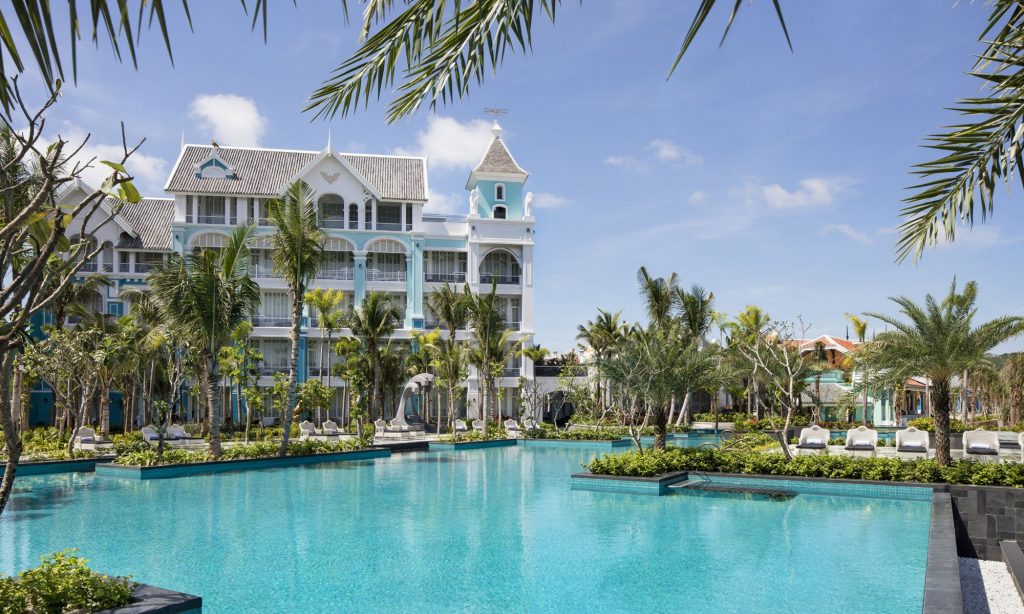 The best way to experience breathtaking Phu Quoc is through the eyes of luxury – and JW Marriott Phu Quoc Emerald Bay offers that in abundance. And this resort was once a 19th-century French university, but now it is an eclectic, luxurious, and excellent hotel resort.
Visitors love the luxury rooms and villas. They come with private balconies, plunge pools, and innovative design, offering outstanding comfort. And the hotel provides a range of top-class amenities, such as the spa, swimming pools, saunas, gyms, and a private beach.
And if you want world-class dining experiences, you'll love the Tempus Fugit restaurant offers an eclectic mixture of Vietnamese, Japanese, and Western cuisine. The Pink Pearl restaurant also offers outstanding french cuisine, with world-class fine-dining expertise on hand. 
Unique Hotel Benefits
World-class interior design from industry-recognized Bill Bensley

Five excellent restaurants offering international cuisine from industry-leading staff

Luxury rooms with private balconies, plunge pools, and world-class design

The private Emerald Bay Beach, exclusive to hotel guests only

A vast array of top-class fitness and health facilities, such as a gym, pool, and a full-service spa
Address:
Bai Khem Phu Quoc District An Thoi Town, tỉnh Kiên Giang, Vietnam
There isn't a better way to experience the rich food, incredible scenery, and outstanding hospitality than in Vietnam. As you can see, there is a huge variety of luxury accommodations with individual benefits and perks.
We hope this article helped you choose the perfect hotel for your desires!