Tottori is the capital of Tottori Prefecture on Honshu island, Japan. Honshu is the largest island of Japan, indeed its name means precisely main province in Japanese. In Honshu, besides Tokyo, there are also some of the most important cities such as Hiroshima, Kawasaki, Nagoya, Osaka and Yokohama.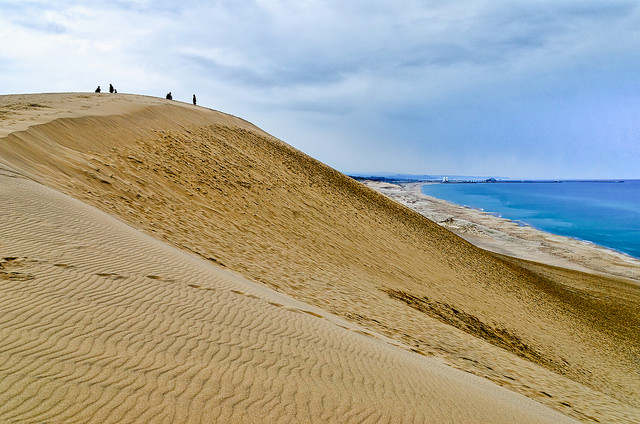 This city was founded in the nineteenth century, but a great part of it was destroyed due to an earthquake occurred in 1943 in which more than a thousand people died. Today, this city is famous by the day for owning a desert formed by sand dunes. A great claim because, by being an unusual geological formation, it has become one of the most important tourist destinations in the region. Every year nearly two million tourists from Japan and the entire eastern Asia visit this desert.
These dunes, formed 100,000 years ago by sediment carried by the Sendai river that descends from Chugoku mountains and dies in the Sea of ​​Japan, part of Sanin Kaigan National Park, spread over 2.4 km from north to south and 16 km from east to west. Sea currents and wind move the sand of this desert, continually changing the form of the dunes, which in 1995 were designated Natural Monument of Japan.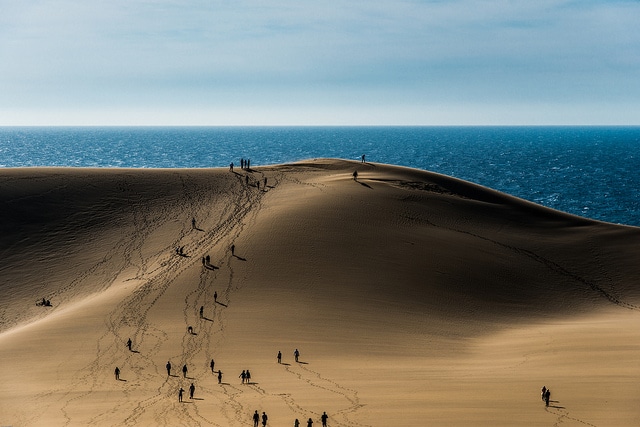 The dunes of the desert are constant and ever-changing: growing and getting rough to then collapse, they never stop moving forward, slowly but inexorably. Actually, the sands of Tottori are like a huge zen garden that invites to meditation. During its trajectory, sand is propelled by strong winds, covering everything as a metaphor that nothing in life is permanent.
Such importance this place has been acquiring that here is where the Shanshan Festival is held from mid-April to early January every year. Until 2012, all sand sculptures were made in the outdoors but, thereafter, The Sand Museum was created as a permanent building.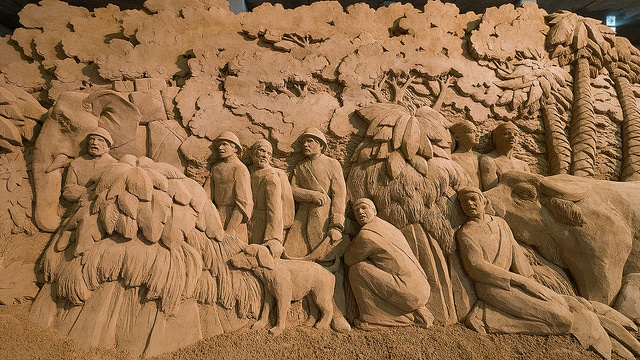 Each year, the sculptures are made regarding a common thread related to a country or region. This year, the theme of this festival is Germany. Those who are curious and want to visit this museum can reach it by taking a bus at Tottori's station or by taxi. The journey takes about 20 minutes by taxi and costs more or less 2,000 yen. The museum admission ticket costs 600 yen.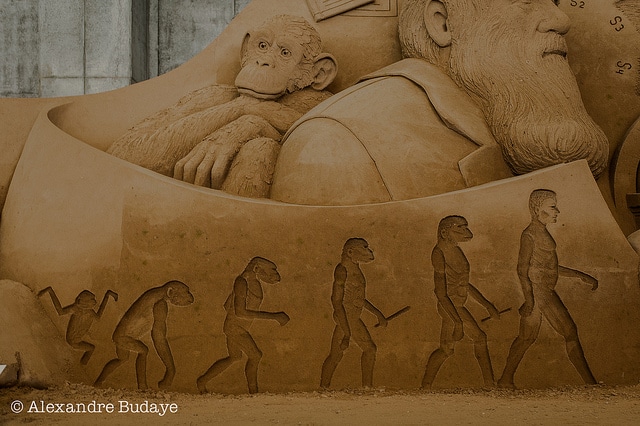 In the Tottori Sand Dunes you can also ride a camel every day of the year upon payment of 1,300 yen. The excursions start at 9.30 am in the morning and last until 16.00 h. The only problem is that there are only five camels, so you must be quick to not be left behind.
However, since World War II, the reforestation program set up by Japanese government has taken them to a steady reduction in its extension. In addition, the cement walls built to protect the coast from tsunami impede currents to carry sand. So if you are planning to visit Japan and do not want to miss the sands of this desert, you can already write it down on your agenda before it fades away!
Photos: Alexandre Buyade, Sonotoki, Brian and HarQ Yamaguchi.