There are many ways of moving from one place to another while on a holiday getaway. When planning a long-anticipated trip, perhaps jumping on a cruise ship is not the first idea that comes to mind. However, given the chance, your time on the big boat can turn out to be a very enjoyable experience. When on a journey to far away, exotic locations, every port is a new and exciting adventure. And there are plenty of things to do during the voyage itself, too.
Not only for seniors
You may think this kind of recreation is tailor-made for senior citizens, which would be the truth, to some extent. The trends seem to be changing a little, and cruises are gaining more interest among people of all ages and social status. Naturally, a cruise is still a great way for elders to spend some quality time enjoying lots of different activities in good company, without the need for much psychical effort. But cruising is definitely not limited to one, specific group. It is a unique opportunity to meet some fascinating people from all over, visit beautiful seaside towns and still be close to the water at almost all times. Above all, cruises are made for a proper relaxing time. If there was ever a time to just chill out and not have a care in the world, it is on board a luxurious, multi-purpose, enormous ship. Choose your dining options, set up a schedule, plan all the things you want to do and spots to check out, then you don't have to worry about anything.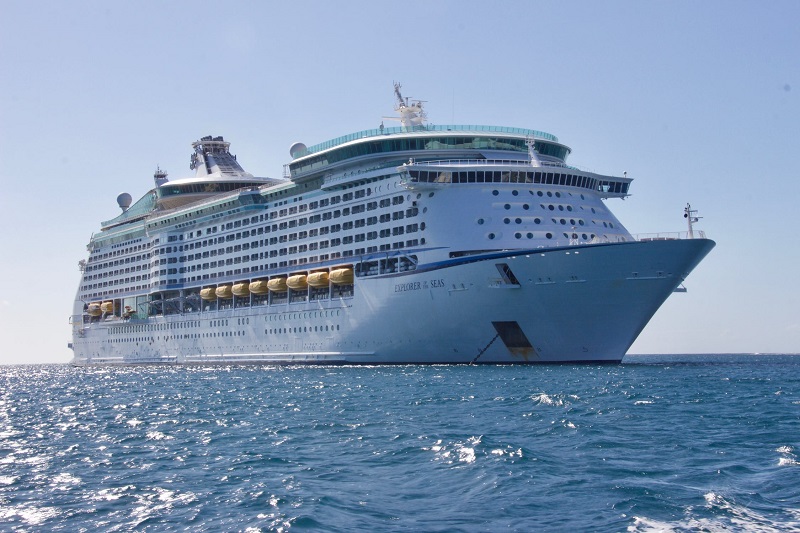 Photo by Matthew Barra / CC0 1.0
It's a game night!
In order to fill out the remainder of the typical day onboard, many travelers turn to absorbing games that they can play on deck or in their cabins. There are the ones that engage larger groups of people in a healthy competition, like scavenger hunts, quizes or trivia nights. Some of them are hosted as special shows in front of a live audience (Love & Marriage Game Show, Hasbro Game Show). The others, such as puzzle break, beer pong, bowling, pool or mini golf, are well-known party helpers.
Then there are games that you can play alone or with other people, and which involve money. We are talking mostly about casino-like amusement, which has become a typical activity associated with cruises. It can take a form of a casual bingo evening (a common sight on cruise ships the world over) or a simple card game, as well as more complex poker games where you would have to make some effort in order to truly know how to play them. You can certainly spot a small crowd interested in such entertainment on most occasions. Plus, there are often special offers made just for the purpose of playing cards out on a boat somewhere, traveling to an exotic land.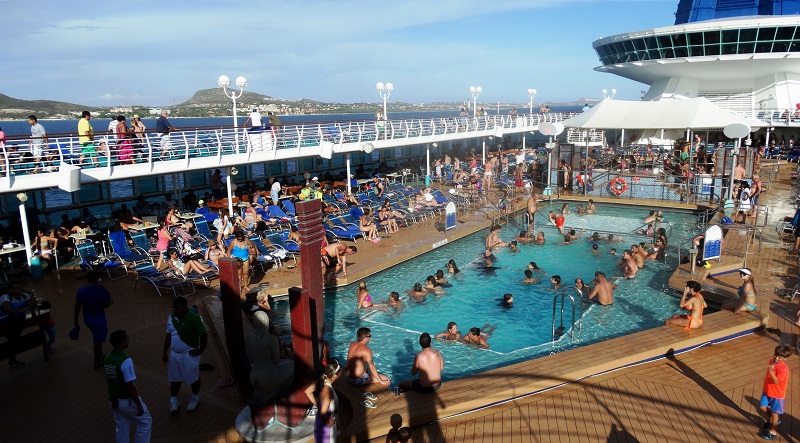 Photo by Roel van Deursen / CC BY 2.0
Big boat, big opportunities
Unsurprisingly, the vast majority of activities you can do onboard have something to do with water, extreme sports or carnival-like entertainment. Water slides, SkyCourse (walking on a tightrope), beach sports and other poolside pastimes are just a few examples. The more luxurious the boat, the more space you have to explore. Modern vessels come fully equipped and prepared for a lot. Bars, live music venues, stores, game rooms, and even libraries, art galleries, and conference rooms – where various seminars and classes can be held – can all be found in one place.
The good news is that a lot of the activities that you can try on a cruise are included in the ticket price, so anybody can surely find something for themselves. You might want to keep in mind, however, that some of the biggest attractions may require additional fees.