The town of Ohrid is very beautiful and is full of things to see: many churches, a Roman amphitheater, the Castle Car Samoil, the typical houses of whitewashed wood and a beautiful lake. Of all the churches Sveti Jovan Kaneo stands as the most classic for postcards of Ohrid, situated on a cliff overlooking the lake. It is impossible to resist shooting at least 10 pictures of it.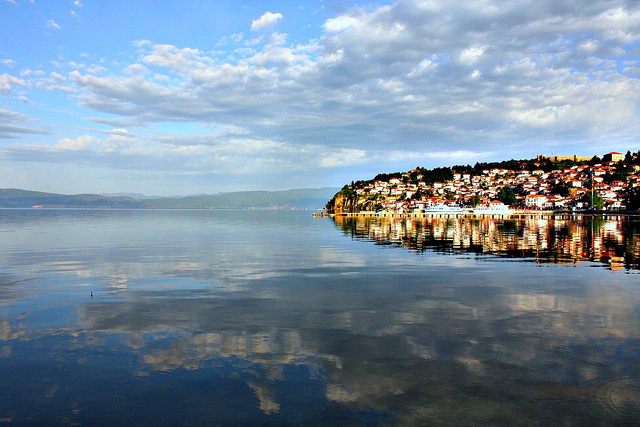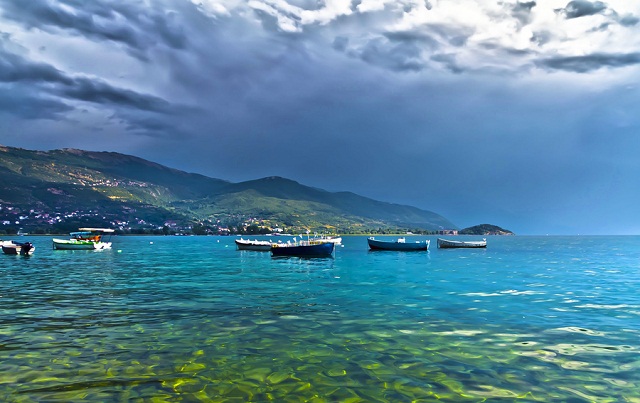 You should know the characters of the Cyrillic alphabet to understand, although usually the most important signs are written in English, but not always. The lake looks like a sea agitated by the waves. There are also small coves and beaches that are the envy of the Mediterranean. The water has an absolute transparency that invites you to take a dip, but unfortunately it is pretty cold so we would need a little time for acclimatization while the natives, even children, dive right in as if nothing had happened. The Psalm Letnica koran says that a unique type of Lake trout lives in the Albanian and Macedonian lake. It is illegal to catch this fish and is sometimes sold at exorbitant prices in some restaurants for fishmongers. In addition to damaging the edge of extinction for a species, eating trout is illegal, both in Macedonia and in Italy.  The brown trout are just as good (and much cheaper).
Almost every night and often for lunch we were at the restaurant Neim walking down the street, a place frequented by rich people. The specialties that we sampled were moussaka (eggplant and potatoes with minced meat), the polneti piperki (stuffed peppers), goulash with beans, kebapci (similar to cevapcici of Sarajevo), opska served with salt, salad mixture of tomatoes and alas cucumbers, with a handful of cheese on top. One evening we took a bottle, Tga za Jug (meaning 'Nostalgia of the South', beautiful, right?), A red wine which was very good and fairly strong.  The most common drink is Skopsko pivo beer that you will find anywhere. In the restaurant Neim prices were very low, almost the same as the Albanian ones; the place had us enchanted because it was truly local Macedonian in a city that after all is very touristy.
A constant of our day in Ohrid was the breakfast in Pekara or bakeries selling delicious burek and other pastry rolls stuffed with sausage or cheese. Macedonians have a tradition to drink the yogurt called Bitolska which was great and really tasty like turkish. Macedonians drink down at least half a liter of it every morning. It is also said to be a panacea if attacked by intestinal disorders. One night we treated ourselves to fish from the lake. There are several restaurants on the square but it is not cheap (maybe some more hidden restaurant have lower prices). Since I am a geek of the natural sciences we took a trip to go from Ohrid to Struga, a town in the north of the lake, in the Albanian-majority area, where there is a museum of natural history. Struga is a town with nothing to see, rather touristy and, ultimately, bad. It seemed that nobody knew where the museum was. We asked an old man who did not even know where he was and asking those around he managed to take us where we wanted. Needless to say that he refused the money that we offered for his help. The museum is in a rather dilapidated building with a dirt road in front. Inside it was quite interesting. There were stuffed animals of many species (including wolves, bears, eagles).  We took a taxi to go to the museum and thus we also took one for the return.
Apparently, however, there are also regular means of transportation in Ohrid and Struga, but we did not encounter them. Eventually the day came when we had to leave. We said goodbye to our hosts and we took the reverse trip. The Customs asked for the karton we had delivered to our landlord after having registered. The journey, though long, has gone smoothly in a taxi from the border to Pogradec, then a furgon up to Elbasan and from there with another taxi up to Durres, where we boarded for Bari. In Bari we were fleeced by the taxi driver who took us from the port to the train station and that's when we realized that we had returned home.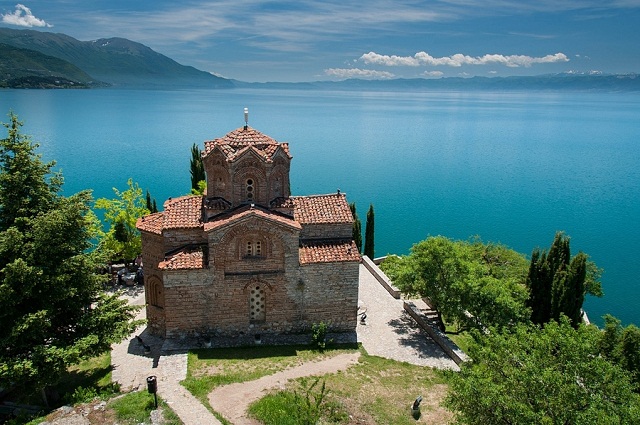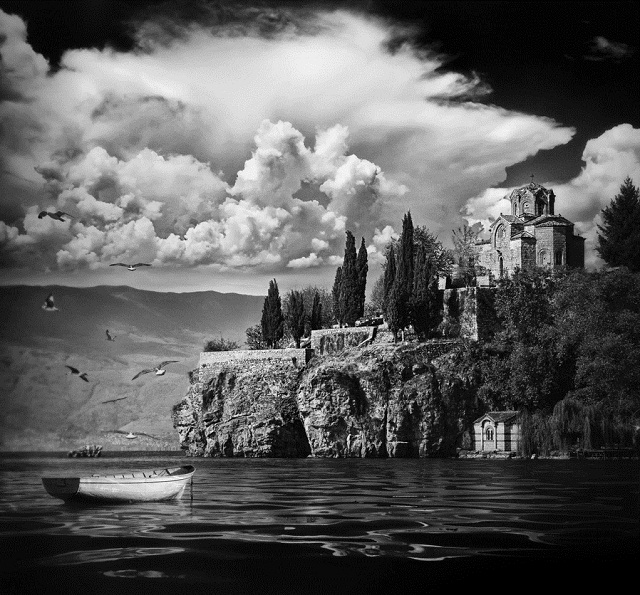 By Elsi H
Travel photos: cannoner, fadiljonuz, nessoni, Enrique Maldonado, Mariusz Wozinski, Dragan Todorovic.