Among favourite destinations for American honeymooners, the romantic Niagara Falls is certainly one of the most beautiful and fascinating natural spectacles of the world.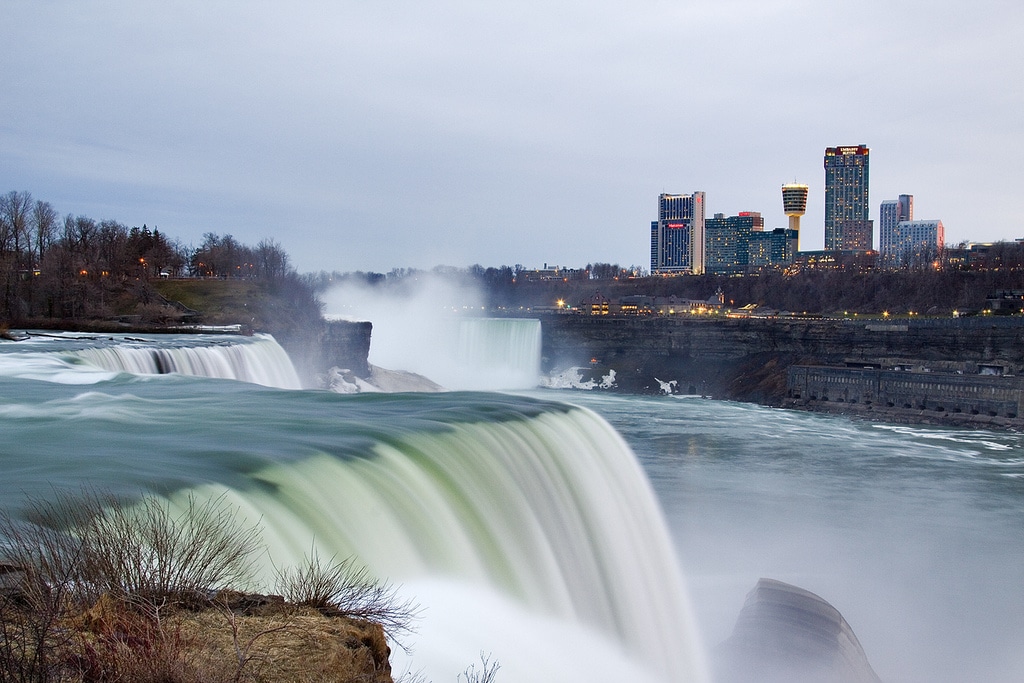 The falls are located along the borders between the U.S. and Canada. It consists of three sections, the Canadian side's Horseshoe Falls, which is separated from the American Falls by Goat Island, and the Bridal Veil Falls which is separated from the others by Capri Island. The scenery is truly magical. Because of the power of the water there's mist almost constantly. That allows you visitors to enjoy a beautiful rainbow, which unites the two state banks. If you look closely you might see the Lady of the Mist, the spirit of the falls. In fact, the legend says that the young Indian Lelawala in order to escape an arranged marriage,  decided to sacrifice herself by jumping from the waterfalls, but the god of Thunder saw her and immediately fell in love with her, making her his wife.
You have a variety of choices on how you prefer to access the fall. Ongiara, named after an Indian deity, is a boat that has been taking tourists to the base of the falls since 1846. On the other hand there's the aerial tram, the Spanish Aerocar, which leads visitors into the Canadian side and is being used since 1916. You can also "enter" into the falls through a series of tunnels that start from the Horseshoe Falls on the Canadian side. Over the years many people have decided to defy nature, as well as the law. As a result, bizarre waterfalls have been plunged. The Daredevil Museum collects evidence and findings of all these adventures. In addition to that all lovers of cinema and of Marilyn Monroe can visit the original sites, where the famous film Niagara was shot.
If looking for an original idea for your honeymoon, romantic Niagara Falls is definitely the right choice.
By James Hunt