Traveling was off the menu for a lot of people during the past couple of years but now it's time to dust off your travel pack and embrace your wanderlust again. Many of us may feel like we need to make up for lost time by squeezing in as many new places as we can in as short a time as possible.
Fortunately, there are plenty of places around the world where you can pack a lot in a little amount of time. Denmark and Sweden are perfect examples of this thanks to their proximity and accommodating infrastructures. So, let's check out how it's possible to make the most of Copenhagen and Stockholm in just one short trip.
Starting your journey safely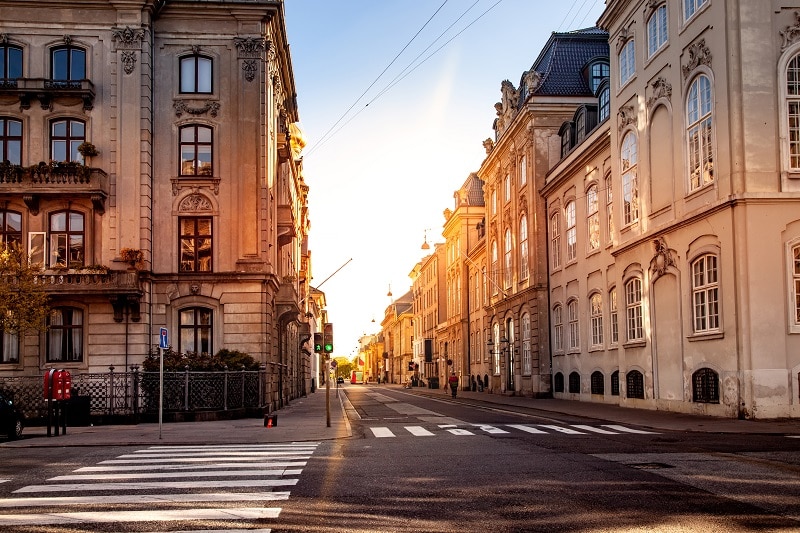 Before setting off on your trip to Denmark and Sweden, it's important to know that you are safe to travel. Passengers who are vaccinated face no restrictions to entry in Denmark but unvaccinated travelers must take a test if they are outside the EU or Schengen regions.
Visitors to Sweden must show evidence of a negative covid test within 72 hours of their arrival, although non-essential entry is denied for travellers until March 31st, 2022. Fortunately, testing is made easy with companies offering their services to help travellers with Fit To Fly certificates.
UK-based testing company, TestnGo, says "The Fit To Fly certificate is a medical certificate signed by a UK General Medical Council (GMC) doctor that confirms your Covid-19 PCR test is negative and that you are therefore able to travel". Once the all-clear from a certified testing company arrives, your holiday is given the green light!
Where to stay?
Given that both Copenhagen and Stockholm are modern cities, it's quite easy to grab an apartment through Airbnb to keep the costs down. Due to the affluence of Denmark and Sweden's people, both cities can be on the expensive side so finding a way to save money here and there helps. 
On the other hand, if you've been saving up for a trip since the outbreak of the pandemic then why not go wild and splash out on luxury hotels to really treat yourself? Wherever you choose to stay in each city, we think you can comfortably fit both of these capital cities into five days to a week. Of course, if you wish to stay longer then you'll just get to immerse yourself even deeper in Scandinavian culture.
Beginning in Copenhagen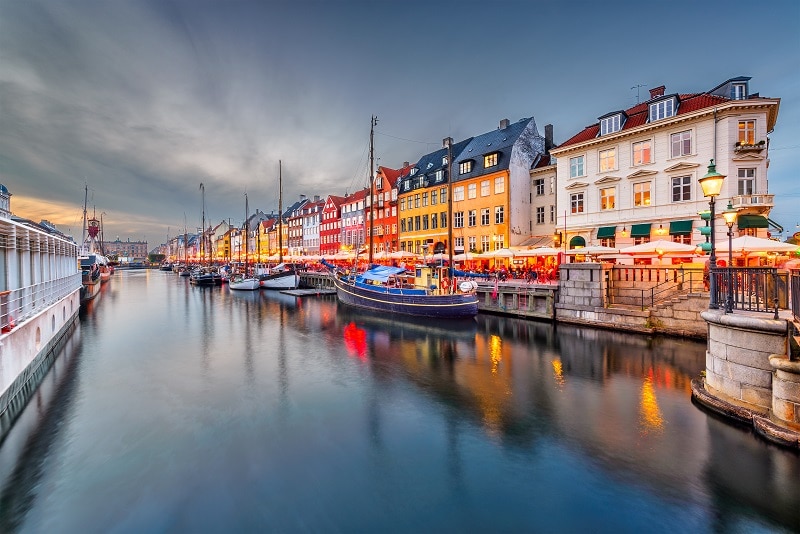 Which city you start in is up to you but we recommend beginning your trip in Copenhagen. Drop your bags off at your hotel or apartment and rent a bike to truly make yourself feel like a Copenhagener!
The city's cycling infrastructure may only be second to Amsterdam and it truly is the best way to get around. There are designated cycle routes throughout the majority of the city, they even come equipped with their own set of traffic lights and roadside trash cans!
What to do in Copenhagen?
On your bike, you can enjoy taking the scenic route around the city with plenty of stops along the way. There is even a statue of The Little Mermaid to discover on the riverside, which is perhaps the most famous of Hans Christian Andersen's fairy tales.
Copenhagen's harbor is wonderfully colourful and teeming with bars and restaurants for you to wet your whistle in. You can enjoy a boat trip from the harbor which takes you along the river and out into the sea briefly to get a better angle of the city.
Like most cities, there are trendy areas filled with major shops and boutiques but Copenhagen is also home to Freetown Christiania, an independent commune in the heart of the city. Near to Christiania is the Church of Our Saviour which offers an amazing spiral tower you can climb to overlook the city.
Copenhagen is a relatively small city, which means you can see most of it in just a few days. There is always more to see, but you can get a real feel for the place in that time before moving onto Stockholm.
The train journey of a lifetime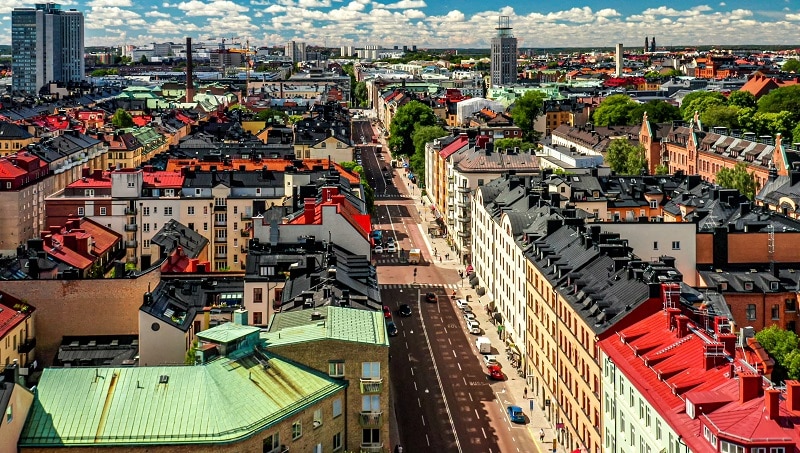 Once your time in Copenhagen comes to an end, it's time for the next leg of your journey. The train link between Denmark and Sweden is a strong one and it's possible to hop onto a carriage in Copenhagen that whisks you away to Stockholm. 
It's a six-hour journey but one that's incredibly comfortable and takes you across the Øresund, which is the body of water between the two countries. If you wish, you can make a pitstop at your first port of call in Sweden, which is the coastal city Malmö.
Unlike most functional trains you might find taking you around your home country, even the basic seats are comfortable and designed with an enjoyable journey in mind. Along with a food cart, there is a wonderful view that accompanies you throughout your journey. From the bridge spanning Denmark and Sweden to the lush views of the Swedish countryside; this train journey is one to simply sit back and enjoy.
Enjoy Stockholm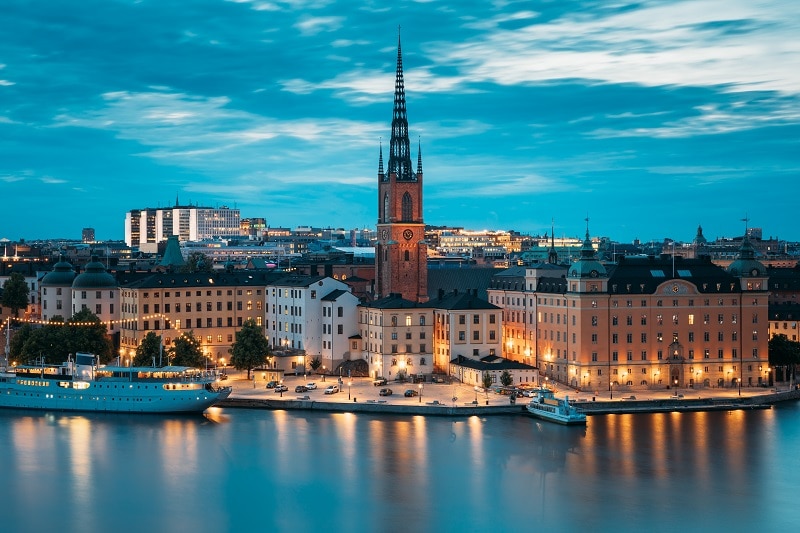 The first thing you may notice when arriving in Stockholm from Copenhagen is the difference in the size of the cities. While most of Copenhagen is accessible by walking, Stockholm is broken up into a cluster of islands and covers a much wider area. Public transport like buses and the metro are keys to getting around the city to access the various districts.
Jumping onto the metro won't disappoint thanks to the creative and artistic architecture found underneath Stockholm. Most stations have some form of art, with many carved out of rocks and feeling like you've just stumbled into a cave!
Discovering Stockholm's culture
There are a wide range of museums and galleries to enjoy in Stockholm if that's your thing. One of the best-kept secrets is the Stockholm Medieval Museum on the tiny island of Helgeandsholmen is free to enter. It allows you to meet the people and hear stories from the everyday life of medieval Stockholm.
Once you have visited the museum then do explore the rest of this small island, home to the Riksdag, which is the Swedish parliament. After visiting Helgeandsholmen then it's a short hop across the bridge to Gamla Stan, Stockholm's old town.
This colourful and charming old town is home to many cosy pubs and restaurants while you can also visit the Nobel Prize Museum and wander around the cobbled streets. Food and drink in Stockholm are worth working up an appetite for, with an ever-growing beer culture and, of course, it being home to the Swedish meatball!
A speedy double city break
When a window of opportunity opens up to the travel community, it's best to jump right in and go for it. Who knows what is around the corner with the world feeling ever more imbalance so why not make the most of your trip and enjoy Copenhagen and Stockholm in one visit?