Even in a country famed for its wild fiestas, Las Fallas (pronounced fai-yass) in the east-coast city of Valencia is generally considered to be the noisiest, craziest and most absurd in Spain. For five whole days (and nights), the whole city stops working and parties day and night. In case it's not clear just how crazy it is, the festival features a two-day procession, almost a week of continuous fireworks and firecrackers and the night-time burning of huge cardboard statues.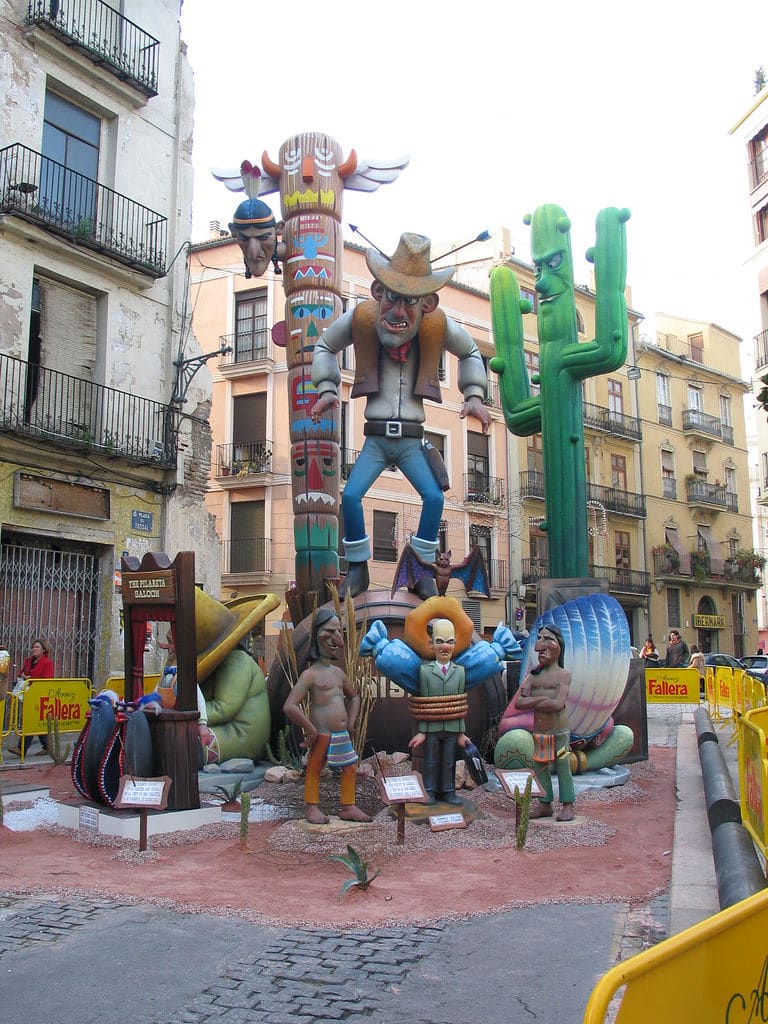 If you're not deterred by this, why not join the estimated two million other visitors who flock to the city between 15th and 19th March to jump headlong into the fun? Your day will begin early, with the crack-of-dawn despertà, or wake-up call, usually in the form of a brass band marching through the streets. It's totally normal if, after four consecutive days of this usually conductor-free noise, you have malicious thoughts about shoving a trumpet up a dark place.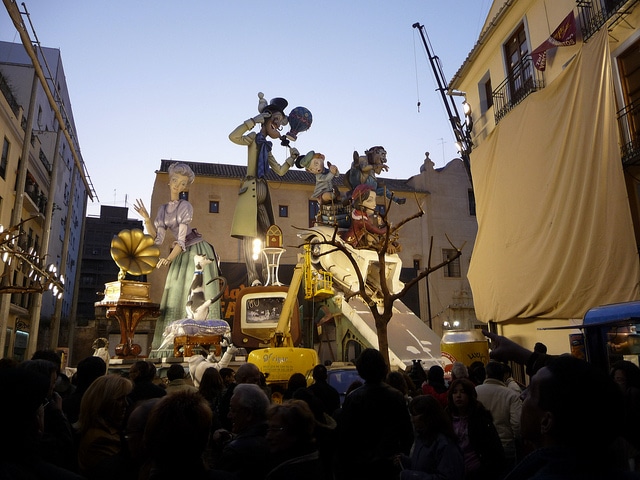 Once you've had a nap to recover, head into the main square, the Plaza de Ayuntamiento, to watch/listen to the mascletà. For those who don't speak the local lingo, myself included, it's basically a huge firecracker display, which are like fireworks only white and they make a hell of a bang. These displays happen each day at 2pm, and each is longer, louder and brighter than the last. Feel free to replenish your energy (and allow your eardrums to recover) by having paella, the region's most famous dish. However, true Valencian paella doesn't have any seafood, as it's made with chicken. You can often order the seafood version instead. Valencia also has loads of great wine, and you're on holiday, right?
For the rest of the festival, people walk the city to see the fallas themselves. The word means 'torches', and they are cardboard and papier maché models of people that range from 5-70 feet high. The subjects are often satirical depictions of famous people and politicians. Last year's highlight was a 10 foot Elvis with a giant head whose crown was being stolen by John Lennon. The fallas are handmade by local groups, and often take almost the whole year to make. On the final day, they are all fitted with firecrackers which go off sometime before midnight during the cremà or 'burning'. This is culmination of the fiesta, and by far the most fun night. The firecrackers cause a spark that ignites the whole structure, which goes up in flames and burns out in a few minutes to cheers and applause. The Spanish have very little concept of health and safety and allow spectators to get rather close to the huge bonfires, so try not to stand downwind or you risk going home covered in ash. The grand falla in the central square is the last to be burned, usually around midnight, although it's so big you often have to wait for fire engines to line up around it. Don't let that put you off though, it lights up the entire sky and is well worth the wait.
For firework lovers, every night there is a huge display on the old drained riverbed, but the best place to watch it from is one of the bridges on either side, as the banks are closed. These get bigger and better each time, the final one lasting over 15 minutes.
But the party never stops in Spain, so if you feel like enjoying the warm night and electric atmosphere, have a look for one of the legendary verbenas, or outdoor discos (not as naff as they sound). The DJ will play mostly English-language music, the people dance in the street and while you have to bring your own drinks, many local shops stay open all night to sell bottles of the infamous Agua de Valencia, a misnomer that has nothing to do with water, and is in fact a potent mix of sweet Spanish champagne and orange juice.
By Emily W
Photos: Fender Champ , emily tu , Mark Massey , travelandtravails, Stuart Chalmers