Located 700 km north-west of Bangkok, Chiang Mai is the second largest city in Thailand and although for all intents and purposes a modern and cosmopolitan city, it still manages to preserve all its charm with its walls, canals, night markets and majestic mountains. There's a lot of temples (about 300, almost as many as Bangkok) in the city so they can be visited at harvest cycle, the pleasant night temperatures (much cooler than the rest of central Thailand), the high quality and low prices of accommodation , food and shops, are valid reasons why many tourists often hold for longer than expected.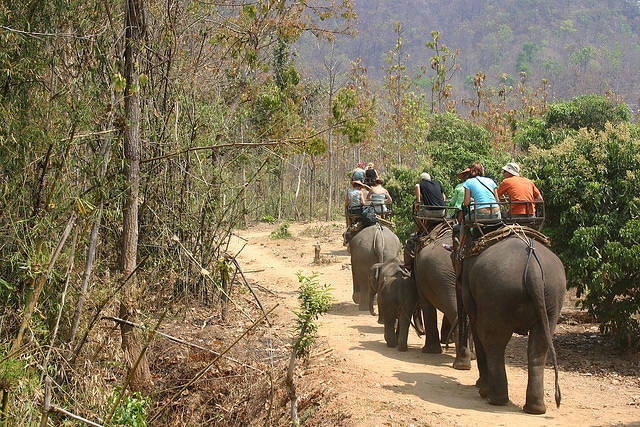 Chiang Mai is also a good starting point for doing one of several "Trek" that many local travel agencies offer by visiting the surrounding mountains, riding elephants, down rivers on bamboo rafts and meet some semi-primitive tribes of the hills. Although undoubtedly very touristic, these outputs of several days (made to walk the narrow paths along the edges of rice fields, shaded by ancient forests, fording rivers and washing in small waterfalls meet) with overnight stay in the huts of the local tribes, without or almost any kind of modern comfort, will prove an exciting experience not to be missed, although it can be very hard indeed.
The best time to visit Chiang Mai and surrounding ranges is from July to March, the worst are April, June and September, although there are sunny days it is the wettest month. We visited Bo-Sang, a city famous for its umbrellas, countless temples, the crowded "Night Bazaar" (where you can find everything at the lowest prices in Thailand) , moving in a tuk-tuk, bicycle, on-board pick-up, on a scooter, but mainly on foot.
A speech by itself is worth the trek that we practiced in the sumptuous hills inhabited by tribes of the north. Walking through rice fields and through forests of rushing streams, moving on the backs of elephants, bathing under the waterfall jump, rafting on board bamboo rafts, is certainly not an everyday thing. This experience, unique and not to be missed, will be unforgettable as its fatigue.
This has also affected our vacation to the city of Ayuthaya and Sukhothai (with their incredibly beautiful historic parks, where you can visit the beautiful ruins of the ancient capital), the tranquil island of Samui but completely missed the chaotic Bangkok.
By Elsi H
Photo 1+2: faranginthailand, Photo 3: Nopphakhun Duangsri Photo 4:Love2difference