Don't let the cool winter weather put you off enjoying the great outdoors. From the coast to the upcountry, many of Britain's best camping destinations are just as much fun during the winter as they are at the peak of summer.
With cooler weather, significantly more snow, and a different range of activities on offer, however, it's important to plan carefully for your winter camping trip.
We've teamed up with the winter camping experts at Billing Aquadrome to help you enjoy a safe, adventurous, and fun experience in the British countryside this winter.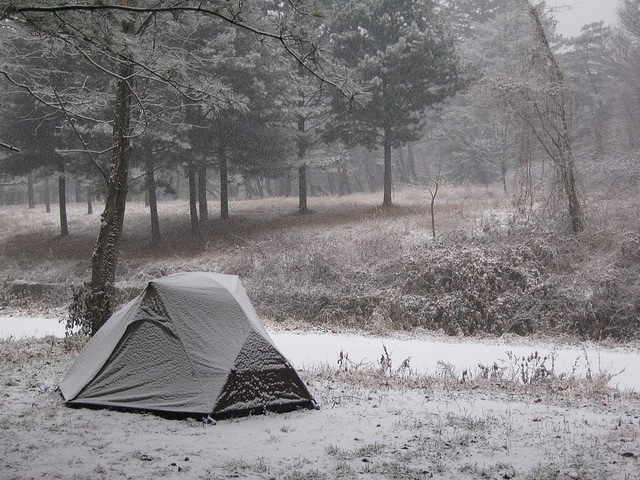 Winter Camping: How to Prepare
There's no need to fear a little snow. While the temperatures are certainly cooler in winter, there are some benefits to camping during the cooler season. Bugs are fewer in number – if there at all – and the white winter environment is an amazing place to spend your holidays.
While winter camping is far from dangerous, it's important to take some basic steps to keep yourself safe and healthy when you're camping in the snow. Make sure you camp with a friend or relative, and research the area that you'll be camping in so that you're aware of nearby hazards and helpful emergency services.
Prepare clothing that's suitable for the environment you'll be camping in. American adventure travel clothing company REI has an excellent guide on how to choose the right clothing for your winter camping trip. Many camping areas will also be able to help you with preparing for a safe and enjoyable camping trip.
Winter Camping: What to Do
When you've got the right equipment, there are no limits to what you can do during a winter camping trip. Walking trails are uncrowded and enjoyable, while the snowy ground is perfect for building snowmen and forts. Many rivers are teeming with fish in winter, making them the perfect destination for an adventurous fishing trip.
Even the basics of camping are fun in the winter. Pack steaks and sausages and cook up a feast in the open countryside, or prepare campsite favourites like porridge and baked potatoes. Use common sense when preparing food and never light a flame in your tent or snow shelter.
In certain areas, you might even be able to go sledding or cross-country skiing. Be sure to check the local regulations for your campsite, as many campsites will have restrictions on winter sports and activities.
Source: Image