Let's leave aside our traditional food and let's focus only on traditional dishes that are part of the Greek tradition. Meanwhile, we find that by the Hellenic Tourism in Greece has appeared first in chefs that craft generously and are paid by the rich from whom lent their services. Over time the gained craft was in reputation and was regarded with the highest esteem. Many professionals in the field made in those times a brilliant reputation and the ancient Greeks esteemed them as the sages.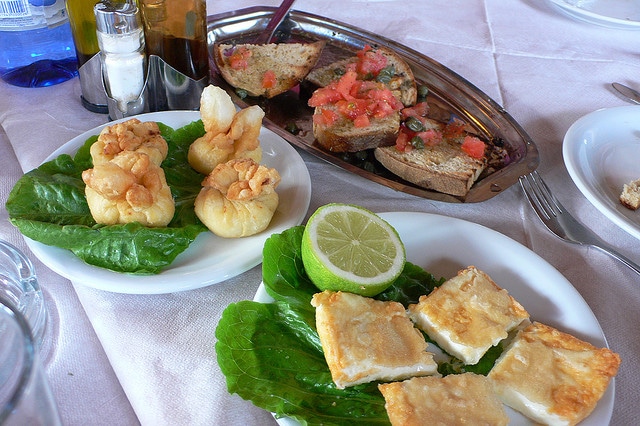 The only that even knew about these matters were the ancient Greeks! Coming to the present, from the menu of the restaurant overlooking the sea that you will attend in Santorini, Crete, Rhodes, Zante or Naxos, you can choose an appetizer made from black olives, pickles, anchovies, salami, rice rolls or minced meat seasoned with taramosalata , sauce made from fish eggs, melitzanosalata, sauce of eggplant, tzatziki, yogurt worked with cucumber, garlic and olive oil, browse, pizza stuffed with cheese, minced meat, spinach or vegetables.
If you love meat there is souvlakia, pieces of beef or pork cooked grilled and skewered with a skewer in metal or wood. The ghiouvetsi, lamb roasted in the oven and served with cooked pasta, soutzoukakia, meatballs in tomato sauce, the keftedes, fried balls of meat or vegetables, dolmades, meatballs minced meat or rice enveloped in cabbage leaves or screw, and then topped with egg-lemon sauce.
Since you are going to be at the sea, take a little thought even fish: fried fish accompanied by very small resinous wine is the dish of Taverne, such as squid, kalamarakia, polyps, chtapòdi, and prawns, garides, cooked in various ways: with tomato sauce and feta cheese, baked in foil or with rice. Then there is the red snapper, sinagrida, sliced ​​roasted or stewed but cooked in the oven, swordfish, Xifias, roasted on a spit.
We close the rundown on the typical dishes of Greek cuisine with a few desserts: the galaktomboùreko, made with puff pastry made with cream, kataifi, especially threaded pastry filled with chopped almonds and soaked with syrup, the baklavas, alternating layers of pastry with chopped almonds and honey.
By Ina K
Photos:greecelogue