It is not easy to plan the packing for an 8-month long journey. Especially when you are going through so many climate zones, ranging from mountain peaks in the Himalayas and the Andes to the jungles of Papua New Guinea and Central America. Then I also need to bring computer to work if needed make it any easier. The goal was to have a luggage weighing up to 14kg when flying, as well as a hand luggage weighing up to 9kg.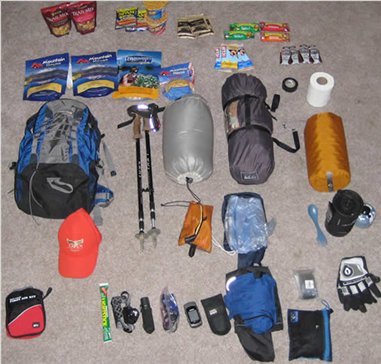 I've selected 10 great gadgets that I think all backpackers might find useful:
Gore-tex jacket – (Arcteryx Alpha LT) – Small footprint, breathe, can be used in -20 degrees and +30. Be sure to buy a light one that takes up little space as such. Arcteryx Alpha LT, Arcteryx Alpha SL, Haglofs LIM or the like. You will be surprised how much benefit you will have the jacket, works equally well in the mountains of Borneo!
Flashlight – (Coast LED Lenser P7) – Energy efficient, bright light. A good flashlight will be of great benefit in countries with poor infrastructure. In Burma and Albania a flashlight is a must.
Bottle of water – (Katadyn EXstream) – In undeveloped countries, the lack of clean water is a major problem. If you are out walking, it may be difficult to buy water. Then a water purifier come in handy. Smart, with a built-in water purifier in a sports bottle.
Clock / Watch – (Silicone Watch) – Some want a watch for diving, others for mountaineering. I just want to know the time and bought the smallest watch I found.
Pacsafe – (Travel Safe 20L) – A pack bag with built-in steel cables and locks. It will hopefully prevent someone from taking your computer / photographic equipment.
Stakes – (Eagle Creek Pack-It) – Smart compression bag for clothes, etc. will take up less space in your backpack.
Waterproof camera – A great addition to the camera system if you're going out in environments that require a bit more durable camera.
Travel Alarm – (Cavius ​​Travel Alarm) – If you have been broken into and have valuable things in the room maybe this thing could be your salvation. There is also a cheaper and smaller version of Clas Ohlson.
Speaker – (X-mini Max) – Perfect if you want to share your music but do not want to take a speaker that weighs one kilogram with you. No "killer sound" but good enough for an evening on the porch.
Gorillapod – (Gorillapod zoom) – A great addition to a standard tripod, is lighter and takes up less space. Available in different sizes. It has bendable legs to hook into various objects. Brought to you by the travel tech gadgets
By Nikos K
Gadget photo:prlog