London and Amsterdam are 2 refreshing and surprising cities with unique ancient traditions and culture to explore, full of contrasts and attractions.
You are so spoiled with things to do in London that it makes your trip unforgettable: the British Museum, Science Museum, National Gallery or National Theater, Shakespeare's Globe, Royal Court Theater and much more.
However, you are also spoiled doing things in Amsterdam too such as visiting Van Gogh Museum, Rijksmuseum, Amsterdam Museum, EYE Filmmuseum. Your trip in incomplete without seeing all of them.
Amsterdam's history is connected with water, over 165 canals were created during the last couple of centuries and define the city's landscape. Truly a memorable way to discover the city's most interesting sights when viewed from a boat.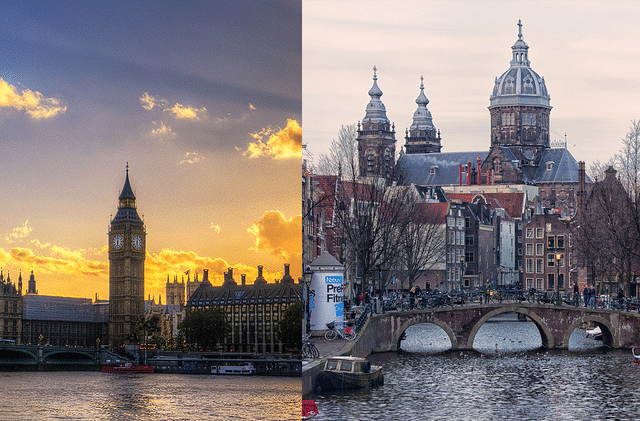 London and Amsterdam are two different experiences in terms of vibrant social scenes and real city feeling. Amsterdam is a like a village compared to the crowded London but the center is filled with restaurants, cafes and artistic events. In Amsterdam you can ride a bicycle which is the quickest way to get around.
You can travel around London by bus or tube. It will be down to you whether you prefer small or larger cities, quite or frenetic with very friendly locals and lots of students and expats.
It depends on how each of you perceive the quality of life and things, generally speaking.
London or Amsterdam?