The time I spent in Greece left me with a lot of wonderful memories and some great experiences. What I also got was some the most amazing food and desserts greek recipes. In this article there are a few yummy desserts recipes that I'd like to share with you.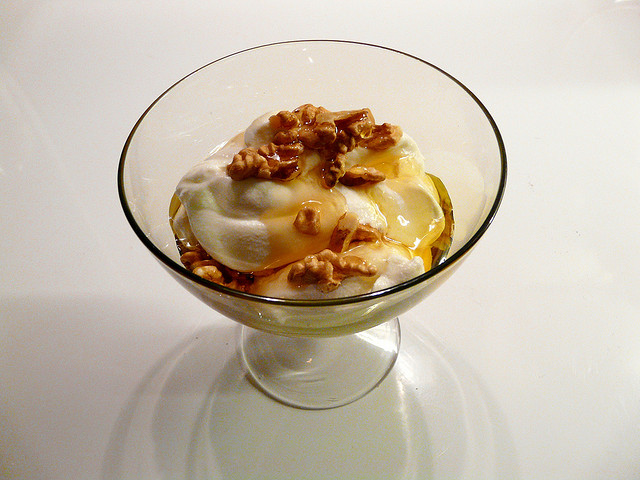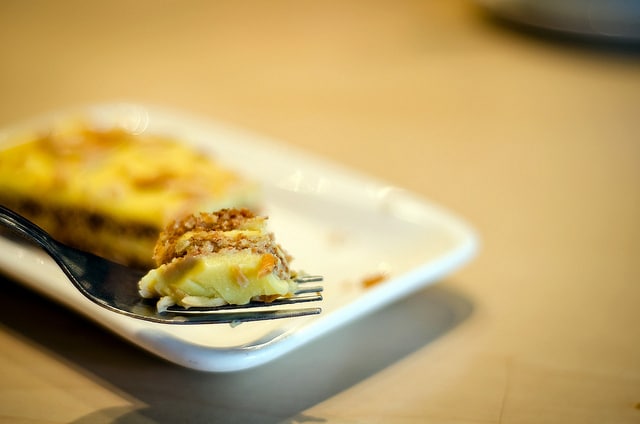 Almond-pie
12 tablespoons  of sugar
12 tablespoons of crushed almonds
12 eggs
12 tablespoons of breadcrumbs
1 teaspoon of clove
1 teaspoon of cinnamon
2 vanilla
Syrup (boil for 10 minutes)
2 cups of water
3 cups of sugar
10 tacks  of clove
1 piece of cinnamon
Beat the egg whites and set aside.
After that, you beat the sugar, the yolks and the vanilla. Pour a little bit of almond, breadcrumbs, cloves, cinnamon and egg in the mixture.
Grease the pan (30×30) and shake. Pour the mixture and cook in oven of 200oC for 30 minutes.
When it's done, pour on it cold syrup.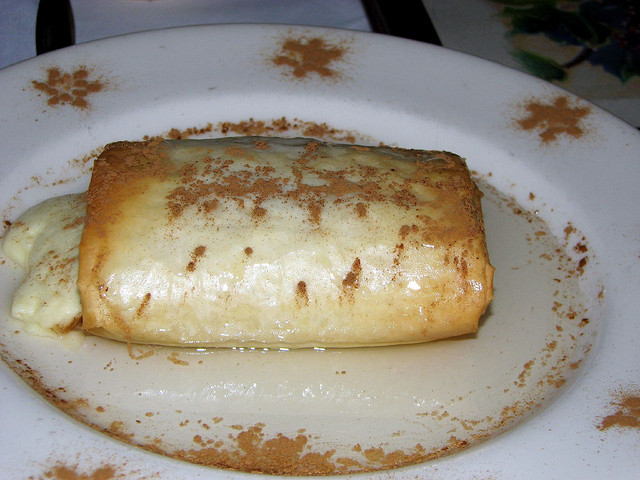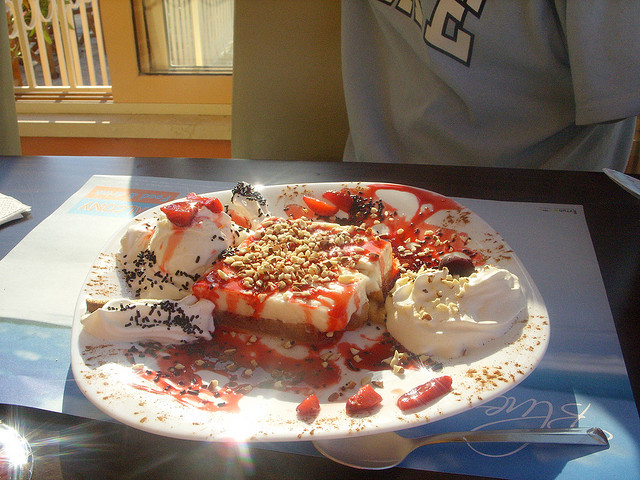 Orange and mastic cookies
1 ½ kg of soft flour
1 ½ tablespoon of baking powder
250 gr. of butter
215 gr. of brown sugar
500 ml of orange juice
grated orange or lemon
½ tablespoon of gum powder
½ tablespoon of pounded mahaleb seeds
80 gr. Of honey
100 ml of water
Put the mastic, the mahaleb and the grated orange peel in water.
Leave it overnight in the refrigerator (so it becomes very aromatic) or pour boiling water over the spices and leave for 1-2 hours.
Mix well the flour with the baking powder.
Pour all ingredients in blender and use portions of dough up to get it smooth.
Leave the dough for 30 minutes, covered with a towel.
Shape it to cookies and place them in buttered baking dish.
Bake cookies in preheated moderate oven about 20 minutes (depending on shape).
When they are done, put them to dry on a towel or rack.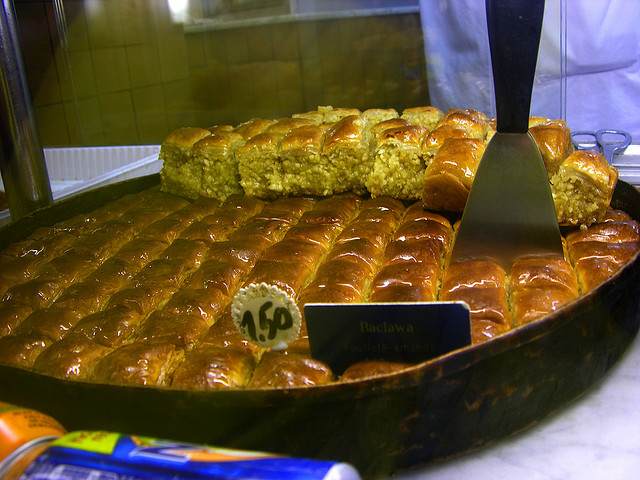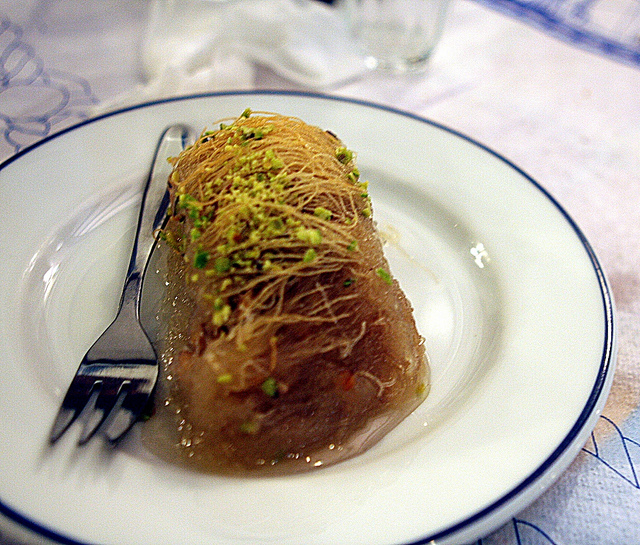 Custard filled pastry
1 lt of milk
320 gr. of sugar
175 gr. of fine semolina
6 eggs
50 gr.  Of Fresh milk butter
1 tablespoon of grated orange & lemon zest
500 gr. of crust
extra butter for the leaves
For the syrup:
640 gr.of sugar
500 ml  of water
peel of one lemon
1 cinnamon stick
pins clove
1 tablespoon of  lemon juice
Put the milk in a saucepan and heat. Add the semolina and stir them over low heat until the mixture  thickens, and hence remove from heat.
Beat the eggs in a bowl, along with the sugar and zest. Pour the mixture slowly to cream with the milk, stirring continuously. Add  butter and mix well. Cover with a wet towel and leave it to cool.
Butter a medium baking dish. Spread half of the base pastry sheets after the first anoint well with butter. Pour in the cream and turn the leaves protruding, inward. Spread the remaining pastry sheets onto the cream, since anoint with butter. Shaped in diamond and sprinkle the surface with water. Bake at 200 ° C for 30 minutes.
Meanwhile, prepare the syrup: Boil sugar, water and lemon rind for 5-6 minutes. Add the lemon juice and cook for 2-3 minutes.
Just pull the Custard filled pastry from oven and pour the hot syrup.
Allow to cool thoroughly, cut into pieces and serve.
By Nikos K
photos: Coanri/Rita, vivbabe, x.Krystle.x, sfPhotocraft, wanderingYew2