Davao, a city in southern Philippines, is a breath of fresh air—literally and figuratively. Compared to the capital city of Manila, the streets in Davao are litter-free, and they're much safer to explore on foot (no pickpockets here). I had a field day taking photos with my instant camera because there were so many beautiful places to explore. Getting around the city is more convenient, too, because you don't have to endure horrible traffic that Manila is known for.
I had my own share of adventures in Davao last year. Upon arriving at the Davao International Airport, I was picked up by a Filipino friend who was once an exchange student in our university. He took me to Marina Tuna restaurant to taste the local seafood delights. Although the place is famous for its tuna dishes, it's the spicy shrimp that won me over.
After our yummy lunch, my friend drove me to my hotel to get enough rest for the next day's exciting adventures.
Davao WildWater Adventure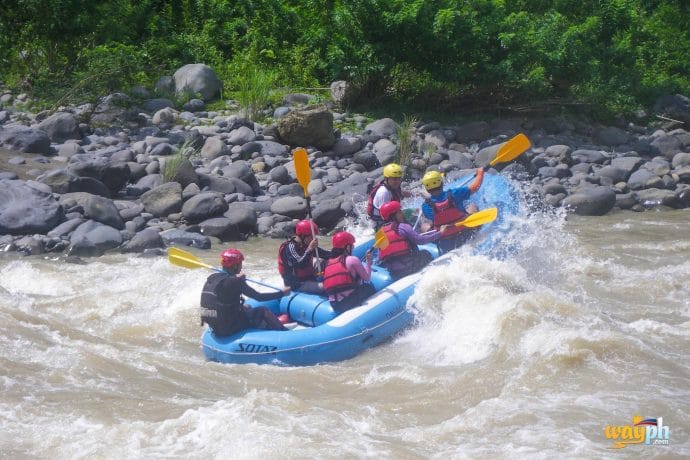 Photo from I Travel Philippines/ CC BY 2.0
I love water activities! I got really excited when I found out that we're going white water rafting the next day. I ate breakfast at around 5:30 in the morning, took a shower, and met up with my friend outside my hotel to go to the Crocodile Park.
In a one-hour orientation, we're given a rundown of facts about Davao river, shown a short video about the organizers behind the tour, the Davao Wildwater Adventure Rafting Company, and asked to try on vests and helmets for size.
Afterwards, we took a ride to a place called Tamugan, which was the start-off point of our white water rafting adventure. Our group was then given instructions on how to paddle our way to the direction we wanted. We're also told to keep our ears open for additional instructions that they might shout to us during the activity. Then off we went to our rafting adventure.
We had to conquer 24 raft-squashing rapids, so it was quite a challenge for our group to keep the raft afloat and keep ourselves from falling off. But our group managed to look out for each other and survive.
My favorite part of the whole white water rafting experience would have to be bathing in the Vanishing Falls. It's a welcome break from our blood-pumping traverse along the Davao river. It's a sight to behold, too, so I whipped out my camera from its waterproof case and made sure to capture a few snaps of the crystal-clear water.
Skycycling at Eden Nature Park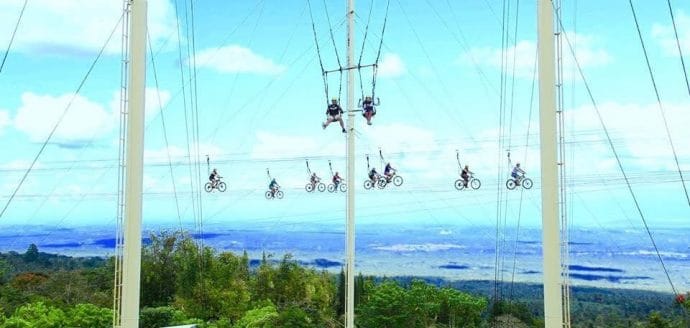 Photo from Eden Nature Park and Resort's Facebook Page
I ate a light breakfast, as I was about to try one heart-pumping activity that Davao is famous for: skycycling. Judging by its name, I could tell it was not for the faint-hearted.
The park itself is a 12-km. uphill climb from the center of Barangay Eden. You'll love the beautiful view of lush greens along the way!
I've always been proud of my balancing abilities (I've been biking since I was a kid), so when I saw people biking their way across the wires, I thought it would be easy. But then was I wrong!
The 60-ft. distance of the cable track from the ground felt real as the crew was fastening my harness and positioning my body properly on the bike. My knees trembled when I looked down and saw how high I could fall if I got off-balance. I wanted to back out! Soon, I felt a gentle push from the back. There's no turning back—I started to move! And so I pedalled my way to the end of the wire trail.
Just when I thought I couldn't go on any longer, I had to pedal my way back to the point where I started. So I tried to make the most out of my experience, relax, and enjoy the scenery. The bird's eye view of the park's landscape (with the sea stretched out alongside it) was so breathtaking, I felt all my worries melting away. I really enjoyed skycycling at this point.
My Skycycle experience felt like the longest 4 to 6 minutes of my life, but the exhilaration and pride of overcoming that difficult feat were all worth it.
If you're looking for a place that will quench your thirst for exciting activities and beautiful, exotic spots, then Davao should make it to your must-visit cities list. I had a great time there, and so will you!