The visa you need to visit the US very much depends on what you are planning to do when you get there.  A few possibilities are listed below, along with the types of visa you are likely to need, but there are plenty more on the travel.state.gov website.  The following information assumes that there is a reason why you cannot submit an ESTA (Electronic System for Travel Authorisation). You can also find out more about ESTA Waivers here.
Athletics is a winner
If you are an athlete or sportsman, amateur or professional, competing for prize money only, you will need to apply for a B-1 visa.  This is a non-immigrant, temporary visitor's visa that allows people to enter the country for business.
Business visitors
If you are travelling to the US for business purposes, you should apply for a B-1 visa.  This temporary visitor's visa allows you to stay in the US for the term allowed on the visa, but you cannot look for work.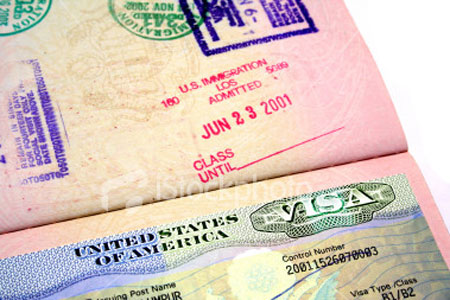 Permission for crew members
Crew members of ships and aircraft that enter into US waters or airspace should apply for a D visa.  However, if you are going to join another vessel for your next job, you will also need a C-1 (or C-1/D) transit visa.
Foreign military personnel
If you are stationed in the US with your country's military organisation, you will need either an A-2 or a NATO1-6 visa that covers the duration of your stay.  With the exception of certain circumstances, these can usually be reissued by the Visa Office if the visa expires before your tour of duty ends.
Medical treatment
If your visit is specifically for medical treatment, you will need a B-2 visitor's visa.  During your visa interview, you may be asked for more written information, such as a diagnosis from a physician, a letter from a US doctor or medical establishment stating their willingness to treat you, as well as their fees, and all medical expenses involved.  You will also need some kind of written proof that your living expenses, transportation and medical bills will be paid, whether it will be by you, or by someone sponsoring your treatment.
Journalists
Journalists and any other foreign media representatives travelling to the US in order to work for the purposes of producing either informational or educational media should obtain a media (I) visa.  It is worth noting that media representatives planning to work during a visit cannot travel on the Visa Waiver Programme, even if they come from a country that is on that list.
Tourist features
If you are planning to visit the US for a holiday and for some reason you are unable to use the ESTA scheme, then you will need a B-2 visitor's visa.  You cannot work on one of those, but you can see the sights and have a very nice holiday.
A visa does not mean you can definitely stay
One thing to remember is that the visa itself does not constitute approval for your visit.  The individual immigration official will make the decision on the day of your arrival as to whether or not you are allowed to stay.  A visa is simply permission to be allowed to stay in the US, and the individual immigration official will also let you know how long you are allowed to stay.
Photo: link