New York City can certainly provide some of the finest and most elegant meals in the world, but visitors can also enjoy a more casual and classic New York treat as they experience the sights and sounds of one of the greatest cities in the world. Finding New York deals online to get you here, and New York street deals to make you eat like a king in the 'City of Kings' will hold you in good stead for a fantastic trip.
Village Pizza 65 (8th Avenue near 14th Street)
New Yorkers love their pizza, and for fans of the thin, crispy crust style pie, this popular hole-in-the-wall provides a delicious, reasonably priced slice. Located between the West Village and the Meatpacking District, this humble storefront may not match of those nearby ritzy neighbourhoods, but even celebrities like Julianne Moore and Matthew Broderick cite this pizzeria as the best in the city for its crisp but chewy crust, savoury cheeses and classic toppings. The restaurant only has a few tables, but grab a slice on the go while shopping or take it up to the picturesque High Line walk for an easy street lunch.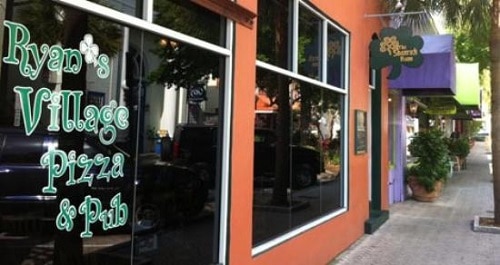 Gray's Papaya (402 Sixth Avenue at 8th Street, and 2090 Broadway at 72nd Street)
The cheap and delicious hot dogs are so good, even Anthony Bourdain covered them on the Travel Channel's "No Reservations." With two locations conveniently located near the shopping districts of the Upper West Side and Sixth Avenue, this classic New York spot features a variety of hot dog styles and fruit drinks like papaya, pineapple and pina-colada. This stand-and-eat spot offers a delicious, juicy hot dog with great people watching.
City Bakery (3 West 18th Street near 5th Avenue)
If hot chocolate is your weaknesses, then look no further than the decadent brew at this café/cafeteria/dessert emporium, located near Union Square. Every February, locals visit this favorite meeting spot for their Hot Chocolate festival, when they serve their classic thick and rich hot chocolate and a variety of specialty concoctions like Chili Pepper and Tropical Hot Chocolate. City Bakery also serves espresso drinks, seasonal and organic pizzas, salads and pasta meals. Often crowded, this hot spot attracts tourists, locals, office workers and foodies.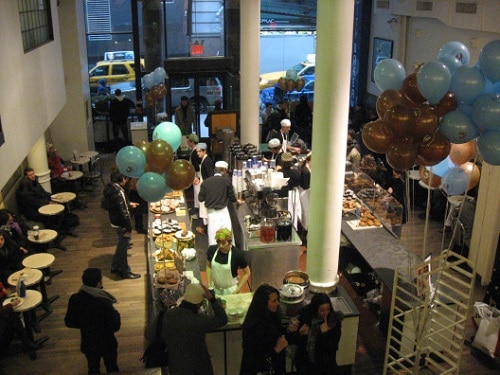 Katz's Deli (205 East Houston Street)
Since 1888, Katz's has been serving classic Jewish deli specialties at their Lower East Side location. Familiar to movie lovers from "When Harry Met Sally," the restaurant offers juicy pastrami, corned beef and matzo ball soup in a kitschy environment with walls crowded with the celebrity photos from decades of satisfied diners, including presidents, movie stars and singers. Visitors can choose between ordering at the counter or table service, and will enjoy the true melting pot nature of New York City with the strange and wonderful variety of diners.
Virgil's Real Barbecue (152 West 44th Street near Broadway)
Located just off Times Square, Virgil's serves authentic and delicious barbeque with classic sides like hush puppies, collard greens, cornbread and cheddar cheese grits. With a full bar, two large dining rooms, and attention to creating a true BBQ experience, Virgil's is an oasis of Southern charm in the midst of the cosmopolitan city.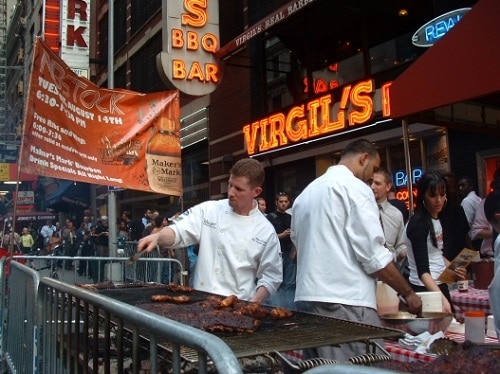 Photos: Jay Price