Including Volcanoes National Park in your travel plans during your visit to Rwanda? While it is known primarily for being home to the endangered mountain gorilla, there is a lot more to see and do in this park including silverback gorilla tours, golden monkey tracking, hiking mount Karisimbi, Bisoke Volcano, Muhabura peak, authentic cultural experiences at the gorilla guardian , tour the musanze caves and so much more.
Below, we'll talk about a few of the things you can do during your stay in Volcanoes National Park.
Mountain Gorilla Trekking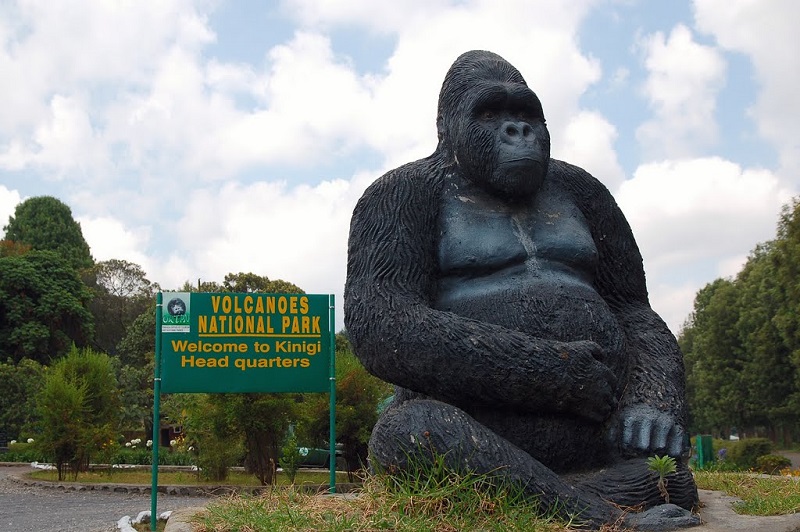 Source: Link
Volcanoes national park is the most popular destination in Rwanda with many tourists visiting for specially guided gorilla tours which operate all year round in Rwanda. In recent years, Rwanda's big fight to conserve the portion of mountain gorillas within their borders has been admired by the world and has become a favoraite gorilla destination for all African adventure seekers.  Volcanoes national park is home to  over 500 gorilla species with some which are undergoing habituation and 10 gorilla families fully habituated and available for tourists all year.
Despite being set aside in the 1920s to protect this vulnerable species from poachers, the rest of the 20th century was a bad time for the mountain gorillas. Poachers continued to defy the law in pursuit of profit, and civil wars led to gorillas being targeted by desperate survivors for food.
As the 20th century turned over into the 21st, things began to look up. Conservation efforts began to take root, and as they did, the head count of the mountain gorilla finally began to grow.
Tourist attention has contributed to the success of these efforts, as authorities began to realize these primates were far more valuable alive than extinct. Accordingly, there are many licensed tour agencies who lead walks deep into the jungle of Volcanoes National Park in search of one of several bands of these beautiful gorillas.
While the price for a permit may not be cheap (prices start at $750 USD), having the chance to observe one of humanity's closest cousins (98% DNA match) up close will justify every penny spent on this tour.
One note before we move on: follow your guide's every instruction. As human as these gorillas will seem, they are still wild animals and may react violently if you get too close or adopt an aggressive posture.
Rather, sit back and observe them passively as they go about another ordinary day in their peaceful lives.
You can pay tribute to the late Dian Fossey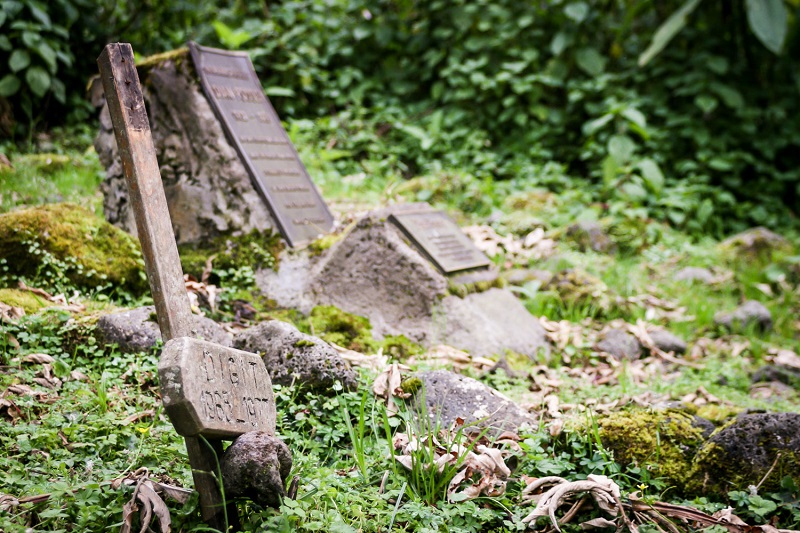 Source: Link
The mountain gorillas of Volcanoes National Park might not be around today were it not for the advocacy of conservationist Dian Fossey. First arriving in Rwanda in 1967 to study the bands of gorillas which called Volcanoes National Park home, she later shifted her attention to the poachers that were murdering the very animals she had dedicated her career to studying.
While no conclusive evidence has been unearthed, it is believed that her brutal murder in 1985 was perpetuated by the criminals she had spoken against. Intended to send a message to those committed to conservation, this heinous act instead had the opposite effect, leading to a turnaround in the declining numbers of this beautiful creature.
The body of Dian Fossey was buried on Mount Karisimbi and the Karisoke center in a gorilla graveyard where many of her favourite subjects (such as Digit) were laid to rest after being killed by poachers.
While there, lay a rose on her grave on our behalf, as she truly has made Rwanda and the world a better place through her work.
There are plenty of other animal species that call this place home
While mountain gorillas are the major focus of a visit to Volcanoes National Park, there are plenty of other animal species worth scoping out during your time there. The most significant of these is the golden monkey, a tree swinger which is on the endangered species list.
Other animals you should keep your eyes open for include hyenas, bushbucks, antelopes, buffaloes, and over 178 species of birds. To make the most of a trek through this park, it makes sense to hire a guide, as not only will they ensure your safety, they are also equipped with knowledge of this animal's habits and rituals.
You can scale some of the highest peaks in East Africa – Karisimbi & Bisoke Volcanoes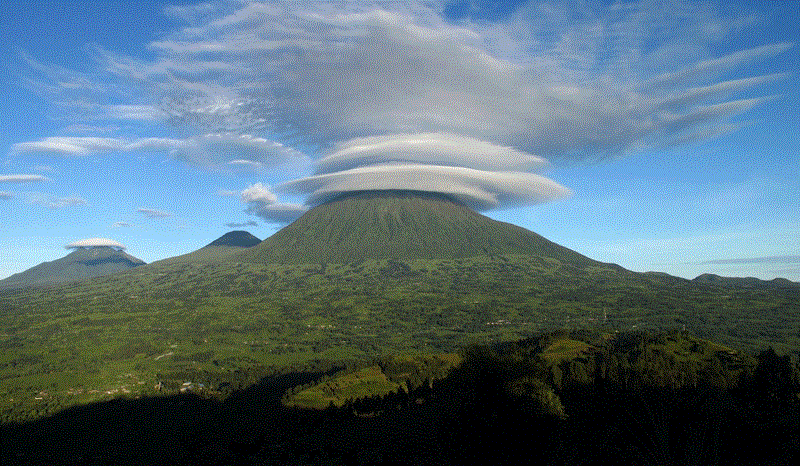 Source: Link
As the name indicates, Volcanoes National Park is home to peaks formed by periodic eruptions of magma from deep within our planet. While some of these are indeed active, they are often safe to climb, subject to advisories issued by the authorities.
If you have mountain climbing experience, Mount Karisimbi is an excellent peak to scale. Boasting a maximum height of almost 15,000 feet above sea level, it occasionally snows at the summit between June and August – an unthinkable sight for many considering its location near the Equator.
For those less experienced, Mount Bisoke is a more attainable peak. Topping out at a still formidable 12,175 feet above sea level, it has a crater lake at its summit, and along the way, the grave of Dian Fossey can be visited, making it easy to combine this activity with the formerly mentioned one.
You can explore caves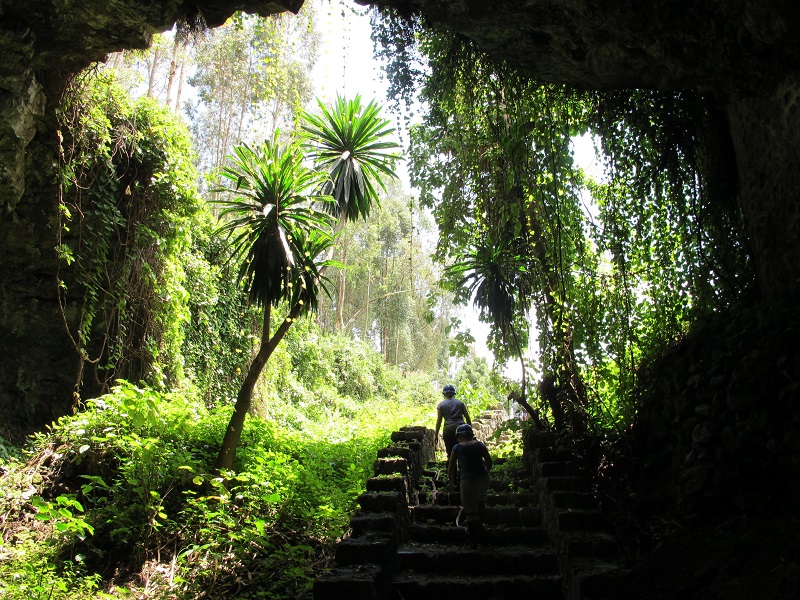 Source: Link
Enjoy exploring the world under our feet? Volcanoes National Park has a number of caves that can be discovered, with the Musanze Caves being the most significant of these. Two kilometres long in length, these subterranean passages have been modified to make it easy to explore, yet many of the stalactites and stalagmites have been preserved.
Used as a shelter during the wars that ravaged this country during the 20th century and earlier, this cavern also have a lengthy human history, as your guide will relay as you explore its passages.
There are local villages that you can visit
Around the periphery of Volcanoes National Park, there are also numerous villages where you can catch a glimpse of authentic life in rural Rwanda. In particular, the Iby'Iwacu cultural village will educate you on their traditions, dances, songs, and the ways everyday life go about their lives in this corner of the world.