At Gourmed we believe you need to know a few important things about this unique place before you dive in to the food!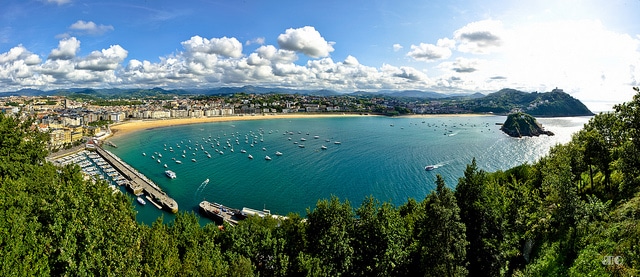 • In Basque tapas are called pintxos (pronounced pinchos).
• The Basque have developed the concept of tapas more than any other province in Spain.
• There is something called Sociedades or "Societies" where men go to eat, cook and hang out with male friends. Traditionally women were not allowed under any circumstances, nowadays, women are invited to eat but are not allowed in the kitchen.
• There is a very specific way to eat tapas do not get overwhelmed and order the whole bar: move from place to place, eat one or two tapas at each stop depending on their specialty, accompany each with a glass of wine or cider. Then move on.
1. A Fuego Negro
Address: 31 de Agosto Street, Old town
Our Suggestions, Their Specialties:
Vinegar Beetroot with a salty yogurt sauce (Remolatxa avinagrada con yogur salado)
 Crab salad with avocado and liquorice ice cream (Txangurro con aguacate y regaliz)
2. Borda Berri
Address: 12 Fermin Calbeton Street, Old Town
Our Suggestions, Their Specialties:
  Iberian Pork Kebab (Kebab de Kostilla iberika )
  Iberian Wild Bore with Romesco (Presa iberika con romescu)
  Tuna stuffed Tomato (Tomate relleno de bonito)
3. Ganbara
Address: 21 San Jeronimo Street
Our Suggestions, Their Specialties:
  Puff pastry with traditional paprika sausage Txixtorra (Hojaldre relleno de txistorra)
  Fried Crusted Asparagus (Esparrago rebozado)
  Trafitional basque fish cake (Pastel de pescado)
4. Goiz Argi
Address: 4 Fermin Calbeton Street
Our Suggestions, Their Specialties:
  Shrimp Kebab with coloured pepper vinegrette (Brocheta de gambas)
  Crab Tartalette (Tartaleta de txangurro)
5. La Cuchara de San Telmo
Address: Back road off 28 "31 de Agosto" Street
Our Suggestions, Their Specialties: Do not forfeit the incredibly soft veal cheek!
  Veal Cheek stewed in Red Wine (Carrillera de ternera al vino tinto)
  Orzo Creamy Risotto with Goat's Cheese (Risotto cremoso de queso de cabra)
6. Nestor
Address: 11 Pescaderia Street
Our Suggestions, Their Specialities: For a classic experience of Basque food
  Potato Tortilla (Tortilla de Patatas)
  Small fried Green Peppers ( Guindillas Fritas)
By: Gourmed
Photo: Travel Photo 1: Julian Toledo, Travel Photo 2: gizmo2z, food photos: Nestosjp, Wil and Lil, goodiesfirst, Gandhu & Sarah, underthemoonjp, ulterior epicure.