For those seeking a truly away from it all, for those who think the journey is a journey only if they go to the other side of the world here come the Hotel Remota in Puerto Natales in Patagonia; it is clear that the name is not random, in fact in order to get there, you will have to do lots of things. It is a building of modern design inspired by the local haciendas, overlooking the heavens and grasslands as far as the vision is concerned and it is surrounded by a pristine area far from the nearest town, Punta Arenas (the last town in the south of Chile, a four-hour flight from Santiago).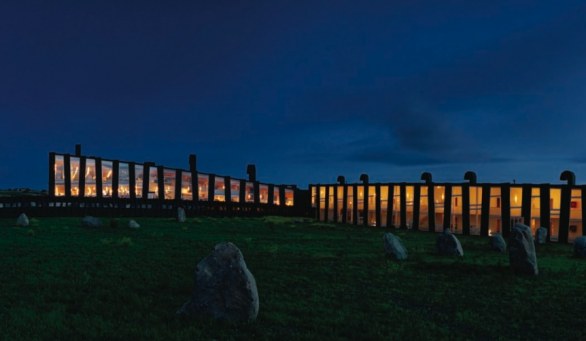 It houses 72 rooms that could also be enhanced with an extra bed for children up to 12 years, a Finnish sauna, a heated pool, an outdoor Jacuzzi and a massage room. The restaurant uses local fish and products of the neighboring farms, served with wines from Chile, while the service of the breakfast buffet is offered, to facilitate interaction with other guests.
As an asset, the musical entertainment, movies and bonfires, there are of course hiking in the nature of Patagonia between fjords, glaciers, lakes, rivers and forests  where there is only to choose from bevery night depending on the weather, it can be decided with the route guides the following day which activity you want to follow.
By Nikos K
Photos: Guy Wemborne, Felipe Camus