In May of 1963, for anyone who can remember it, pretends to remember it, or has been told that they should really remember it, something strange happened to the world. It was The Beatles. The Sixties was very much their decade.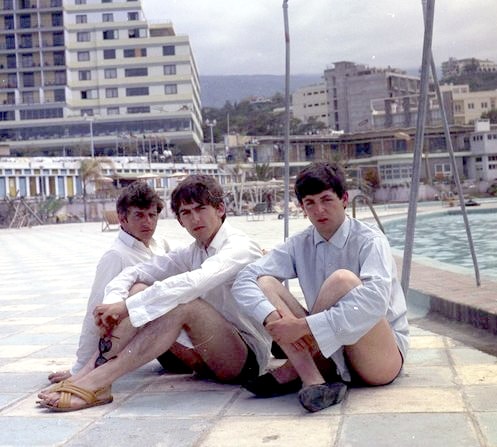 However, unbeknownst to most people, just weeks before fame and all-conquering glory ensued, three of the band of mop-tops were soaking up the sun in Tenerife. One can only wonder whether they look back, and looked back, in those times with fondness, when everything was so simple. When yesterday, their troubles seemed, it could be said, so far away.
Staying in Puerto de la Cruz, the trio was often found lounging by the pool, reflecting the sun back to whence it came, with their pasty Liverpudlian porcelain. When the temperature rose a little too high, they became day-trippers, heading off into the hills in a red convertible Austin Healy.
While this is more glamorous that most of us might be used to, many of us can certainly testify to the joys of driving around Tenerife, even if just from Las Americas or Los Christianos to Santa Cruz. Great for shopping, and always good to visit the island's footy team, it is a city rather under-visited by most Brits.
So unknown were the Beatles at the time, they were not even able to squirm their way into performing at the local bars. What a missed opportunity there for everyone involved! However, there has been a tad of redress now, with the hosting of the 50th Anniversary of The Beatles in Tenerife exhibition.
Containing many iconic photos, genuine band instruments, LPs and that Austin Healy, a concurrent festival has also taken place. Regretfully for those heading off to Tenerife soon, it came to an end for the year on Thursday, May 9.
Taking place at Customs House, local bands have been performing hits of the Beatles since Saturday May 4, with locals and tourists soaking up the scene. There has also been special screenings of the Magical Mystery movie, and recorded tributes to John Lennon and George Harrison, recorded shortly after the death of the respective musical geniuses.
Anyone not making it out to Tenerife for Thursday's closing ceremony though may well find solace in the Yellow Submarine safari tours that are great fun, and dotted all around the main strips.
Having a ticket to ride in those would be something at least? Well, the helpful customer service team at Co-op Travel may be able to offer more 'Help!'.
Photos: beatlephotoblog