As earthbound Disney devotes watch Walt's hot air balloon soar make its own grand tour across the US (it's a timely ad campaign for the 2013 film remake of The Wizard of Oz), over 16 million tourists will be totting up their itineraries for their own paradise pilgrimage. Not to Oz but Florida's Orlando, and all of the scintillating theme parks it is home to. Given that in 2010 Walt Disney World's Magic Kingdom racked up 16.9 million visitors, it might be worth moving your travel party well away from the main tourist drag. Luxurious, spacious hotels with sprawling grounds and adult activity packages might save your party from Death by Disney for $200 per night. However, if you're looking for a trip with the family there are also luxury hotels with childcare ready to accommodate you!
And while you're kicking back for an afternoon snooze on four-star bed linen, it would be a mistake not to check out the "The Unofficial Guide to Walt Disney World" (Wiley, 2004), the800-page travel bookwith sneaky insider tips on jumping the queues.
Disney's Animal Kingdom Lodge Hotel
Who said Africa couldn't crash Florida? In this fantasy game lodge, the film Jumanji meets Safari chic with giraffes, zebras making regular runs past the punters' windows. It's tucked away in a quiet corner of Walt Disney World on a 43-acre wildlife reserve with free transportation into the thick of it via an internal bus system. If you've already bagged a bargain with your half price Walt Disney tickets, residents at Animal Kingdom Lodge can also milk Disney's Extra Magic Hour perk. This gets guests into the parks an hour before opening or three hours after regular closing. If you don't like your lighting fixtures disguised as Masai warrior shields, don't hunt out Animal Kingdom – this is a themed hotel with a capital T.
Ritz-Carlton, Orlando
This towering golf-haven is just two miles from Sea World and all 584 rooms all are equipped with private balconies, marble baths and 32″ HD televisions. Book ahead for your Sea World Florida tickets and pop over to the 18 hole Greg Norman-designed golf course before the dancing dolphins make you queasy. Reminiscent of a rustic Mediterranean villa, guests of this five-star property can try childcare continental style with the Ritz Kids programme. Basically, palm off the kids with your neighbours for kickass karaoke and bike rides while you get soapy in the spa.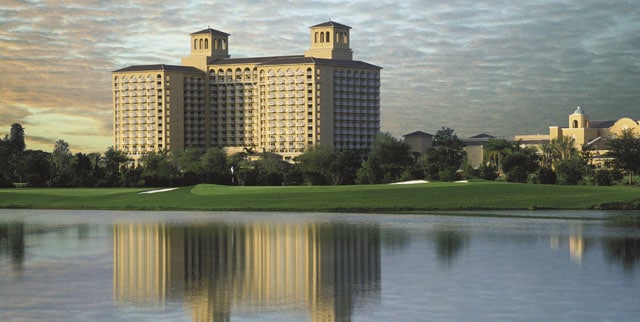 Waldorf-Astoria, Orlando
This is the cousin of New York's famous institution and Orlando's premiere resort, with prices to match. Built within the confines of Walt Disney World, but geographically separate from the House of Mouse, the resort is not a Disney-owned property so you'll be spared all the aggressive park advertising. If your kids like their hotels palatial, the marble flooring, private poolside cabanas and luxurious cream and gold textiles won't disappoint the most diva-ish of daughters. There are 500 rooms, starting in the 448sq ft Deluxe category and moving up to the Presidential Suite, a 2,852sq ft palace with a generous work desk for the dad that just can't let go.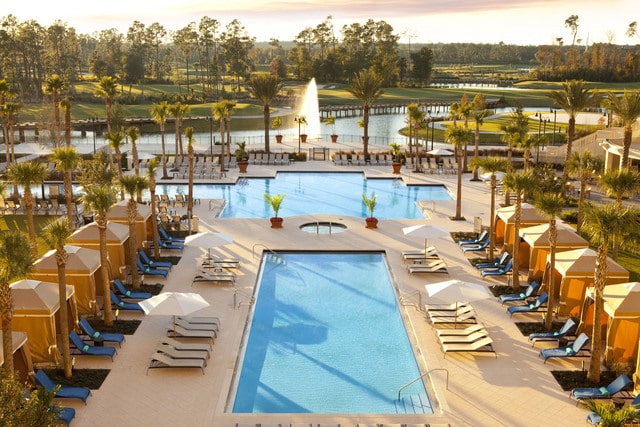 Reunion Resort & Club
Centrally located between its sister Grand Golf Resorts of Florida properties, a short 30 minutes from the Orlando International Airport and six miles from Walt Disney World, Reunion Resort's 2,300-acre grounds amount to a Centre Parcs style community (with much cheaper rooms). A three bedroom villa will set you back $199 but that doesn't include any of the Golf, Family, Spa, Couples, or Tennis packages.