Feeling sick and tired of everyday's life? Are you bored of reading travel blogs? It's time to pamper and take care of yourself. You can dive in a natural basin surrounded by very black lava rocks in the heart of Iceland, or soak in a hole dug in the sand in New Zealand. The heat of the earth is always ready to welcome you and give you it's well-being. Below are presented the best spas in the world.
Starting from my beloved Europe, Iceland: in the heart of the Blue caldera LAGUNA:
The cost of travelling in Iceland is very low and the only risk is, if I decided to dive in Blue Lagoon, that you always find it a bit crowded. But it is absolutely worth it: you will be pampered from the deliciously warm water (all the year around 38 ° C), in a natural basin surrounded by very black lava rocks. There is no doubt that you will return home completely regenerated and your skin will be softer that a baby's.
For Japan lovers:
In the minds of the Japanese people, this city on the coast of Kyushu is associated primarily with one thing: the hot springs. Millions of gallons of hot water gush daily from 3000 sources spread everywhere as a kind of beneficent and regenerating mined path. The most modern saunas are surrounded by small open-air baths and, of course, very hot. You'll also appreciate the beneficial effect of the mud and you play up to your neck. Then, when you're tired of being so, take a ride into town and find out why Beppu is nicknamed the Las Vegas of Japan
Beautiful Hungary, home of worldwide known emperors:
Making a game of chess while being lost in the warm waters of the Széchenyi baths is one of the memorable experiences of a trip to Budapest. The city is famous for its hot springs, but here gives her best. Relax going around this complex neo-baroque pools, tubs, marble and vapours benefits. Have a good massage, a sauna or soak in the outdoor pool: here you will meet other travellers, but especially city dwellers, who spent much of their free time at 30's, to the idleness of Széchenyi, chatting and of course, relaxing.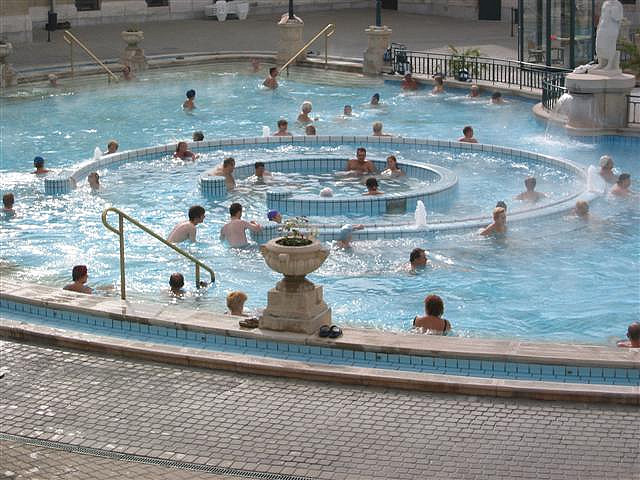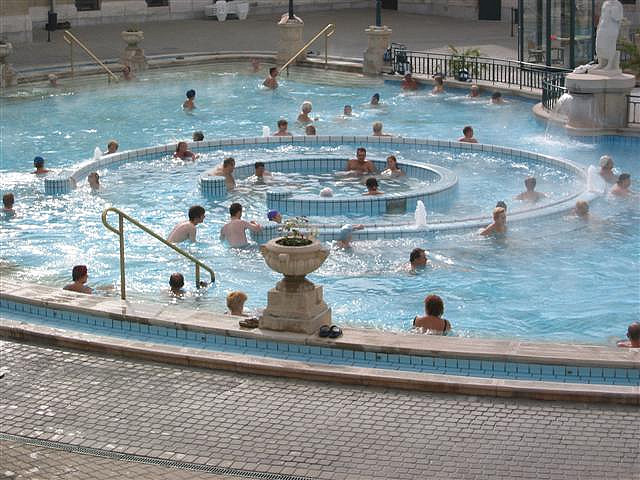 Here comes Les Bains de Marrakech, Morocco
If you are looking for an experience that has the flavour of the world known Arabian Nights, including sunny courtyards and beckoning shadows, fountains and finely chiselled alcoves where they seem to smell the scent of rose petals, the Bains de Marrakech worth without a doubt the ticket price. In addition to the usual delights of a spa, you can choose between a chocolate massage or an oriental bath by candlelight for two. You will also lie on soft cushions gently fit for a sultan and you can reward your exhausted body by drinking mint tea.
Baths of Brewery Chodov, Czech Republic
If you know the beneficial effect of a good beer, but you have not tried it yet on the skin, the brewery has Chodovar that will show it to you. Large vats, which date back to the Belle Epoque are overflowing with a tempting mix of excellent beer and aromatic herbs, in addition to the usual and inevitable layer of foam. On break you can enjoy some mugs of beer from the brewery. The experience, I ensure you, is great for the body and also for the mind.
The Bordeaux wine therapy, France for sure
A sweet clutch in base of grape must, a massage with honey and precious oil, and then a dive in a vat full of wine up to your neck: no, it is not the dream of an ancient Roman, but the experience that you will live in Les Sources de Caudalie exclusive Spa, on the outskirts of Bordeaux. This is the experience that awaits you at the gates of Bordeaux Pare. This substances are generated by the fermentation and are a remedy against stress and cellulite. Les Sources is surrounded by rolling vineyards of France, so you can also drink a few glasses of the best wine produced no Europe.
Champagne-glass whirlpool bath, United States
If you have ever thought of drowning your evil thoughts in a huge glass of Champagne, this is the right occasion. Just a couple of hours drive from New York City, the Pocono Palace is waiting for you: here you can relax in a flute of 2 meters, and these are the first good news. The second are that there is space for two persons in the flute. If these don't seem to be enough, take a look around the pillars, you will see beds that turn around in cycles, walls covered with mirrors and private heart-shaped pools. Lovers lovers, have fun! 😉
Japan lovers 2:The most famous and celebrated of Japanese spas, already popular 3000 years ago, Dogo Onsen. Is the favourite location of many ancient sagas. It's heart, the beach of Honkan, is the oldest spa in Japan. With its three-floored wood labyrinthine, resembles an ancient castle of fairies and seems to have inspired the animated films of Miyazaki's Spirited Away. Choose the first-class ticket and you will be entitled to a sauna, a relax room all for you, in a kimono and finally meal washed down with green tea.
Dead sea between Israel and Jordan:
King Solomon, Cleopatra and the Queen of Sheba are among the big admirers of the historic Dead Sea, one of the oldest spas in the world, renowned for its healing properties of water and mud. The local climate is ideal for thalassotherapy (nothing more than swimming in the Dead Sea, but truly miraculous) and treatments based on mud. There are resorts on both sides, Israeli and Jordanian territory, ready to provide treatment for almost all ailments, from psoriasis to arthritis.
Hot water beach, New Zealand:
North Island: this is the place where the hot springs gush precisely down the sand. In the high season it seems that the beach is beaten by giant rabbits. The truth is that at low tide, for a couple of hours, you can borrow a shovel from the locals, dig a nice hole and then let yourself be pampered by the warm sand and water, or perhaps relaxing by drinking a coffee. It's a bath prepared by yourself, but that gives you satisfaction. If your loins (known as kidneys) are overheated, do not be afraid, they'll be cooled by ocean waves.
Have I convinced you by now? Pack up your suitcase and go for it!!!!Brought to you by the best travel blog…..
By Alb V
Photo: Jelie