Melbourne is one of Australia's most popular cities and an important part of any backpacker's itinerary when exploring this country. Not only does it offer scenic beauty in the Yarra Ranges and magical coastline to the South, but an exciting atmosphere in the city unlike any other city in the world. If you're getting out of town to explore these nearby locations or soaking up as much of the city as you can, our top 5 places to visit during your trip will help you make the most of your visit.
For travellers that are staying within the city and not venturing too far out, we recommend at least 3-4 full days spent in Melbourne. The city is rich in museums and architecture, street art and coffee aficionados, and kind people with hearts of gold.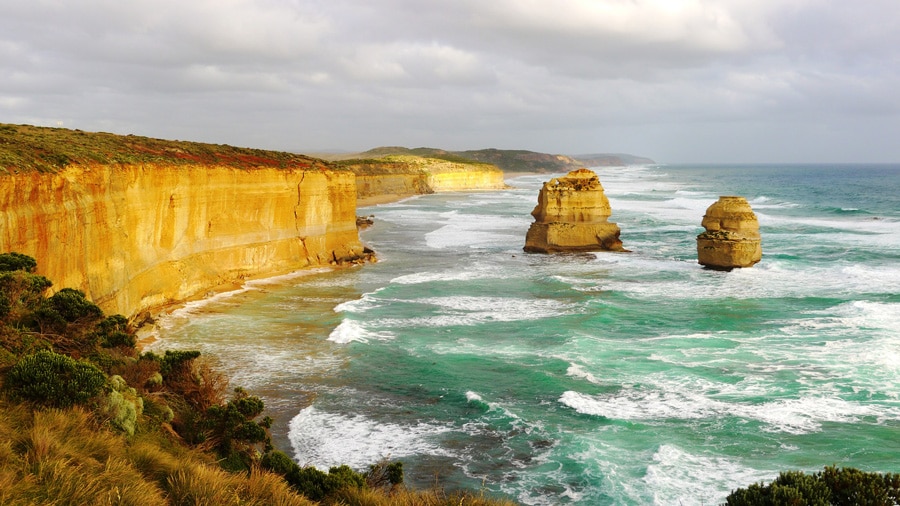 In order to help you have the best time possible during your days in Melbourne, our article has been constructed with a few key details in mind to make time organizing your trip just that little easier. We offer you these great ideas that can fit perfectly into any itinerary.
Where to stay in Melbourne?
Deciding to travel to Melbourne is the easy part but picking a great place to stay can be tricky with so many great options in the middle of the city and on the outskirts. Find a hotel in Melbourne best suited to the needs of yourself and those you're travelling with.
Location isn't as big of an issue since getting around Melbourne is so easy thanks to the public transport system. Staying in the center of Melbourne CBD is always easier but there are other great options nearby including South Wharf, Docklands, Albert Park and a bit further from Melbourne, beautiful St Kilda.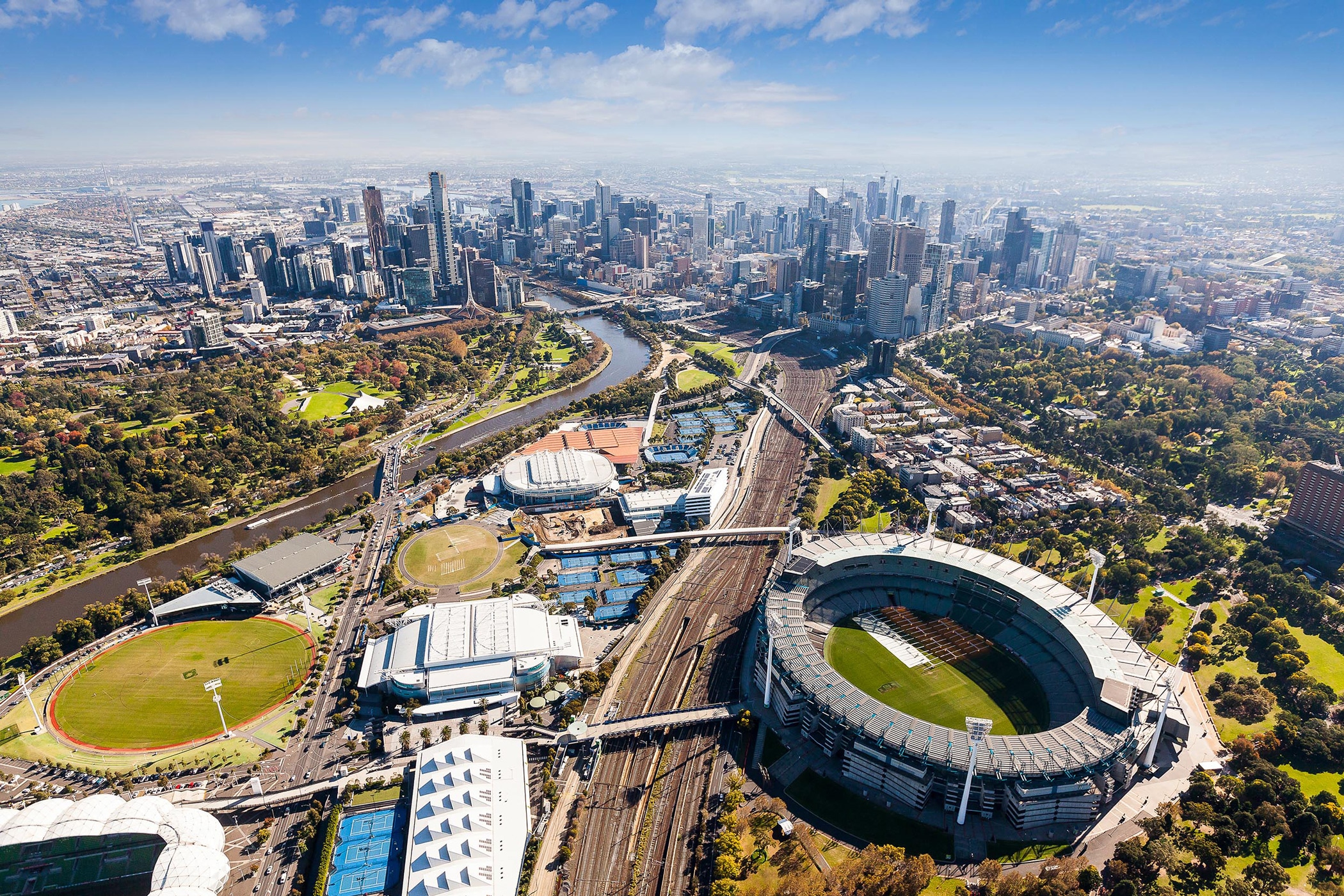 The Best Places to Visit in Melbourne
It would be hard to condense all the amazing activities available to do in Melbourne into one blog post. That's why we've chosen just a few of our favourites that we believe are absolute must do's when going to Melbourne.
The Grid
Melbourne's Central Business District is designed in a grid pattern, which is how it gets its name. The public tram is functional in the grid, which makes getting around the city super easy, taking you to wherever you want to go.
If you prefer to walk to take in more of the city that's also possible to, it has a pedestrian friendly landscape. This way you also have a better chance of stumbling upon some amazing new street art on the wall or discovering a new hole in the wall café for that much needed afternoon coffee. Here are some of the most popular spots you cannot miss:
Federation Square: Federation Square has become Melbourne's modern piazza, and the heart and soul of the city. Home to many major cultural attractions and hosting world-class events, this location is a hub for tourism experiences and includes a variety of specialty stores, and bars & restaurants. Don't miss a free guided tour from 11am Monday-Saturday!
Hosier Lane: If Federation Square is the heart of Melbourne then the street art throughout the city is its heartbeat, with Hosier Lane being home to the street art scene. Graffiti artists and street art professionals travel from all over the world to decorate the city of Melbourne, starting here and flowing out to other popular artistic spots including Centre Place and AC/DC Lane.
Bourke Street Mall: Two blocks north of Federation Square is the center of shopping in Melbourne, Bourke Street Mall. From department retailers to high end fashion designers, there is a shop here for everyone. Getting a tram back to your hotel will be necessary with your arms full of the bags you just bought.
Southbank
Southbank has become the premier cultural destination of Melbourne. There are far too many things to do here so we've listed some top priority items: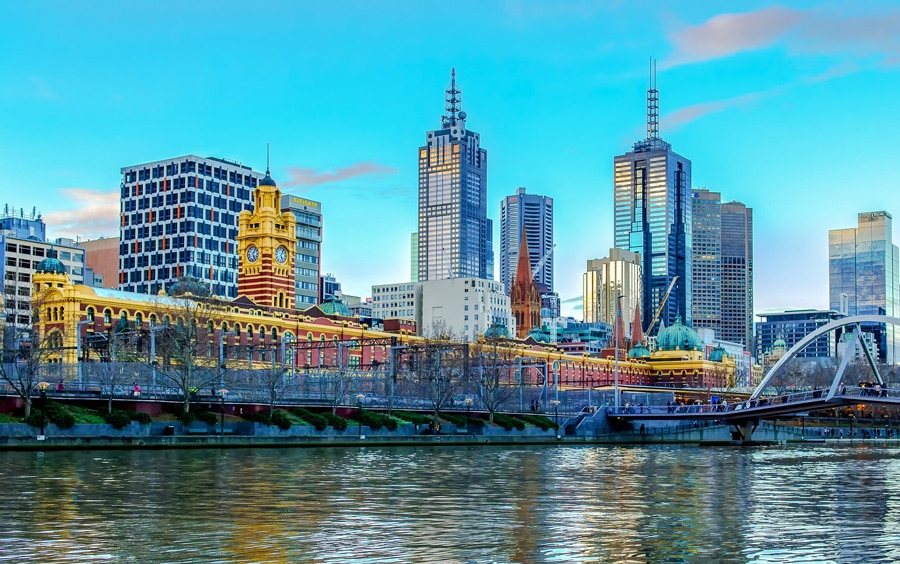 National Gallery of Victoria: The National Gallery of Victoria was founded in 1861 and is currently Australia's biggest and oldest museum. Three million people visit the museum every year, making it also the most visited museum in Australia.
Australian Centre for Contemporary Art: The Australian Centre for Contemporary Art is the leading centre for artistic and wider communities to participate in a critically engaged contemporary art culture. Housing both exhibitions from national and international artists, you'll be blown away by what you see, and the best thing is admission is free.
Crown Casino: Crown Casino is the largest casino complex in the southern hemisphere and the ultimate playground for adults. Inside the complex you will find a movie cinema, a day spa, bowling alley, arcade games, live theatre, concerts, nightclubs, bars, and 29 restaurants.
The beaches
You should take at least day just to explore the nearby beaches of Melbourne. The most popular ones are St Kilda and Brighton Beach.
Brighton Beach is super easy to get to by using the Metro trains. This beach should not be missed at any cost because of its colorful bathing boxes, perfect for a quick photoshoot. It's a calm beach, perfect for families to just relax, enjoy the sun and take a dip.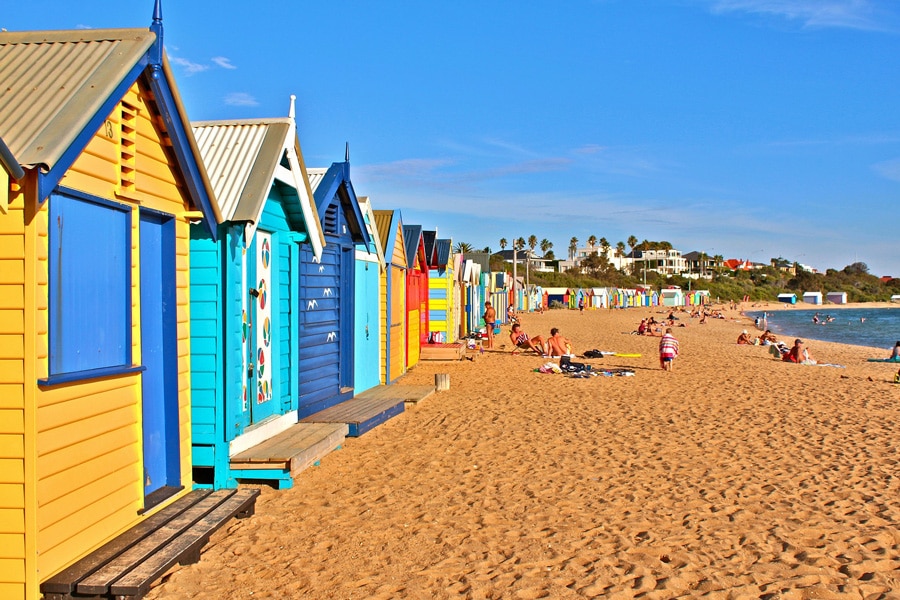 St. Kilda is a city of its own, just 30 minutes south of Melbourne. There is plenty to do here but the biggest attraction must be the amusement park by the beach, Luna Park.
Melbourne Cricket Ground
The Melbourne Cricket Ground is Australia's largest stadium with a capacity of over 100,000 people. As the name of the stadium mentions it is home to cricket, as well as AFL, rugby league, rugby union, international soccer and just about any other sport you can think of, with Olympic events behind held here in 1956.
It's best to experience the MCG during a sporting event, where two Melbourne rivals go head to head and the atmosphere is electric. The second-best way to visit the MCG and learn about its rich history is a guided tour, between 10am and 3pm daily.
Royal Botanic Gardens
Royal Botanic Gardens Victoria is a treasured part of the cultural life in Melbourne and is recognised globally with nearly 2 million people visiting the gardens annually. The gardens are home to some beautiful and diverse plant collections such as camellias, Californian species, rainforest flora, succulents and cacti, perennials, roses, herbs, cycads and plants from Southern China.
Visitors can unwind at the two cafes located within the gardens, pick up a souvenir from the gift shop and watch their kids play in The Children's Garden. Go on a free guided tour to learn about the history of Melbourne Botanic Gardens.