India's Golden Triangle is one of the most popular tourist routes in Asia. The three points of the triangle are Delhi, Agra and Jaipur, the most frequented cities in the north of India, with each city around 200-250 kilometres away from each other. Along this route you can expect to see some of the most incredible sights India has to offer, with one of the Seven New Wonders of the World thrown in for good measure.
New Delhi
The capital of India, New Delhi (or just Delhi) is a vibrant, buzzing and often chaotic city that holds a countless amount of attractions to keep visitors entertained. Visit the ancient Red Fort and the spectacular white Lotus Temple; explore the old markets of the city, bartering your way to a bargain; and enjoy some of the delicious cuisine for which India is so famed.
Jaipur
Heading south from Delhi, you'll find yourself in Jaipur, one of the major cities of the desert state Rajasthan. Another bustling city, Jaipur is a cultural centre full of palaces, forts and bazaars. This is where you can stock up on all the jewellery and trinkets you've ever needed, whilst soaking up the relics of old India from a time before colonisation, such as the famous Amber Fort that sits on a hill overlooking the city.
Agra
Agra is a part of the Golden Triangle for one reason: the Taj Mahal. This majestic building needs little introduction, as one of the New Seven Wonders of the World (a Millennium Project list compiled from worldwide votes over seven years) and an international icon. The Taj Mahal was built by a Mughal emperor to honour his wife after her death and is a monument that lives up to its hype; it is truly spectacular. The Taj is best appreciated at sunrise, when you can watch the change in its colour as the light catches the white marble exterior.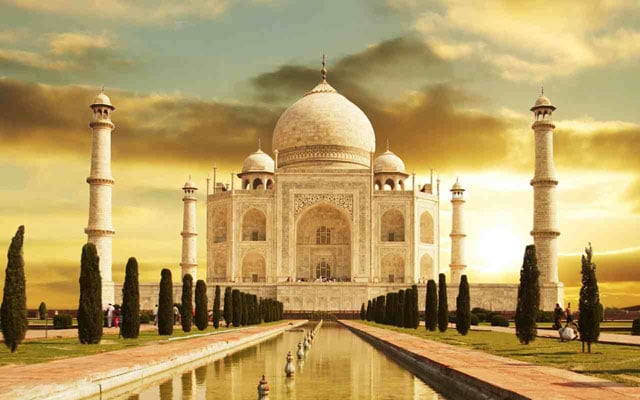 Getting Around
You'll most likely arrive and depart via Delhi, which is where most international flights connect. Getting to and from each point on the Golden Triangle is usually very straightforward. You might choose to hire a driver for the whole duration of your trip around the triangle – this makes getting around much easier and means you can be picked up and dropped off door-to-door. You may also choose to catch the train, which is a classic, enjoyable and easy way to get around India. Once in the cities, auto-rickshaws will whip you around for a very small fee, or you can catch a taxi.
Before You Go…
As with every trip, there are things to organise before you leave: visit your doctor to get all the necessary vaccinations and health advice; organise your international SIM card now before you leave and get your family sorted out with cheap calls to India in case of emergency; read up on all the cultural etiquette dos and don'ts; and don't forget to buy your travel insurance.
By Antzela B.
India photo: Superphotosearch