Let's just point out, right off the bat, that traveling with kids is often a complicated affair.  When kids are part of the group, you have different needs to consider and, let's face it, when kids are on vacation they just love getting into trouble!  So it's a good idea to be prepared, and to give some thought and planning to your hotel stays.  Here are ten tips to help make your next stay more enjoyable for everyone.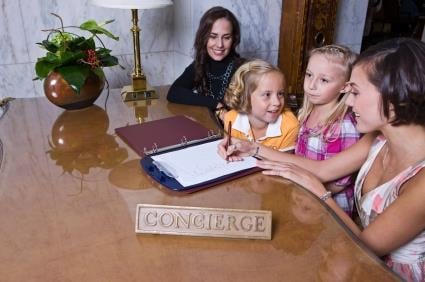 1. Arrange for Enough Beds
It might be tempting to save money by having the kids bunk on the floor or on cots, but having a comfortable designated place to sleep will help your kids settle down in the unfamiliar environment and get a better night's sleep.  The last thing you want during the next day's activities is a groggy, grumpy kid!   When booking the room be sure to tell the representative how many people are in your family, as well as with the kids' ages.
2. Stay Near Local Attractions
After traveling, the last thing you need is a long car ride to get to your vacation activities. Choose a hotel that is within walking distance or only requires a short drive so you can hit all the hot-spots on your itinerary.
3. Reserve a Room with a Kitchenette, Mini-fridge or Microwave
Keeping your kids well-fed is essential for avoiding meltdowns. Reserving a room with a kitchenette, mini-fridge or microwave will allow you to prepare meals and snacks at any time, including food for tomorrow's activities.  Not only will it help keep everyone happy, but it will also cut down on your dining costs.
4. Book a Hotel with a Pool
Taking a swim in the hotel pool is an excellent way to help the kids burn off some energy after sitting for hours in a car or on a plane. Many hotels keep the pool available year round so guests have a convenient place to stay entertained and active.
5. Ask About Complimentary Breakfasts
Getting the kids up and ready for the day in the morning can be hectic enough at home. Many hotels, such as Days Inns, offer a complimentary breakfast at participating locations. By choosing a hotel with a complimentary breakfast you can get your kids their first meal of the day without having to go out for food.

6. Request a Crib for Infants
If you will be traveling with an infant or toddler, request a crib when you book your room. This will give your baby a safe place to sleep while freeing you from the hassle of toting around a portable playpen.
7. Find the Best Rates
Hotel rates can vary significantly depending upon the location and the time of year you plan to visit. Therefore, it is important to begin early be searching your preferred hotels rates in the area you will be visiting. By booking early, you can often lock-in better rates
8. Inquire About Security
Keeping your kids safe is your highest priority while traveling. Be sure to choose a hotel that has security features such as locks that can only be opened from inside, electronic key systems and cameras in all hallways.   Also, if you plan on exploring the neighborhood around the hotel, enquire about whether it is safe – sometimes good downtown hotels are located in areas you may not be comfortable with kids.
9. Choose a Hotel with Laundry Facilities
On vacation, kids can go through a lot of clothes. Look for a hotel with laundry facilities so you can pack less for your stay and wash everything before heading home.
10. Consider Adjoining Rooms for Teens
Even the largest hotel room can feel cramped when you have older teens. Ask about adjoining rooms where you can leave the door open in-between, yet let your kids feel as though they have some independence.