Many people have never been on a narrowboat, but this type of holiday offers one of the most charming ways to explore the English countryside. These slow-moving boats have all the comforts of home and travelling along the many English canal waterways allows passengers to take in some of the most beautiful scenery in the world. Keep reading to discover everything a narrowboat holiday has to offer.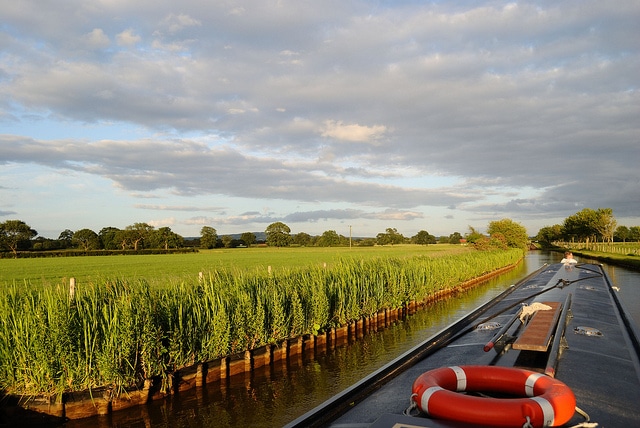 Fun for the Whole Family

A narrowboat holiday is a great way to bring the whole family together. The UK's largest and most successful narrowboat holiday company is Anglo Welsh canal boat holidays for families. Anglo Welsh have 10 bases in prime locations across the inland waterways of England and Wales, offering the choice of over 150 boats, from cosy two-berths, spacious four-berths, six-berths for extra family room and eight, nine 10 or 12 berths for bigger parties. Anglo Welsh also have some great last minute canal break deals so keep an eye out for those.
Narrowboats are large enough to accommodate the whole family, and families can even bring their pets along with them on the trip. Cruising around in a narrowboat allows the family to work together as a unit, helping to create a togetherness that can be lacking in other family holiday adventures. Children will love learning all the boating terminology, and they will be very excited when they get a turn to steer the boat (with parental guidance of course)
Town and Country
One of the most enjoyable things about narrowboat holidays is that they offer such a wide range of destinations. Travellers will get the chance to explore a lot of countryside beauty where they will see more animals than people. However, narrowboat trips can also go through many large English cities like Oxford, Warwick, Chester and Birmingham so stopping off for a spot of city shopping is very possible.
There are also lots of great narrowboat holidays adventures to be had in Wales. The Llangollen Canal is particular is a very enjoyable trip that narrowboat enthusiasts will enjoy making. It offers some very picturesque scenery that takes in lots of open countryside and lovely towns along the way.
All the Comforts of Home
One of the best reasons to take a narrowboat ride around the English canal network is that traveller will not have to rough it by any stretch of the imagination and no traffic jams or hours waiting at airports. The wonderful narrowboats are equipped with all the necessary mod cons. They come fully equipped with steaming hot showers, full refrigerators, central heating, home entertainment systems and full kitchens.
Travellers can load up their narrowboat with supplies, and they will be set for a weekend, a week or even a couple weeks of exploration and adventure. Because narrowboats cruise along at the slow pace of 4mph, they are very fuel-efficient. A full tank of fuel will allow boaters to cruise around England or Wales for a full two weeks before they need to refuel.
Abundant Wildlife
One of the most enjoyable things about narrowboat holidays is all the fantastic wildlife that travellers will see from the boat passing through tranquil English countryside. The canals are full of wildlife such as otters, water voles, kingfishers, swans, ducks and the fields home to cows, sheep, pigs, horses and watch out for the odd bird of prey such as kestrels, buzzards and sparrow hawks.
Freedom, Adventure and Fun
Don't worry if you've never operated a narrowboat before – the narrowboat hire company will explain everything. It is really simple and you will be shown how to operate the locks, drive and park. It can be mastered in a matter of minutes. This gives travellers the freedom to be their own guides, allowing for a holiday that is full of freedom and adventure. Take a day, a weekend or a fortnight to enjoy the excitement of an English narrowboat holiday and enjoy recalling the adventures you had for many years to come.
Photo: Jolly Tar