Severe weather conditions, poor road infrastructure and traffic congestion usually rank highly on peoples "bad" driving experiences list. There are roads that every driver purposely avoids; the words death traps are often associated with these roads. Pot holes and band bends are the main reasons we label these roads – death traps. However, it's rare if ever we travel on a road that brings true meaning to the words death trap. This thought sparked my curiosity; are there any roads out there that deserve this title? After some research, I've put my top three lists together.
1. The Death Road, Bolivia
The Association for Safe International Road Travel has stated the North Yunas Road or the "death road" in Bolivia is the most dangerous road in the world. The road measures 64km from its starting point at the capital La Paz and ends at the border of Coroico. In 2005, the local government conducted a feasibility study for a new road to be built and estimated 200 to 300 people died here annually – showing the meaning behind the name "death road".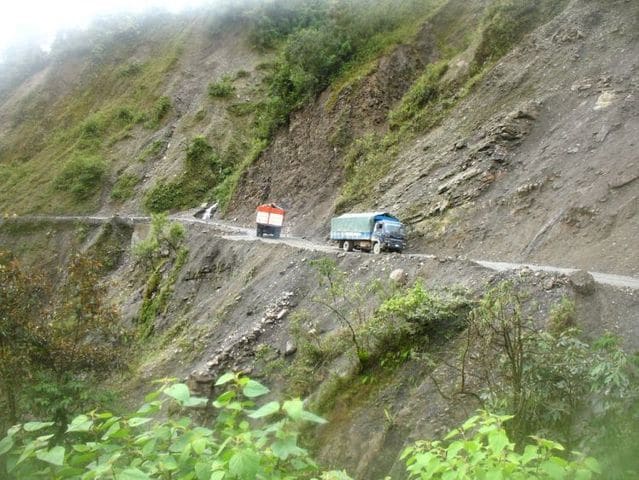 The road is 3.2 metres in width with no guard rails, and for the majority of the year weather conditions are hazardous with rain, fog and dust reducing visibility. The road is frequently rutted so your vehicle is covered in mud because of landslides. There is always a large amount of traffic, trucks carry produce to the capital and hastily driven micro buses ferrying people drive with complete indifference to the roads reputation. The track is narrow and passing requires a great deal of cooperation and skill between drivers. Memorials to those who have lost their lives are everywhere in the form of crosses. It's not uncommon to see locals acting as human traffic lights, helping on going traffic pass safely; a lot of these people have lost loved ones and spend their time ensuring the same doesn't happen to others.
The death defying road isn't all bad as it has some breath taking scenery as it overlooks the Yunas Tropical rain forest.
2. Dalton Highway, Alaska
The Dalton Highway in Alaska is a 667km stretch of road running through central and northern Alaska. The road is mainly used by truck driver's going to and from the Prudhue oilfields. The road has been given the nickname the "roller coaster" by its inhabitants because of its treacherous bad bends, variety of different road levels and surfaces along with its reputation of not being for the faint hearted. It's reported that there isn't a large mortality rate on the road each year but there are countless amounts of injuries.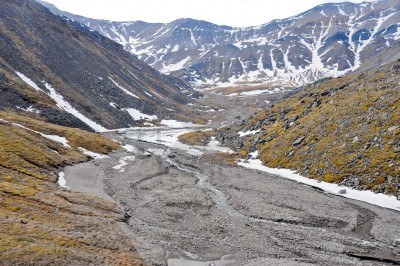 A true sign of the danger surrounding the road is that car rental companies don't allow customers to drive on the Dalton Highway under any circumstances. This is because of the almost impossible driving conditions. With icy roads scattered with potholes, trucks kicking up clouds of smog reducing visibility and chunks of rocks bolding at you from the gravel tracks makes it any drivers' nightmare. There are less than adequate service stations for gas and repairs on the highway coupled with the sub-zero temperatures and rampant wildlife from the surrounding boreal forests makes it almost ideal conditions not to drive on.
If you are a little crazy and decide to travel the road yourself make sure it's during the summer months as there is 24 hour darkness in the winter months. It's important to yield to truck drivers and give them enough space to bypass you as most roads are narrow and can only accommodate one vehicle – truck drivers have the right of way! While it's advised not to travel on this road unless you take extreme precaution and under the right conditions, the trip has many views and rewards from the burial forest to the Brook range Mountains.  It provides with you a true experience of America's Arctic, its landscape and wildlife.
3. Sichuan – Tibet Highway, China
The 2,412km Sichuan Highway starts in the nation's capital of Chengdu and goes right through to the border of Nepal. Over the past 20 years the number of deaths in China has climbed from 3.9 to 7.6 per 10,000 motor vehicles, a big reason for this is deaths on the Sichuan – Tibet Highway. According to recognised news agency in China there was a reported 82,000 accidents with fatal outcomes in 2006 and has risen in recent years. The highway is a tale much like that of beauty and the beast; with breath taking scenery, historical, cultural and geographical terrain including rivers such as the Jinsha and the Lantsang River, with a number of captivating mountain passes. However, the highway is prone to extreme weather conditions that have closed the highway for weeks on end, landslides and avalanches making the Suicun highway a treacherous journey for any motorist.
While these roads have caused more than their fair share of road traffic accidents, they do have have a lot to offer from beautiful scenery to landscapes and wildlife. If you're up for an adventure my advice is definitely enquire into traveling on them, choose a safe route and experience what they have to offer.
By Olan