Packing for an adventurous trip to South East Asia usually involves cramming as much as you can into a backpack! It's important to remember that you will be carrying all your possessions on your back and, in the tropical heat this can be exhausting. Vital essentials should be the first thing into your backpack, though you needn't neglect your appearance whilst away, and there is always room for clothing and make-up too! Don't forget that you can also pick up cheap items whilst you're away – low-cost tech and souvenir t-shirts are a must! Use the follow as a starting point for all the things you'll need and want for your South East Asia trip: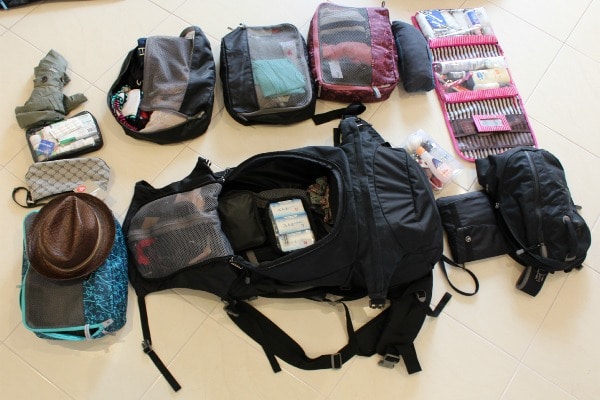 First Aid Kit
Go for a travel-sized kit containing all the basics: burn and antiseptic cream, dressings, gauze and scissors. Add extra plasters and basic medication like re-hydration tablets and pain killers.
Shoes
Quality footwear in larger western sizes can be tricky to find in South East Asia, so go on your trip prepared. Sturdy sandals are a must for walking, as well as plastic flip flops for the beach and shower. The party scene in Asian cities rivals that of any UK town, so pack some shoes for a night out too. On-trend wedges add instant glam to an outfit and look cool poolside too.
Sleeping bag liner
A must if you are planning on staying in hostels where cleanliness is far from top of the list! Go for a silk liner, as these fold up very small, are lightweight and are comfortable and cool to sleep in.
Mosquito repellant
Avoid painful and unsightly mosquito bites by purchasing a good quality mozzie repellant before you leave the UK. Go for a spray with at least 50% deet which may smell awful but definitely does the job!
Swiss army knife
A massively useful piece of kit, a knife can be used for everything from cutting branches on a rainforest walk, to cutting up fruit for a DIY breakfast! Just remember to take out of your hand luggage before flying.
Smartphone
This will be a home comfort for many, though smartphones can be really useful when travelling. Cafes the world over now boast wifi connections, so take advantage of this and use your smartphone to Skype friends and family, without lengthy waits and charges in internet cafes. Save space in your backpack by using your phone as an mp3 player and camera too.
Sun tan lotion
These can be pricey if purchased abroad, so buy in the UK before you leave. Sunburn can easily ruin a travelling trip and cause long-term damage too, so choose a sunscreen with at least an SPF of 20 and ensure it is water-resistant for protection in the sea.
Photo: artofabsence