Thailand is a wonderful country, the friendly door to the Asian exoticism. It has good tourist infrastructure, many interesting things to see, great beaches, fine dining, historic ruins, Jungle Mountains, large luxury hotels that are reasonably priced with a budget accommodation for backpackers and friendly people who seem to be always smiling while making your holidays in Thailand unforgettable. Here are ten recommendations if you decide to visit the place:
1. Take money from ATM
No need to carry large sums of cash. There are many ATMs throughout the country, including the tourist islands, in which you can withdraw money from your credit card. They charge a flat fee of 150 baht (3.7 € ) for each provision .
2. Use the Skytrain in Bangkok
Bangkok traffic is diabolical. If you get in a taxi or a tuk-tuk in certain hours you don't know whether you will get out. The Skytrain ( Skytrain ) is comfortable, safe, reliable and inexpensive. It also has air conditioning. It is the best way to get around the town. You pay with coins but it can change in the seasons.
3. Eye -monsoon
If you're looking for beach, keep in mind the monsoon seasons. In the Andaman Sea ( Pukhet , Phi Phi Island , Krabi ) coincides with the summer monsoon in Europe : July and August. That does not mean there is monsoon raining all day, but you can find a whole week of cloudy sky and the rough, dark sea nothing to do with the idyllic image of beaches of Paradise. In those months it is better to go to another sea, the Gulf of Thailand, in Koh Samui , Koh Phan -Ang and Koh Tao . In Pukhet a good season is our winter (November-December), in these months is when it rains in Samui and Gulf islands.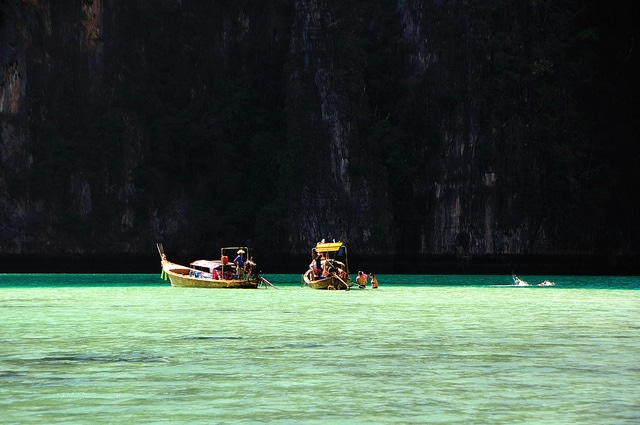 4. Phi Phi Islands are overvalued
The Phi Phi islands are very overcrowded and overpriced, like all Pukhet area. If you want more quiet beaches and resort it is better to go to areas of the coastal province of Krabi, and Koh Lanta or Railay Hat . The archipelago is less known and less overrun by tourism, like Koh Tarutao in the south of Andaman Sea, almost on the border with Malaysia.
5. Vaccines and mosquitoes
It is not necessary to get any vaccines to go to Thailand. But in some cities and islands of the south it is advisable to renew the protective mosquito and prevention because there are areas with dengue.
6. Motorcycle Rental
It's easy and cheap to rent motorcycles in almost all tourist islands, in some it is even the only way to move. Most rogues invent friction or shock to so you can already pay. Make it clear from the start of the rental conditions.
7. A sunset on a Bangkok skyscraper
One of the magical moments of Bangkok is at dusk when the neon lights are mixed with the sunset. The best way to enjoy it is up to the panoramic bars offering several hotels installed downtown in skyscrapers . For example, Le Bua or Shatorn Eastin .
8. Shopping itself, but carefully
Thailand, especially Bangkok, is a shopper's paradise (especially the electronics). There are malls like MBK Siam Square with dozens and dozens of mobile shops, photo and video cameras, computers and all kinds of modern gadgets. But beware: the warranty does not work outside of Thailand, except for the brand of Apple (which, incidentally, is at the same price as in Europe). They are original and new, but each must assess the risk it takes to take them to another country without a guarantee to cover possible failures.
9. Clothing in temples
Any route through Thailand involves visiting numerous temples. Dress standards are required: generally women should wear a skirt below the knees and no watchable shirt or shoulders. In many places, for example in the whole complex of the Royal Palace and the Temple of the Emerald Buddha are not allowed neither men nor women that come in shorts, on these sites they usually have stores that rent or sell simple cotton pants .
10. Health
Thailand has a health service more than efficient and acceptable. In case of health problems, do not hesitate to go to a Thai hospital (either private or public).
Photo:Gedsman