"Been there, done that, got the t-shirt". If you´ve ever found yourself thinking this when it comes to revisiting 'The Big Smoke', then think again!
London is one of the biggest and most vibrant cities in the world. With so much going on it can often be difficult to know where to start, and even easier to just follow the other hordes of tourists. Well fear not; as here we´ve unearthed some of the English capital´s hidden gems that´ll have you coming back for more! What would help all this a lot is if you had the perfect place to stay while in London. To find a comfortable stay check the site of Venere.
1.
When in England, learn English
If you´re planning a slightly longer stay than some, why not brush up on your language skills in one of London´s English schools? It is after all, the motherland of the English language!  As you would expect, London offers some of the best English teaching institutions in the world.  For example, English courses at The English Studio run throughout the entire year and are accredited by the British Council. Learning in a relaxed environment in one of the most vibrant English speaking cities in the world, this is a great activity for those of you who like to keep the brain active and learn some local 'lingo'.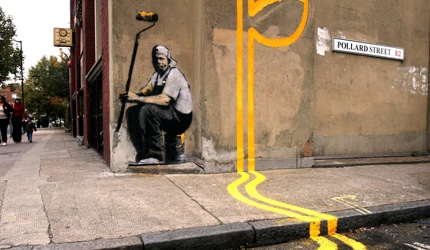 Bansky; Pollard Street
2.
Take an Alternative London Tour
As the name suggests, this is a London tour with a difference. If you´ve lost count of the amount of times you´ve taken in the (albeit magnificent) sights of Westminster, Buckingham Palace etc, and you fancy going where no other tourist has gone before, then this might just be for you. The tour is set in the city´s East End, and covers a wide range of interests, from local artists to important historical events. Expect to see a lot of street art, including work from the world-renowned Banksy as shown above. Walking tours, bike tours, workshops… take your pick. This tour also claims to be the first in London to offer tours on a 'pay-what-you-want´ basis, making it suitable for any budget. Just make sure you don´t forget to bring your camera!
3.
Thrill seeker? Climb the O2 Arena
The latest attraction to take London by storm, 'Up at the O2' offers a truly exhilarating and unforgettable experience. Originally named the Millennium Dome, this huge venue, which sits on the banks of the Thames in south-east London, has seen somewhat of a resurgence in recent years, in terms of the events it now hosts and subsequent visitor numbers. This 90 minute activity will see you scale the building´s iconic dome roof, before taking in 360 degree views of London from the summit´s viewing platform. For such a neat experience, ticket prices start at a very reasonable £25. Not advised for the faint of heart!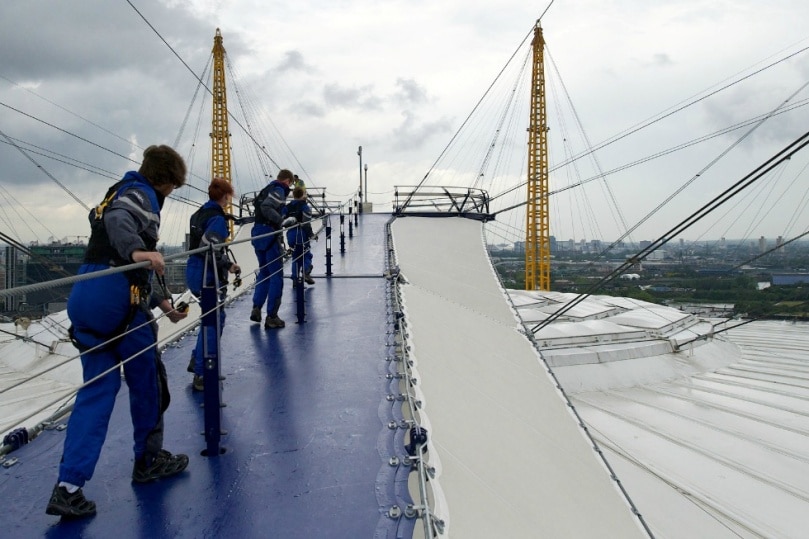 4.
Make a splash with a waterways tour
Ok we know what you´re thinking, "another tour". However this blog is all about showing you a different side to London, and taking a canal tour of the capital certainly does that. One such tour that we´d recommend is Jason's Canal Boat Trip. Taking you on a relaxing journey around the tranquil waterways of the capital, this tour gives you a fresh and different perspective on the city and lets you in on some of the city´s hidden jewels not visible to the typical tourist. Tours last for approximately 90 minutes while a return adult ticket costs £9.
5.
Quirky museums
No 'things to do when in…' list would be complete without mentioning a museum. Here´s just a few of our favourite slightly 'out of the ordinary' museums that we´re sure you´ll enjoy as much as we do.
Museum of Brands, Packaging & Advertising: Found in the picturesque suburb of Notting Hill (only a 10 minute walk from Notting Hill tube station), this museum exhibits 12,000 original items of the world´s most iconic brands and their evolution throughout history. An adult ticket price is £6.50.
Sir John Soane´s Museum: Set in the subject´s former beautiful Holborn home, this museum displays the original works, models and drawings of renowned neo-classical architect John Soane. Before his death in 1837, Soane negotiated an Act of Parliament which has ensured the house today remains largely as it was when he lived there. Very much worth a visit and free to enter.